Super Smash Bros Best Game Ever

Super Smash Bros Best Game Ever's lo-, wait, what the fuck?

Developer(s)
HAL Laboratory
Publisher(s)
Nintendo
Platform(s)
Nintendo We Can't Stop Being Innovative xD
Genre(s)
Fighting
Release Date(s)
suck a dick
Mode(s)
Single-player,
multiplayer
Age Rating(s)
suck a dick
Super Smash Bros. Best Game Ever, also referred to What the fuck guys, we seriously ran out of Smash Bros. name ideas?, is a crossover fighting game and the 420th installment in the Super Smash Bros. series. It was developed by HAL Laboratory, with Masahiro Sakurai as head of production (again), and published by Nintendo.
Gameplay (for the filthy casuals)
Super Smash Bros. Best Game Ever is a family-fun party game that all ages can enjoy! :3 \:D/
Gameplay (FOR THE PEOPLE THAT ACTUALLY MATTER)
Now that we have the cutesy-mambi-pambi PR dogshit out of way, let me explain to you what the FUCK Super Smash Bros. Best Game Ever is.
Advanced Techniques
Hold onto your dicks, because in this game you aren't going to get away with fucking rolling back and forth. Plebs like you are gonna have to learn the GOOD SHIT.
L-Canceling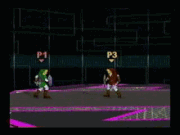 Imagine a world where landing lag barely existed and you could string moves together without the speed of a dead snail. How about this, kids? Well it fucking exists, and I'm going to tell y-, NO, ENLIGHTEN you little fuckers how be optimal.
Press L, R, or Z upon 11 frames or fewer before landing on the ground during an aerial attack. Don't understand it? THEN DON'T PLAY THIS GAME, YOU FUCKING FILTHY CASUAL.
If you aren't a complete waste of space, I'll explain further. ONLY regular aerial attacks can be L-cancelled. Your n-airs, your b-airs, your dank up-airs, your spicy down-airs can ALL be L-cancelled. SPECIAL moves (B button, you worthless pleb) CANNOT be L-cancelled. If you try to L-cancel a special move, you might as well take out the disc and shove it up your ass, because THAT'S WHERE THE DISC BELONGS WHEN YOU TRY AND L-CANCEL A SPECIAL MOVE.
Wavedashing

Do you like having DANK movement, do you like having non-shit out-of-shield options? If you answered "yes" (in which if you didn't, you're a fucking dumbass), get ready, because WAVEDASHING is some sick shit you don't wanna miss, kiddo.
Wavedashing is extremely simple (if you can't do it, you're shit and should never play this game). So what you're gonna wanna do is, input any jump. That's X, Y, or tapping up on the analog stick. Once you've done that, almost instantly after inputting the jump, I want you to press L or R with the analog stick in the southwest (to wavedash left) or northeast (to wavedash right). Once you practice and master it, its the sickest shit you'll ever experience in life.
Q: But who cares about sliding left and right across the stage when I can just run back and forth???
A: Ok, first of all, NEVER ask such a stupid fucking question again. Second, wavedashing allows for an almost instant change in momentum and creates a lot of movement options for all characters in this game. If you had a quarter of a brain, you would've connected the dots, you inbred horsefucker.
Characters
SSBBGE offers the BEST characters in the game.
Do you assholes get it? It's Fox. He is the only GOOD character. If you didn't know that by now, you're denser than a block of plywood.
UPDATE: Y'know, the production team has been thinking. We need more characters to balance out the game. There's IS somewhat of a counter to Fox. Something along the lines of a skilled...something...can beat any Fox. What's his name again...? Starts with an R. Rob? Rick? Ro-SIKE BITCH, YOU'RE GETTING OTHER MELEE TOP TIERS.
Movesets
Fox
Falco
Marth
Tier List
Trust me, you'll like this.
SSBBGE Tier List v1
Good
1

SSBBGE Tier List v2
Good
Kinda Shit
1
2
3
Honestly, what the FUCK did you expect?
Stages
Listen buddy, if we're going to make the best goddamn Super Smash Bros. game on the face of the planet, you better BE-FUCKING-LIEVE that we're pluggin' in the best stages from the entire series.
THE ONLY GOOD STAGES IN THE ENTIRE SMASH SERIES

Battlefield

Final Destination

Fountain of Dreams

Yoshi's Story

Pokémon Stadium

Dream Land 64
Q: Why are they all the competitive legal stages in Melee?
A: Why do you eat literal SHIT on a daily basis?
Items
You fucking idiot. This is a COMPETITIVE game. Do you really think we'd allow items to return?
Development
Patchlist
Change logs
April 4, 2016
After Fox main Joseph "Mang0" Marquez fell to Falco/Marth player Kevin "PPMD" Nanney in Grand Finals at Genesis 69: Le xD Edition, we have decided to make a few changes to Falco and Marth in order to help Fox win a tournament.

Falco's Laser (Neutral-special) damage has been reduced from 3% to 2%. Shootin' blanks now, you feathered fuck.
Falco's Laser (Neutral-special) has reduced hit-stun. Fuckin' Laser spamming BIRDS.
Marth's forward-smash can no longer "tipper" Fox (Fuck you Marth, lil f-smashin' BITCH).
If Marth and Fox are selected in game, the Marth player cannot select Final Destination as a counterpick (don't ask how we'll know). Chain-grabbing is lame as fuck, homie.
April 1, 2017
We have decided to add more characters to the game to create more diversity and cater to individuals' play-styles!

Captain Falcon added to roster!
Zelda/Shiek added to roster!
Peach added to roster!
Ice Climbers added to roster!
Jigglypuff added to roster!
Samus added to roster!
April 2, 2017
Just kidding, fuckin' losers.

Captain Falcon removed from roster.
Zelda/Shiek removed from roster.
Peach removed from roster.
Ice Climbers removed from roster.
Jigglypuff removed from roster.
Samus removed from roster.
Gumby added to roster!
Gumby removed from roster.
January 1, 2018
After all of the 2017 USA super-majors were won by TSM/Red Bull's Swedish sensation, Willian "Leffen" Hjelte, we have decided to place a "player-lock" on all NTSC versions of the game, which disallows Leffen to play SSBBGE in the United States.

US Customs contacted, Leffen deported and banned from United States. LUL
Other players now have the ability to win tournaments. Be careful Armada, don't win too much, or else your ass is also going back to Sweden.
Reception
We asked relevant players in the Melee community (do you FUCKING think the Trash 4 community matters???) how they felt about the game. Unfortunately, the non-desirables felt "offended" that we didn't ask them for an opinion on the game. Their responses is under the "Other" header.
Melee Community (Only one that matters, tbh)
Cloud 9's Joseph "Mang0" Marquez said, "ROFLLLLL, there's no Puff. FUCK HUNGRYBOX, THIS IS WHAT HE GETS FOR BEIN' A LIL WIENER. POUR SOME FORTIES FOR ME, BOYS! MangoW!"
Alliance's Adam "Armada" Lindgren heavily critiqued the game for its lack of character diversity, claiming "Erm...I dun't really like where de game is headed...eh...I dun't really like how Fawks is de only character."

Well that's just TOO FUCKING BAD, ADAM.
When we asked Team Liquid's very own Hungrybox (real name: Juan Debiedma), he replied with, "What the fuck? Where's Puff? I'm not going to play a game where I can't over-dramatize my pop-offs after a rest."

Yeah, have fun with your fake pop-offs when you're playing Trash 4 with the other rejects.
We tried getting in contact with Jason "Mew2King" Zimmerman, but his sponsors stated that "the robot was in maintenance". We think he's finally went to the doctor.
When we asked Team Solo Mid/Red Bull's William "Leffen" Hjelte how he felt about the game, he responded with, "You already know, you fucking noobs,". He's an asshole, so we told the US Customs that his work visa has expired and he was deported back to Sweden. PogChamp Kreygasm
We spoke to Aziz "Hax" Al-Yami and he rejoiced in the fact that Captain Falcon was removed in this installment. "Finally, all those years of shitting on Falcon have finally paid off. Like I've always said, the best way to play Falcon is to L+R+A+Start+Fox," he said in his deep-ass voice and proceeded to reach down into his pants.

( ͡° ͜ʖ ͡°) blip ( ͡° ͜ʖ ͡°) blip ( ͡° ͜ʖ ͡°) blip ( ͡° ͜ʖ ͡°) blip ( ͡° ͜ʖ ͡°) blip ( ͡° ͜ʖ ͡°)
Other