The first and second banners, the first featuring the original 12 characters of Super Smash Bros. and the second featuring 2 additions from every subsequent installment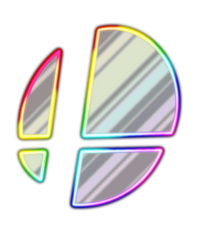 Developer(s)
Publisher(s)
Platform(s)
Visus Sphere, Nintendo NX
Mode(s)
Single-Player, Online & Offline Multiplayer
Age Rating(s)

Genre(s)
Fighting Game, Platformer
Series
Super Smash Bros. (series)
Predecessor
Super Smash Bros. Ragnarok
Super Smash Bros. 8: Memories
is an upcoming Crossover Fighting-Platformer Game for the Nintendo NX and Visus Sphere. It is the eighth game in the Super Smash Bros. Main series and 9th overall. It is also the fifth developed by Darklight Studios, it is the first game in the series in which Nintendo gave permission for Darklight Studios to utilize its own content for the game.
Gameplay
Gameplay consists of players fighting with numerous characters from the various franchises of Nintendo, Second-Party and Third-Party Developers, the characters fight on 2D Stages which can vary in shape and size and are quite dynamic often changing drastically over the course of the battle. Players select their fighter at the start of a match and the match conditions which can range from Stock, Timer, Coin Battle and numerous other options as well as the stage itself.
When fighting players use the various controls of either system to battle using standard fighting moves based off existing techniques of the character or techniques that are related to the character, in addition players can perform Special Moves by pressing the Special Action button and one of the directional buttons. These Special Attacks are generally unique to each character and can vary greatly in; how they are performed, range, damage, recoil, status effects, etc.
A match ends when whatever condition for the match style ends, with the standard two; Timer & Stock this happens when the clock hits zero or when all but one player have lost all their stock (lives). In addition to this main form of battle there are numerous modes to choose from, several returning from previous games as well as some new additions as well. These modes can add a great deal of variety to the game and can offer unique and interesting challenges.
Game Modes
This is every Game Mode planned to be implemented into the game.
Smash Mode
The standard mode, Smash Mode is now formatted to allow players to chose how many people are playing with the range for Offline being 16, while Online is a maximum of 20. There are numerous playstyles that can be chosen and various items can be disabled or changed on frequency, in addition factors such as movement speed, jump speed, weight, Smash Power, etc. can be scaled.
Stock Matches
Timed Matches
Coin Battles
Life Stealer
Specials Only
Scaled Powers
Team Smash
A Game Mode separate from Smash Mode, Team Smash allows players to form teams of any kind by choosing one of the 6 team colours; Red, Blue, Green, Yellow, Purple or Orange. Teams do not have to be even and various factors like in Smash Mode can be adjusted to make the match more unique.
When in the match, players will have a glowing aura around their character, denoting the colour of the team they're on, players on the same team cannot harm each other.
Special Smash
A variant of Smash Mode, Special Smash allows Players to edit factors of the match that are not normally available in Smash Mode, various features of Special Smash must be unlocked through related Events. Such factors can include Player Size, Wings/Jetpacks, Time Bombs, Reversed Controls and numerous other options.
Player Scaling (Can be asymmetrical)
Wing Mode
Jetpack Mode
Draining Flowers
Iron Boots Mode
Time Bombs
Anti-Gravity (Only some Stages can have this mode)
Reversed Controls
Random Specials
Speed Adjustments (Can be asymmetrical)
Invisibility
Gleam Eyes
Roulette Smash
In Roulette Smash players spin a wheel to determine which character they play as, the wheel is randomized although factors such as the characters that can be in or the percentage that they take up can be adjusted. The Roulette Wheel has a maximum of 200 Characters on it and can be changed for each player.
Roulette Smash can also have Roulette Wheels to determine any items excluded and can pick a stage as well.
Powerhouse
In this mode players battle in a 1 v Many match in which one player controls a massive and much more powerful character while the other players take them down with smaller characters. Only Stock matches can be played in this mode.
The only fixed rule that differs from regular match rules are that the Powerhouse Character has
(No.of Players)×(No.of Stocks)-6 Stock
Metal Mania+
Metal Mania has players control their desired character in metal forms, there are 11 metal forms to choose from each with different attributes and effects, the game can be played with standard Smash rules although some items are disabled such as the Metal Cap due to redundancy.
| Metal Type | Attack Power | Defense | Running Speed | Fall Speed | Smash Power | Smash Resistance | Effects |
| --- | --- | --- | --- | --- | --- | --- | --- |
| Red Chromium | +4 | +2 | -1 | +2 | +3 | +1 | Burning Attacks |
| Copper | +2 | -2 | +4 | +1 | +1 | +3 | Status Immunity |
| Gold | +1 | -1 | +2 | -3 | -2 | +4 | Paralyzing Attacks |
| Vanadium | +2 | -2 | +1 | -4 | +3 | -2 | Floating Jumps |
| Green Copper | +3 | -1 | -2 | -1 | +4 | +2 | Long Dodges |
| Nickel | +2 | +3 | +4 | -1 | -2 | -1 | Draining Attacks |
| Cobalt | +3 | +1 | -1 | -2 | -2 | +4 | Icy Attacks |
| Navy Zinc | +2 | -2 | +1 | +1 | +4 | +3 | Warping Attacks |
| Indigo Titanium | +3 | +4 | -1 | +2 | +2 | +1 | Flinching Attacks |
| Manganese | +2 | -2 | +3 | -4 | +1 | -1 | Giant Attacks |
| Classic Steel | +2 | +1 | +1 | -1 | +1 | +1 | Blinding Attacks |
Clasic Mode
Classic Mode returns again having the player face off against numerous opponents to unlock various characters and trophies along the way. In Classic Mode for SSB Memories, players must face off against 35 Characters in a series matches varying with each round. As the rounds increase the opponents get tougher and a rival character awaits the player at the final match.
8 Rounds of 1 vs. 1 Battles
4 Rounds of 1 vs. 1 vs. 1 Battles
3 Rounds of 2 vs. 2 Battles
3 Rounds of 4-Player Battle Royale
1 Rival Match
Medals are given out based on how the player performed, this includes; Damage Taken, Stock Remaining, Time to Beat Enemies (varies with characters) and No. of attacks used. The Medals are; Iron, Copper, Bronze, Silver, Gold & Platinum with the Silver upwards featuring the character's face.
Battle Royale
A new game mode, Battle Royale has the players control Mii Characters in which the players run through a Super Mario-Style Level, although instead of Power-Ups they collect Characters, these characters are randomized although can be removed from the mix freely, players cannot be defeated by enemies although will lose one character if an enemy touches them, completing the level also gets players a stock. This component is able to have up to 4 players at once completing one of these levels.
The players then compete in a standard Smash match until one player loses all their characters, the remaining players go and do a new level and repeat the process until one player emerges victorious. Scaling does apply, hence players with less Stock will deal more damage per hit.
Numerous variables can appear in the platforming levels including boosts to power, starting with certain items and even changing specific factors about the smash match like the stage it's on and the frequency of an item.
Giga Smash
Giga Smash is an off shoot of the various size changing mechanics of previous Smash Modes. This is in itself its own mode as players do not have stock and there is not timer, instead if a player is defeated their size decreases by 25% while the player who defeated them increases their size by 25%, this size change can be recovered by defeating that player and all players have 5 rungs of survival; 100%, 75%, 56%, 42% & 32% before being beaten completely. Players also can increase their size by defeating opponents up to 5 rungs; 100%, 125%, 156%, 195%,  & 244% of their original size.
In addition size affects vartious attributes of the player including their movement speed, falling speed, power, recoverability. In addition accessibility in most stages would become more limited to larger characters while smaller ones would have an easier time navigating locations.
Target Blast
Target Blast helps players to understand how utilize button movements and the joystick to change the direction of travel on targets as well as objects. Target Blast challenges players by having them throw Baseballs or hit training bags or boxes to hit particular targets. The first couple of stages have stationary targets to help players practise and understand the concept while the later ones implore moving targets to test player skill. Later levels also add in other ideas such as hitting explosives to create a chain reaction or using the explosion of items from a box to hit multiple targets simultaneously.
Levels
There are a total of 25 Levels for players to attempt as well as a Target Blast editor which allows players to create their own Target Blast levels to share online and challenge friends to. High-scores for time to complete a level is also displayed.
| Level | Difficulty | Challenge |
| --- | --- | --- |
| 1 | Beginner | Hit the target |
| 2 | Beginner | Hit the high target |
| 3 | Beginner | Hit the far target |
| 4 | Beginner | Hit the target behind the wall |
| 5 | Novice | Hit the two targets with one ball |
| 6 | Novice | Hit the target through the spiral |
| 7 | Novice | Hit the targets behind walls |
| 8 | Novice | Hit the targets with a single box |
| 9 | Novice | Use a running start to hit the target |
| 10 | Novice | Dodge the obstacles while trying to hit the target |
| 11 | Intermediate | Use the explosion to hit the target |
| 12 | Intermediate | Trigger the explosion then hit the target |
| 13 | Intermediate | Hit the targets in sequential order |
| 14 | Intermediate | Hit the moving target |
| 15 | Intermediate | Hit all the moving targets with one ball |
| 16 | Intermediate | Hit the target while utilizing light switches |
| 17 | Hard | Trigger the right explosives to hit the target |
| 18 | Hard | Time the explosion and your throw right to hit the target |
| 19 | Hard | Use the suspended water to hit the targets |
| 20 | Hard | Use the box to hit multiple moving targets simultaneously |
| 21 | Hard | Hit the explosive barrel to propel the player into the targets |
| 22 | Hard | Hit the targets while avoiding Giga Bowser |
| 23 | Expert | Use Teleporters to hit all the targets |
| 24 | Expert | As Olimar use the Pikmin Picker and Pikmin Throw to hit all the targets |
| 25 | Expert | Use Dr. Mario's Eureka Explosion to hit all the targets |
Box Crasher
Box Crasher is a new version of Trophy Box, Box Crasher requires coins acquired from regular play to access. Each time the player enters Box Crasher they will enter a thematic world based on whichever franchise the rewards within the boxes contain. To access Box Crasher the player must amass 1000 coins, while in this mode players run around a large arena with a chasm in the middle from which the boxes fall into, the player's goal is to hit as many boxes as possible and reap the rewards. Most boxes will tend to contain small amounts of coins while others will have the franchise specific rewards. Boxes that are gold-plated or are Subspace Containers will almost always contain rewards for the player.
Event Matches
Returning once more, Event Matches has the player competing in numerous matches against various types of opponents to test the player's skill and understanding of their character and their opponent's/s' abilities. There are a total of 64 Event Matches in Super Smash Bros. 8: Memories.
More TBA
Home-Run Contest
A returning Game Mode, Home-Run Contest has the player use a baseball to hit the training bag as far as possible, players can also drop the baseball bat and just hit the training bag as hard as possible. Scattered across the baseball field below are numerous reward barriers, if the training bag passes through one of these barriers it will either give the player a reward of some fashion after it lands or will give the player a second chance to hit the Training Bag with the baseball bat to give it more speed and airtime. There are two types of barriers; partial barriers and whole barriers. Whole barriers occur every 100m and interval between a reward and a second hit. Partial Barriers will show what they will give based on their colouration.
Yellow - Second Hit
Red - Trophy
Blue - New Alternate Move
Purple - Unlockable Character
Silver - Coins
Party Mode
A new mode, Party Mode has players compete in mini-game esque challenges to win coins and rewards. These mini-games revolve around either platforming, fighting or a combination of the two. Mini-Games can range from defeating a Metal Enemy to surviving an Ice Climb to even hopping across racing cars in one of the circuit battlefields. If a player wins the Party Mode match they are rewarded with something related to their character (assuming such a reward is still available). As players play through the Party Mode they can unlock Free Mode which lets players play any mini-game they want without having to hope on the randomness of Party Mode to make it appear.
Special Orders
TBA
The Arena
TBA
The True Arena
TBA
Characters
Player Characters
Starter Characters
Characters
Neutral Special
Up Special
Side Special
Down Special

Mario

100 Lives

Fireball
Coin Puncher
Tanooki Charge
FLUDD

Luigi

Mr. L

Poltergust
Flutter Leap
Icy Slide
Boo Attack

Princess Peach

Dance of the Peaches

Royal Backslap
Umbrella Twirler
Peach Bomber
Vegetable Rocket

Princess Daisy

Sarasland Rampage

Sarasland Sandstorm
Summon Pokey
Spiraling Flames
Descending Fury

Bowser

Giga Bowser

Fire Breath
Hammer Throw
Koopa Spinner
Koopa Crasher

Bowser Jr.

Mega-Leg

Cannonball
Drill Uppercut
Drift Swipe
Bomb Car

Petey Piranha

Piranha Cyclone

Leaf Cutter
Gale Flight
Slashing Dance
Belly Slam

King Boo

Dark Moon

Boo Storm
Thunder Crasher
Phantasm Spook
Boo Bounce

Princess Rosalina

Starlight Crasher

Luma Command
Starry Jump
Galactic Twirl
Luma Shield

Cpt. Toad

Thousand Riches

Backpack Smash
Abandon Riches
Ruby Slide
Sapphire Rain

Count Bleck

Chaos Heart

Chaos Scepter
Teleport
Reaper's Dive
Shreaking Cackle

Birdo

Birdo Flock

Egg Cannon
Concentrated Jump
Flaming Egg
Crystal Bomber

Mallow

Star Rain

Shocker
Thunderbolt
Winter Breeze
Snowy

Paper Mario

Star Beam

Paint Splatter
Carrie Up
Five Hammer Special
Sticker Slam

Dr. Mario

Doctor's Orders

Pill Buster
Eureka Explosion
Bottle Bomber
Antivirus

Link

Chronology Strike

Ice Arrows
Hookshot
Gale Boomerang
Bombs

Princess Zelda

Light Arrows

Rapier Slash
Din's Fire
Phantom Charge
Nayru's Love

Ganondorf

Beast Ganon

Fire Keese
Light Bomber
Trident Swinger
Warlock Stomp

Toon Link

Pirate Ship Charge

Fire Arrows
Whip
Counterattack
Fire Rod

Sheik

Song of Sages

Smoke Bombs
Tether Wire
Ninja Smoke
Bomb Splatter

Impa

Shadow Vortex

Spear Crusher
Whirlpool Ascent
Eye of the Sheikah
Grave Trap

Darunia

Biggoron

Megaton Punch
Volcanic Eruptor
Hammer Spinner
Bomb Press

Princess Ruto

Lord Jabu-Jabu

Dance of the Moonlit Lake
Zora Leap
Dash Cutter
Waterwheel Kick

Ghirahim

Blade of the Master

Parry Uppercut
Diamond Shatter
Acrobatic Swordplay
True Armour

Vaati

Wrathful Form

Vision Laser
Dark Cyclone
Spiritual Fire
Orbital Eyes

Twinrova

Fire-Ice Magic Dragons

Fire Shot
Broomstick Saviour
Fire-Ice Swirl
Ice Crasher

Byrne

Demon Train

Sniper Slash
Claw Charge
Overthrow
Clawed Slam

Captain Olimar

End of the Day

Pikmin Picker (Red, Blue, Yellow)
Abandon Ship
Pikmin Throw
Pikmin Bomber

Titan Dweevil

Weaponization

Water Cannon
Flare Cannon
Comedy Bomb
Shock Therapist

Plasm Wratih

Elemental Fury

Fire Engulf
Water Bubbler
Glass Smasher
Voltage Overload

Alph

Armoured Mawdad

Pikmin Picker (White, Purple)
Pikmin Chain
Venomous Cloud
Heavy Bomber

Brittany

Winged Army

Pikmin Picker (Winged, Maroon)
Pikmin Carrier
Surprise Attack
Trickster Drop

Pikachu

Volt Tackle

Thunderbolt
Agility
Slam
Thunder

Charizard

Mega Charizard X

Flamethrower
Fly
Wing Attack
Fire Spin

Lucario

Mega Lucario

Aura Sphere
Bone Rush
Metal Claw
Close Combat

Greninja

Giga Water Shuriken

Water Shuriken
Aqua Jet
Feint Attack
Substitute

Sceptile

Supreme Sceptile

Leaf Blade
Pursuit
X-Scissor
Dual Chop

Mewtwo

Mega Mewtwo Y

Psystrike
Psycho Cut
Swift
Barrier

Zoroark

Night Slash

Fury Swipes
Foul Play
U-Turn
Embargo

Tyranitar

Supreme Tyranitar

Dark Pulse
Giga Impact
Thrash
Earthquake

Feraligatr

Hydro Cannon

Superpower
Hydro Pump
Aqua Tail
Chip Away

Infernape

Blast Burn

Flare Blitz
Acrobatics
Flame Wheel
Punishment

Chesnaught

Frenzy Plant

Seed Bomb
Vine Whip
Hammer Arm
Spiky Shield

Gengar

Mega Gengar

Hypnosis
Destiny Bond
Nightmare
Dream Eater

Roserade

Petal Dance

Weather Ball
Grass Whistle
Toxic Spikes
Giga Drain

Villager

Great Tree Feller

Pocket
Dig Up
Pot Plant
Throw Away

Isabelle

Fruit Festival

Document Flurry
Doggy Paddle
Barking Dash
Friendly Neighbours

Tom Nook

Speedy Building

Coin Flip
Cash Float
Family Assistance
Lumber Yard

Blathers

Infinite Knowledge

Quilled Feathers
Night Flight
Weaponized History
Artistic Folly

Kapp'n

Cruise Crasher

Ticket Burst
Sailing Up
Taxi Panic
Shell Twister

K.K. Slider

Song Session

Musical Harmony
Harp Ascent
Acoustic Smash
Bass Slam

Sable & Mabel

Tailored Trap

Spiked Guard
Patched Airlift
Quill Thrower
Hedgehog Roll

Reese & Cyrus

Sellout

Hoofed Barrage
Moutain Prance
Redesign
Furniture Collapse

Mr. Resetti

Reset Burrow

Mining Bash
Burrow Bounce
Hardhat Charge
Dynamite Crash

Rover

Greeting Party

Cats Glare
Feline Pounce
Hunter's Slash
Chatter Speech

Donkey Kong

Donkey Konga Beat

Gorilla Slam
Spinning Kong
Monkey Roll
Banana Toss

Diddy Kong

Barrel Blasters

Peanut Gun
Jetpack Launch
Chimp Cartwheel
Peanut Bomb

Dixie Kong

Rock Out

Hair Whip
Ponytailcopter
Riff Slide
Barrel Bomb

Cranky Kong

Barrel Blaster

Cane Smasher
Pogo Cane
Spinning Flip Kick
Cane Slam

King K. Rool

The Flying Krock

King K. Rool - Crown Toss

Kaptain K. Rool - Blunderbuss Blast

Baron K. Roolenstein - Electro Orb

King K. Rool - Krok Leap

Kaptain K. Rool - Blunder Bomb

Baron K. Roolenstein - Copter Lift

King K. Rool - Krok Charge

Kaptain K. Rool - Twirling Cannonball

Baron K. Roolenstein - Voltage Charge

Costume Change

Funky Kong

Surfing Planes

Bananazooka
Wave Rider
Jumping Gorilla Kick
Funky Slam

Lanky Kong

Trombone Symphony

Lanky Slam
Lankycopter
Orange Sprint
Trombone Tremor

Tiny Kong

Great Dance of the Jungle

Flipkong Kick
Acro-Kong
Feather Bow
Saxaphone Slam

Chunky Kong

Giant Kong Knock-Out

Primate Punch
Quaking Leap
Triangle Trample
Pineapple Launcher

KAOS

Missile Barrage

Sword Spinner
Rocket Shot
Whirling Blades
Helmet Laser

Little Mac

Giga Mac

Star Punch
Spinning Uppercut
Jab Uppercut
Cartwheel Punch

Glass Joe

Crossant Hook

Fein Punch
Glass Breaker
Louvre Jabs
Double Knockdown

King Hippo

Tropical Bodyslam

Double Hook
Belch Leap
Belly Slam
Manhole Spin

Piston Hondo

Hondo Rush

False Uppercut
Hurricane Uppercut
Rocket Jab
Bowing Jab

Great Tiger

Cloud Tiger Strike

Mirage Dance
Phantom Leap
Tiger Smash
Phase Uppercut

Soda Popinski

Soda Waterfall

Soda Fury
Soda Launcher
Charging Hook
Soda Chug

Ice Climbers

Iceberg

Ice Pick Team
Condor Rescue
Belay
Blizzard

Cpt. Falcon

Blue Falcon

Soaring Jab
Aerial Uppercut
Falcon Punch
Falcon Kick

Samurai Goroh

Fire Stingray

Katana Slash
Stingray Leap
Sword Weave Flurry
Goroh Stomp

Jody Summer

White Cat

Feline Kick
Moonlight Leap
Thunderous Kick
Slash Spin

Black Shadow

Black Bull

Dark Flip
Flying Bull
Horned Charge
Hoof Stomp

Dr. Stewart

Golden Fox

Disable Shield
Solar Twist
Fox Dash
Rays of Light

Ness

PK Starstorm

PK Fireball
PK Starlight
PK Thunder
PK Reflect

Lucas

PK Love

PK Freeze
Snake Whip
PK Terra
PK Absorb

Kumatora

PK Royale

PK Burning
PK Repulse
PK Hydro
PK Quake

Masked Man

PK Love

Thunderstrike
Targeted Chase
Fury Slash
Franklin Reflection

Ninten

4th-D Slip

PK Hypnosis
PK Teleport
PK Telepath
PK Powershield

Flint

Power Smash

Spear Swing
Roped Spear
Thousand Jabs
Spear Sweep

Porky Minch

Absolutely Safe Capsule

Venom Stab
Arachnoclimb
Mandible Crush
Tremor Stab

Dr. Andonuts

Phase Distorter

Mr. Saturn Throw
Bottle Rockets
Dream Attack
Chimeras

Wario

Wario Man

Wario Spin
Gas Jet
Motorbike Rider
Wafty Garlic

Ashley

Bat Attack

Red Slash
Lightning Veil
Broom Brush
Dizzy Cloud

Mona

Cheering Squad

Camera Shot
Baton Slam
Baton Swing
Monkey Striker

Cpt. Syrup

SS Teacup

Mystery Bombs
Bobo Lift
Bottomless Coin Sack
Black Sugar Gang

Shake King

Shakequake

Firegram
Sky Dive
Shadow Rush
Shaker Slam

Kirby

God of Energy

Thousand Punches
Final Cutter
Burning Dash/Surfin' Wave
Stone Form

King Dedede

Masked Dedede

Gordo Throw
Rocket Hammer
Hammer Spinner
Dedede Slam

Meta Knight

Galaxia Darkness

Sword Blast
Shuttle Loop
Mach Tornado
Sword Dive

Magolor

CROWNED

Cursed Orbs
Teleport
Starlight Laser
Dimensional Thorns

Marx

Nova

Ball Bounce
Dimensional Lunge
Thousand Arrows
Seed Vines

Queen Sectonia

Moonstruck Blossom

Queen's Blast
Golden Rings
Sword Fury
Ruby Crasher

President Haltmann

Halt Mech 2.0

Susie Bots
Digiteleport
Spinning Claws
Energy Crash

Galacta Knight

Galactic Tear

Lance Jabs
Atmospheric Dive
Plasma Tornado
Crashing Waves

Darkmatter Swordsman

True Form

Afterimage Slashes
Loop Charge
Infinity Slash
Blob Explosives

Prince Fluff

Yarnado

Yarn Whip
Parachute Knot
Vehicular Charge
Coil Out

Dyna Blade

Rainbow Blitz

Spiral Peck
Updraft
Rocket Charge
Wing Slash

Daroach

Squeak Squad

Flare Star
Star Leap
Triple Star
Squeaks

Pit

Three Sacred Treasures

Holy Bow
Gift of Flight
Lightning Charge
Bow Storm

Palutena

Black Hole Laser

Flare Sprite
Levitate
Anti-Barrier
Nosferatu

Medusa

True Form

Snake Spit
Cursed Flames
Serpent Dive
Venom Bite

Viridi

Reset Bomb

Terra Rubble
Flight Light
Tornado Slash
Hydro Bomb

Pyrrhon

Nova Star

Flare Kick
Burning Burst
Blazing Headbutt
Cross Counter

Magnus

Army of Man

Cataclysm Slash
Lunge of Might
Overheave Cleaver
Quake Drill

Cragalanche

Rockslide

Hammer Bash
Rock Rocket
Drill Burrow
Cragaquake
Yoshi

Super Dragon

Egg Toss
Flutter Jump
Egg Roll
Tail Swipe

Poochy

Pooch Panic

Champion Bark
Doggy Paddle
Pooch Slam
Dig Up Treasure

Chibi-Robo

Giga Robo

Zip-Lash
Plug Shot
Frantic Voltage
Overhead Slam

Inkling

Kraken

Splattershot
Ink Jump
Sniper Shot
Paint Roller

Squid Sisters

Splatfest

Pop Rock Punch
Squid Spin
Ink Cartwheel
Splash Twirl

DJ Octavio

Overload Remix

Leek Slam
Machine Rebound
Ink Missile
Record Screech

Octoling Elite

Octo Boss

Blitz Shot
Rocket Missile
Ink Trick Shot
Splatter Bomb

Samus

Zero Laser

Ice Missile
Screw Attack
Shinespark
Bomb

Zero Suit Samus

Gunship

Plasma Whip
Kick Flip
Jet Kick
Roundhouse Kick

Rundas

Ice Skewer

Freeze Shot
Frost Surf
Freezing Flip
Cold Winds

Gandrayda

Master Hand Transform

Plasma Surge
Acrobatics
Plasma Shot
Form Smash

Sylux

Delano 7

Shock Coil
Voltage Leap
Electro Bombs
Lockjaw

Weavel

Halfturret

Plasma Slash
Eject Launch
Hook Plasma
Battlehammer

Spire

Eruptor

Magma Slam
Lava Jet
Dialanche Roll
Magmaul

Trace

Death Strike

Imperialist
Triskelion Jump
High Freq. Reverb
Swinging Imperialist

Ridley

Omega Ridley

Burning Breath
Dragon Jet
Claw Slash
Tail Piledriver

Shulk

Chain Attack

Monado Arts
Air Slash
Back Slash
Vision

Fiora

Mechonis Armour

Spear Blade
Zero Gravity
Air Fang
Healing Energy

Elma

Hundred Shells

Executioner
Thirsty Edge
Electric Surge
Violent Streak

Fox McCloud

Landmaster

Blaster Shot
Fox Flip
Fox Breaker
Reflecter Shield

Falco Lombardi

Arwing

Launcher Blast
Falcon Aerial
Burning Wing Charge
Feathered Scatter

Wolf McDonnell

Wolfen II

Deadly Slash
Trick Jump
Cruel Ambush
Bruiser Combat

Krystal

Cloud Runner

Staff Blast
Staff Hooker
Cluster Bomb
Crystal Barrier

Leon Powalski

Chameleo Striker

Tongue Slam
Counter Fell
Camo Claws
Invisible Ambush

Peppy Hare

Great Fox Cannon

Bunny Kick Flip
Pepped Air Jump
Laser Gatling
Grand Shield

Marth

Falchion Strike

Shield Breaker
Rapier Wave
Dancing Blade
Dual Guard

Ike

Great Aether

Eruption
Aether
Axebreaker
Luna

Lyn

Cyclonic Fury

Astra
Acrobat
Katti Drive
Vantage

Robin

Thoron - Valflame

Elthunder
Elwind
Elfire
Nosferatu

Roy

Sealing Strike

Flare Blade
Overcutter
Drilling Blade
Held Guard

Corrin

Torrential Roar

Dragon Fang Shot
Dragon Ascent
Dragon Lunge
Counter Surge

Wii Fit Trainer

Pose Strike

Yoga Stretches
Hulahoop Whirl
Sun Salutation
Deep Breathing

Duck Hunt Dog

Shooting Gallery

Trick Shot
Duck Jump
Ambush Attack
Gunman Trap

Mr. Game & Watch

Octopus

Chef
Fire
Judge
Oil Panic

R.O.B.

Diffusion Laser Cannon

Clam Crusher
Robo Rocket
Torso Spinner
Gyro

Mii Fighters - Brawler

Beastial Wave Punch

Megaton Punch
Heavy Uppercut
Spinning Fists
Meteor Slam

Mii Fighters - Swordsman

Ancient Whirling Blade

Overcutter
Flip Slash
Drilling Blade
Pierce Strike

Mii Fighters - Gunner

Controller Release Cannon

Charge Shot
Launch Pulse
Blast Roll
Bomb Bolt

Mii Fighters - Athlete

Driver's Launch

Fiery Serve
Batter's Flight
Mega Bowl
Boxing Knockout

Mii Fighters - Mage

Nature's Wrath

Fire Blitzer
Lightning Teleport
Frost Wave
Shadow Flood

Mii Fighters - Ranger

Forest's Ambush

Quick Shot
Grappling Arrow
Long Shot
Raining Arrows

Mii Fighters - Surfer

Tidal Wave

Board Slam
High Tide
Thunder Surfing
Low Tide

Mii Fighters - Superhero

Grand Energy Blast

Power Punch
Gravity Jump
Speed Cyclone
Invisibility
Unlockable Characters
Characters
Neutral Special
Up Special
Side Special
Down Special

Geno

Geno Flash

Geno Beam
Geno Blast
Geno Whirl
Gunner Fire

Dimentio

L

Shadow Pulse
Teleport Boom
Paper Wrap
Gripping Seed

Midbus

Freezing Rage

Nemesis Punch
Body Slam
Rolling Charge
Ice Crasher

Popple

Thief's Unleash

Hammer Throw
Trick Attack
Bag Swing
Stealing Mirage

Waluigi

Rose Tornado

Racket Slam
Mirror Surprise
Dancing Flight
Heavy Stomp

Wart

Nightmare Phantasm

Sleeper Punch
Vege-Launcher
Pokey Swing
Digger Dive

Cat Peach

Sprixie Wish

Cat Scratch
Feline Climb
Wool Chaser
Tail Chase

Metal Mario

Grand Metal Slam

Metal Glove Uppercut
Spring Bounce
Shaped Tornado
Megaton Punch

Mimi

Spider Form

Paper Punch
Unravel Climb
Ruby Shot
Ruby Bomber

O'Chunks

Quake Slam

Stretch Jab
Long Reach
Cartwheel Kick
Fissure Break

Rawk Hawk

Grand Drop Stomp

Superman Slam
Double Flip
Slide Kick
Prop Drop

Tubba Blubba

Hearty Charge

Body Crush
Hook Jump
Shell Roll
Fist Drop

Lord Crump

Magnus Von Grapple

Body Slam
Paper Flight
Retro Spire
X-Naut Ambush

Larry Koopa

Rage Magic Explosion

Magic Blast
Hydro Pillar
Koopa Spin
Whirlpool

Morton Koopa Jr.

Pokey Sandstorm

Spiked Ball
Sandy Twister
Shell Drop
Ground Stomp

Wendy O. Koopa

Blizzard Skates

Ring Shocker
Fish Bone Rocket
Skating Spinner
Glacial Drop

Iggy Koopa

Grand Chain Chomp

Lava Dash
Chain Chomp Jump
Soundwave Shell Spin
Vine Slam

Roy Koopa

King Bill Blast

Bullet Bazooka
Pipe-Tele Jump
Bullet Rocket
Jump Slam

Lemmy Koopa

Explosive Circus Display

Bouncy Ball
Ball Bounce Acrobatics
Sliding Ball Trick
Bouncy Bomb

Ludwig Von Koopa

Thunderous Copies

Blue Trailing Flare
Flutter Chain Jump
Shell Tornado
Spark Pulse Stomp

Smithy

Dark Star

Meteor Storm
Boulder Jump
Spear Rain
Head Change

Bowyer

Sniper Arrow

Lightning Orb
Sprung Flip
Static E!
Bolt

Boomer

Shaker Strike

Blast
Storm Slash
Blizzard
Skewer

Axem Red

Axem Rangers

Valor Strike
Vigor Launch
Top Spin
Flaming Axe

Cackletta

Soul Rampage

Burning Breath
Smoke Swing
Thunder Clap
Gaze Laser

Princess Shroob

Crashing Saucers

Shroobify
Shroomy Flight
Energy Volley
Star Scatter

Antasma

Nightmare Puppeteer

Insect Dart
Gravity Flip
Dark Smoke Charge
Antasmunchies

Mouser

Bomb Blitzer

Squeak Bite
Tunneler Jump
Bomb Flurry
Big Bomb

Doopliss

Stolen Nightmare

Shadow Jab
Head Missile
Soul Pierce
Form Trade

Vivian

Shadow Sirens

Shade Fist
Shade Teleport
Shadow Eclipse
Fiery Jinx

Tatanga

Pagosu

Laser Blaster
Spacial Warp
Missile Cannon
Galactic Punch

Trizer

Trizer Flagship

Vortex Beatdown
Glaring Chains
Rolling Spikes
Vortex Flames

Boom Boom

Belly Slam Tornado

Shell Vent
Invisible Bound
Shell Cyclone
Boom Slam

Pom Pom

Ninja Copies

Boomerang Strike
Spine Flare Jump
Fiery Dance
Boomerang Shielder

Toadsworth

Grand Knowledge

Cane Slam
Mostauche-Copter
Heavy Book Twister
Toad Army

Toadette

Golden Mushroom

Kart Charge
Ponytail-o-Copter
Hair Spin
Mushroom Bomber

Nabbit

Grand Heist

Snatch Sack
Propellor Mushroom
Flower Throw
Hammer Throw

Orcus Koopa

Bone Quaker

Stamping Boulder
Pressure Disperse
Triple Rock Bomb
Seismic Wave

Polentam Koopa

Metal Beast

Claw Slashes
Metallic Whip
Iron Blast
Pillars of Steel

Nereium Koopa

Ambush Army

Black Out Punch
Tele-Spinner
Biting Lunge
Dark Mists

Vallatus H. Koopa

Windy Spikes

Breath of Winds
Shell Lift
Cyclonic Acrobatics
Blow Away

Sirenae Koopa

Whirlpool Cannon

Hydro Claws
Jet Uplift
Spinning Pulse
Crusher Waves

Spiritus Koopa

Thunderous Kami

Spirited Claws
Thunder Jump
Magnetic Spin
Shocking Pulses

Draco Koopa

Fire Storm

Axe Buster
Flaming Tornado
Burning Shell
Big Boom Detonate

Ilusifon

Flooded Ambush

Trick Strike
Boiling Lift
Misty Flail
Water Bust

Espirad

Ancestral Take Down

Ancient Combat
Temporal Warp
Spear Flurry
Spear Swing

Reyvoid

Fountain of Destruction

Mirror Reflection
Perfect Synchro
Dance of Light
Shattering Crash

Allegro

Speed Up Fiery Dance

Quickening Strikes
Accelerating Jump
Infinite Kick
Bell Tome

Vae Ictus

Melody of Death

Broken Note
Minor Arpeggio
Sharp Strikes
Flat Slam

Tamborantula

Web of Noise

Venomous Ringing
Safety String
Silk Whip
Eight-Legged Stamp

Tonitrui

Dischord Opera

Dazzling Prelude
Uplifting Words
Stormy Crash
Broken Melody

Classicromancer

Freezing Symphonic Movement

Shadowy Keys
Abandon Instruments
Cooling Breath
Rising Notes

Trombat Lord

Tuba Cannon

Trombone Breaker
Horn Flight
Noise Blast
Snare Reverb

J.A.Z. Machine

Slow Down Brass Blast

Strung Whips
String Latch
Percussive Racket
Brass Noise Barrier

Keynote King

Grand Keynote Cannon

Scepter Smash
Quaver Chain
Rhythmic Crasher
Knock-Out Beat

Lana

Duality Cast

Chain Lightning
Spear Lunge
Guard Wall
Spear Sweep

Zant

Tyrant Fall

Twilight Pulse
Neon Hemisphere
Dual Slasher
Twili Burst

Demise

Final Lightning

Original Slash
Skyward Strike
Folly Charge
Brute Flames

Phantom Ganon

Puppet Ganon

Phantom Bruiser
Shadow Teleport
Reflected Blast
Phantom Riser

Yuga

Yuga-Ganon

Painted Strike
Flecked Warp
Elemental Blast
Cruel Backhand

Lady

Lady's Pets

Umbrella Swordplay
Umbrella Carrier
Sparked Umbrella
Cursed Tights

Nabooru

Iron Knuckle Armour

Worn Blade Strike
Gerudo Mark Jump
Spirit Pulse
Gerudo Guards

Medli

Flight of the Rito

Wing Slam
Lift Flight
Aerial Dive
Reflection Shield

Majora

Majora's Moon

Nightmare Scream
Twinmold Flight
Goht Charge
Gyorg Slam

Odolwa

Woodfall Madness

Giant's Slash
Razor Tornado
Shield and Chop
Tribal Chant

Tetra

Pirate Ship Barrage

Bucaneer's Chop
Barrel Cannon
Cannon Blast
Treasure Traps

Cubus Sisters

Dead Man's Volley

Sister Spook
Ghostly Whirl
Reaper's Scythe
Energy Slam

Fraaz

Burning Blizzard

Chilling Blast
Hot Air Inhale
Icicle Spikes
Flaming Spin

Midna

Fused Shadow

Wolf Strike
Twili Warp
Wolf Portal
Shackled Strike

King Bublin

Bulblin Army

Spear Jab
Abandon Beast
Bulbo Charge
Spear Fling

Agahnim

Infinite Shadows

Ball of Light
Shadow Morph
Keese Charge
Ritual Slam

Volcagrux

Thousand Fires

Raging Claws
Monsterous Leap
Lava Charge
Tail Spin

Goramai

Shaded Onslaught

Dagger Rain
Quick Jumps
Breakthrough Jab
Poison Bomb

Malliko

Demon Form

Devastating Trick
Demon's Reach
Dark Magic
Shadowy Grasp

Blade

Endless Blades

Heavy Strike Slash
Shielded Jump
Double Spinning Blades
Lava Blast Strike

Arrow

Ambush Party

Elemental Arrows
Sail Updraft
Bow Breaker
Arrow Rain

Crystal

Prism of Destruction

Sparkshot
Flare Launch
Terra Plow
Crystal Fortress

Renge

Pierced Soul Strike

Trickster Combat
Longshot Grapple
Corkscrewshot
Longshot Explosives

Edr

Goron Avalanche

Bomb Arrow
Bomb Powder Cart
Bomb Powder Dust
Flaming Arrow

Ebul

Glistening Sun Wings

Claws of Light
Skylight Flight
Drilling Claws
Pillars of Light

Rullep

Rod of Elements

Eon Light
Shadow Grasp
Terra Wave
Venomous Bomb

Alpha Drezdane

Charge of Drezdane

Monsterous Chomp
Thousand Leg Flap
Savage Claws
Beatdown Stomp

Hurooky

Jungle Drop

Tricky Sling Punch
Long Reach Strike
Flailed Ball
Leaf Scatter

Charlie

Rock Pikmin Avalanche

Pikmin Picker (Rock, Wooden)

Pikmin Steps
Hardened Charge
Bomb-a-Rock

Jigglypuff

Hyper Voice

Disarming Voice
Gyro Ball
Rollout
Rest

Gourgeist

Phantom Force

Razor Leaf
Shadow Sneak
Seed Bomb
Confuse Ray

Ninjask

X-Scissor

Slash
Aerial Ace
Fury Cutter
U-Turn

Scizor

Mega Scizor

Bullet Punch
Razor Wind
Swords Dance
Iron Head

Weavile

Punishment

Icy Wind
Fling
Feint Attack
Revenge

Dragonite

Outrage

Fire Punch
Wing Attack
Dragon Rush
Aqua Tail

Rhyperior

Rock Wrecker

Earthquake
Fury Attack
Stone Edge
Hammer Arm

Chandelure

Overheat

Shadow Ball
Imprison
Hex
Fire Spin

Haxorus

Guillotine

Dragon Claw
Dragon Dance
Giga Impact
Dragon Pulse

Hawlucha

Flying Press

Fling
Sky Attack
Hi Jump Kick
Sky Drop

Darkrai

Dark Void

Dark Pulse
Quick Attack
Ominous Wind
Nightmare

Machamp

Dynamic Punch

Cross Chop
Knock Off
Wake-Up Slap
Submission

Golurk

Earthquake

Hammer Arm
Night Shade
Heavy Slam
Curse

Cacturne

Needle Arm

Energy Ball
Feint Attack
Pin Missile
Revenge

Blastoise

Mega Blastoise

Hydro Pump
Rapid Spin
Aqua Tail
Flash Cannon

Blaziken

Mega Blaziken

Blaze Kick
Sky Uppercut
Brave Bird
Flare Blitz

Typhlosion

Eruption

Flamethrower
Swift
Rollout
Lava Plume

Empoleon

Whirlpool

Hydro Pump
Aqua Jet
Drill Peck
Metal Claw

Samurott

Mega Horn

Fury Cutter
Aerial Ace
Razor Shell
Revenge

Delphox

Mystical Fire

Psychic
Flame Charge
Shadow Ball
Future Sight

Bewear

Superpower

Brutal Swing
Thrash
Double-Edge
Payback

Mecharnaught

Mega Mecharnaught

Metal Claw
Magnet Bomb
Submission
Hammer Arm

Colokraigen

Mega Colokraigen

Pendulaslam
Temporal Leap
Dragon Pulse
Heavy Slam

Epidemeath

Mega Epidemeath

Poison Jab
Radar Void
Needle Barrage
Shadow Ball

Feralolalax

Mega Feralolalax

Psychic
Dimensional Slash
Energy Ball
Moonblast

Timasterer

Clock Stop

Iron Tail
Electro Charge
Psychic
Static Thief

Colostimp

Hydro Cannon

Water Pulse
Sky Uppercut
Double-Edge
Waterfall

Ambuito

Amber Cascade

Mirror Shot
Silver Wind
Flame Charge
Quiver Dance

Vacepide

Eternal War

Flamethrower
Flame Charge
Poison Jab
Sludge Bomb

Pete

Delivery Flock

Bag Swing
Quick Flight
Delivery Package
Peli-Dive

Serena

Fountain Bells

Spinning Trick
Doggy Paddle
Dnace of the Fountain
Excited Bite

Digby

Home Showcase

Award Throw
Chimney Swept
Brick Layer
Rebuild

Saharah

Carpet Sandstorm

Camel Kick
Sand Dune
Carpet Wind
Wallpaper Wrap

Gulliver

Furniture Cargo Drop

Sea Flight Strike
High Tides
Sailing Charge
Washed Ashore

Blanca

Faces of Mystery

Drawn Strike
Coloured Steps
Rough Sketches
Splash of Colour

Nat

Bugs A'glory

Catching Net
Tongue Lash
Tail Slam
Camouflage

Bashmaster

Grape Smasher

Spike Basher
Polar Headbutt
Grapecicle Spike
Iceberg Stomp

Mugly

Armour Roll

Vicious Fangs
Back Spikes
Horn Ram
Stamping Rage

Tiki Tong

Tiki Tower

Crystal Punch
Fire Rain
Hand Swipe
Hand Slam

Klubba

Jungle Fury

Club Slam
Nail Catch
Croco-Charge
Giant's Drop

Dread Kong

Forest Knockout

Overarm Slam
Dread-O-Copter
Destructive Crush
Reverser Punch

Karate Kong

Flying Barrel Kicks

Log Throw
Flying Kick
Karate Strike
Quick Combat

Ninja Kong

Flaming Bombardment

Swinging Punches
Vicious Leap
Stop Trick Punch
Cragged Stomp

Sumo Kong

Sumo Grand Slam

Bruiser Clobber
Behemoth Belly Bomb
Devastating Punch
Giga Suplex

Tectock

Temple's Fury

Boulder Drop
Extended Clamber
Colossus Stomp
Focus Dive

Vixelame

Den Mother

Nightmare Strike
Howling Teleport
Hunting Lunge

Wolf Pounce

Disco Kid

Disco Flurry

Dazzling Jabs
Jumping Jack Hook
Flaunt the Taunt
Hook Moves

Don Flamenco

Rose Flurry

Ole Hooke
Rampage Uppercut
Toro Uppercut
Carmen Mi Amor

Doc Louis

Keep 'Em Up Pummel

Star Punch
Shuffle
Get Low Jab
Chocolate Bar

Bald Bull

Bull Charge

Al Ian Hook
Desert Uppercut
Rolling Jab
Pumping Hook

Bear Hugger

Bear Hug

Catch and Release
Overhead Smash
Squirrel Attack
Hat Trick

Von Kaiser

Von Kaiser Spin Attack

Salutational Jab
Fast Right Uppercut
Raging Punches
Facial Guard

Aran Ryan

Desperate Attack

Headbutt
Rope Attack
Delayed Elbow Smash
Counter-Uppercuts

Darwin Crocker

Kangaroo Kick

Koala Overarm
Emu Triple Kick
Wombat Charge
Platypus Jab

Mercio Verona

Punch of the Colossus

Marble Jabs
Grape Vine Lunge
Golden Bash
Sandal Slap

Timothy Two-Toe

Double Flying Kick

Blinding Uppercuts
Cartwheel Hook
Rocket Jab
Seismic Crash

Dios Machinte

Dance of the Dead

Spicy Uppercuts
Thorned Lunge
Heated Hook
Dance of Speed

Lily Flyer

Bunny Flash

Snowcoat Kick
Camo Jump
Knicknack Surprise
Accelerated Reactions

Phoenix

Rainbow Phoenix

Caped Megaton Punch
Flaming Ascension
Boot of Power
Archaic Strike

Deathborn

Dark Schneider

Skullian Knockout
Death's Reach
Cruel Fury Kick
Implosive Crash

Pico

Wild Goose

Beak Crusher
Hypertension Leap
Hardened Head Smash
Crasher Hook Smash

Octoman

Deep Claw

Ink Shot
Suction Grab
Hextuple Slap
Sticky Trap

Mr. EAD

Great Star

Rainbow Punch
Meteor Slam
Moustache Shocker
Computation

Super Arrow

King Meteor

Ringing Fist
Super Leap
Golden Rocket
Heroic Stomp

Copy Kat

Kopy Cat

Feline Scratches
Scrambling Climbs
Nine Life Slashes
Four Paw Landing

Ashman

Pyroclastic Flow

Volcanic Punch
Eruption Launch
Fiery Blast
Meteor Bomb

Gordon Reemez

Magnificent Millionare

Dollar-Filled Kick
Diamond Flight
Coveted Knockout
Blinding Trickery

Giygas

Space-Time Anomaly

Distortional Slash
Warp Flip
Insanity Pulsar
Critical Overload

Teddy

Gang Surprise

Quick Undercut
Chuckling Flying Kick
Rolling Barrel Kick
Vile Knockdown

Paula

PK Shield of Flames

Frying Pan
PK Thunder
PSI Freeze
Telepathy

Frank Fly

Shark Frenzy

Knife Throw
Quick Save
Come out Swinging
Brandish

Boney

Dig Up

Bite
Safety Rope
Canine Weapon
Sniff

Salsa

Monkey Panic

Monkey Mimic
Swinging Escape
Dance
Carboard Box

Starman

Explosive Laser

Arm Whip
Guts Pill Leap
Shield Bash
Solidify

Everdred

Monster Attack

Tricky Attack
Surprise Back
Vicious Charge
Big Grin

Fassad

Horns of War

Noise Blast
Brainshock
Harmonic Strung
PK Starsong

Li'l Miss Marshmallow

Cleaning Work

Drill Crush
Yo-Yo Volley
Hedge Clippings
Swept Up

Nionu

PSI Final Saber

PSI Blade
PSI Counter
PSI Ground
PSI Nightmare

Cryem

PSI Flora

PK Light
PK Reflect
PK Water
PSI Blocker

Flooded Toad King

Acidic Storm

Frog Wave
Lilypad Jump
Water Belch
Raining Stomp

9-Volt

Gaming Marathon

Pixelball
Pixelbit Punch
SK8 Charge
Game Boy Slam

18-Volt

Collection Flood

Boom Box Burst
Jet Volt
Micro Game Madness
Cheater's Gaze

Scumflower

Swamp Log Slam

Creature Spitter
Thorned Vine
Thorny Barrage
Burrowing Strike

Mike

Super Soundwave

Constructed Bomb
Sound Bounce
Thunderstrike
Rhythm Dancer

Dribble & Spitz

Mechanical Monstrosity

Bite 'n Scratch
Rocket Taxi
Taxi Abandon
Wrench Chucker

Mega Titan

Rocket Fury

Dual-Sided Backhand
Sky Rising Punch
Quad Punch
Armoured Slam

Knuckle Joe

Legendary Force Blast

Vulcan Jab
Spin Kick
Leg Sweep
Rising Break

Paint Roller

Painted Monstrosity

Painted Object
Kick Jump
Skating Slide
Painted Bomb

Goriath

Golden Rage

Furious Pound
Wall Cling
Snowball Avalanche
Icicle Javelin

Poppy Bros. Sr.

Mega Bomb Throw

Bomb Throw
Kicking Dance
Hop and Strike
Bomb Place

Bugzzy

Swarm Attack

Backdrop Suplex
Buzz Flutter
Crush Dash
Beetle Bomb

Drawcia

Drawcia Soul

Drawn Blast
Hovering Bounce
Drawn Enemy
Copy Storm

Ribbon

Crystal Love

Crystal Cannon
Fairie Flight
Ribbon Ray
Love Stamp

Susie

Robobot Armour

Plasma Cannon
Spinning Rocket
Whirling Drill
Bomb Nodes

Bandana Dee

Spear of the Defender

Spear Jab
Spear-O-Copter
Spear Throw
Moon Drop
Arachesert
Zero Kirby
Spinnan
Captain Estralla
Haley
Redabound
Ado
Keeby
Hades
Great Reaper
Dark Pit
Poseidon
Dyntos
Thanatos
Gaol
Phosphora
Kamek
Baby Mario
Baby Luigi
Burt
Baby Bowser
Crazee Dayzee
Jelonzo
Crust Sean
Cap'n Cuttlefish
Annie
Spyke
Judd
Ura Shen
Corelli
Ross Lurfish
Space Pirate
SA-X
Mogenar
Torizo
Anthony Higgs
Dark Samus
Draedorn
Aria
Gorbydiamus
Reyn
Sharla
Melia Antiqua
Kallian
Egil
Vanea
Rook
Gwin Evans
L'cirufe
Grandmaster Luxaar
Ryyz
Panther Caroso
Andrew Oikonny
Lyons Cawmann
Aracee Mortino
Amagor Jal-Al
Lucy Hare
Ross Cybeye
Thelena Tellis
Rosella Vamuzi
Vern Dorsix
Henry Dramos
Bill Grey
James McCloud
Tharja
Ephraim
Eirika
Lucina
Cordelia
Oboro
Azura
Ryoma
Hinoka
Xander
Camilla
Izana
Fuga
Micaiah
Edward
Leonardo
Volug
Leanne
Titania
Oscar
Hector
Eliwood
Marcus
Alen
Lance
Andy
Eagle
Olaf
Kanbei
Sturm
Takamaru
Balloon Fighter
Isaac
Sukapon
Isa Jo
Wonder Red
Wonder Blue
Wonder Yellow
Wonder Pink
Wonder Green
Wonder Black
Wonder White
Ray 01
Ayumi Tachibana
Bubbles
Mike Jones
Muddy Mole
Stanley the Bugman
Hikari & Donbe
Fire
Ice
Electric
Fiend Lord
Beat
Mudanca
Francis W. Thurston
Mr. Sandman
Calea
Azul & Fugo
Espada
Augmatis
Tam-Tom
Bailey
Aeriaos
Teleno
Chattersilk
Sonic
Tails
Knuckles
Amy Rose
Silver
Vector
Espio
Mega Man
Zero
Axl
Protoman
Guts Man
Cut Man
Vile
King
Bass & Treble
Lumine
Grey/Ashe
Dr. Doppler
Dynamo
Double
Hapruia
Leviathan
Fefnir
Phantom
Pac-Man
Ms. Pac-Man
Blinky
Rayman
Globox
Barbara
Teensie King
Mr. Dark
Bayonetta
Balder
Jeanne
Rosa
Rodin
Joy
Alraune
Solid Snake
Liquid Ocelot
Raiden
Boss
Meryl
Gray Fox
Miller
Solidus Snake
Volgin
Jetstream Sam
Sundowner
Bladewolf
Quiet
Phoenix Wright
Miles Edgeworth
Apollo Justice
Athena Cykes
Simon Blackquill
Klavier Gavin
Franziska Von Karma
Prof. Layton
Descole
Emmy Altava
Clamp Grosky/Chelmey
Leon Bronev
Firion
Cecil Harvey
Bartz Klasuer
Terra Branford
Cloud Strife
Squall Leonhart
Zibane Tribal
Tidus
Maria
Kain Highwind
Lenna C. Tycoon
Boco
Sabin
Locke
Barret
Tifa
Zell Dincht
Vivi Ornitier
Garnet Til Alexandros XVII
Rikku
Yuna
Vaan
Lightning
Noctis Lucis Caelum
Prompto Argentum
Gladiolus Amicitia
Ignis Scientia
Crono
Marle
Lucca
Frog
Robo
Ayla
Magus
Loto Hero
Dragonlord
Maribel
Kiefer
Ruff
Yangus
Jessica Albert
Angelo
Bianca
Nera Briscoletti
Ragnar McRyan
Alena
Maya
Stella
Erinn
Aquila
Carver
Ashlynn
Nevan
Prince of Lorasia
Prince of Cannock
Princess of Moonbrooke
Maille
Aroldo
Simon Belmont
Dracula
Alucard
John Morris
Eric Lecarde
Julius Belmont
Albus
Ryu
Ken Masters
Chun-Li
Cammy
M. Bison
Guile
Blanka
Zangief
Vega
Balrog
Dhalism
Cleo
Lilith Pett
Rashid
Agnes
Tiz
Ringabel
Yew
Magnolia
Laura Matsuda
Marina Liteyears
Plok
Sparkster
Sir Arthur
Shantae
Earthworm Jim
Bill Rizer
Pocky & Rocky
Master Higgins
Bub
Dig Dug
Bomberman
Statue Master
Ryu Hayabusa
Firebrand
Bren
Ark
Joanna Dark
Banjo & Kazooie
Conker the Squirrel
Tal'Set
Juno & Vela
Cinder
Fulgore
Glacius
Sabrewulf
Spyro
Cinder
Asura
Sora
Amaterasu
Crash Bandicoot
Rasputin Aquato
Jak & Daxter
Ratchet & Clank
Sly Cooper
Shovel Knight
Shield Knight
Plague Knight
Patricia Wagon
Carol Tea
Milla Basset
Sash Lilac
Yuelia
Noelia
Meatboy
Gomez
Quote
Gunman Clive
Rusty
Jason Aguacate
Chris Redfield
Leon Kennedy
Claire Redfield
Ada Wong
Steve Burnside
Viewtiful Joe
Ryo Hazuki
Beat
Ezio Auditore
Klonoa
Jade & Pey'j
Billy Hatcher
Zitz
Kratos
Master Chief
Bosses
TBA
Stages
TBA
Items
TBA
Memories
TBA
Trivia
The game features the largest set of game modes for any Smash game and with addition of memories one of the largest sets of subgames to play overall.
The Third Banner for the Game featuring rival characters whom are both playable