The
Super Piranha
is the machine driven by the musical mega-celebrity:
Kate Alen
. Bored with her redundant pop culture lifestyle, she had put her near-limitless financial bounty to use and had the best machine on the market crafted for her by Team Power Boys, a crack team of male mechanics who charge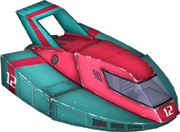 at an exorbitant rate for their top-class service. A machine wielding beauty inside and out was the result of this, with every stat but the boost strength evenly spread amongst all possible performance capabilities. As a personalized touch, Kate had a high-quality speaker system set up in the Super Piranha's cockpit for the purpose of effectively drowning out any audible outside distractions while racing, moving with her own "groove" that will eventually lead her to victory!
Statistics
Appearences
The Super Piranha makes several appearances in the game. It appears in both Kate Alen's battle entrance, and is also used for her Final Smash. In addition, the machine can be seen racing on Mute City Serial Gaps.
The Super Piranha returns once again in F-Zero U, and has been tweaked with an improved boost time.
Ad blocker interference detected!
Wikia is a free-to-use site that makes money from advertising. We have a modified experience for viewers using ad blockers

Wikia is not accessible if you've made further modifications. Remove the custom ad blocker rule(s) and the page will load as expected.