Super Paper Mario II
Platform(s)
Wii
Release Date(s)
7/11/2011
Mode(s)
Story Mode

Colosseum Mode

Age Rating(s)
4/5
Genre(s)
RPG
Super Paper Mario II
(Or Super Paper Mario 2) is the second Paper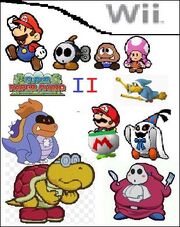 Mario game for the Wii and fourth game in the series. The game returns to it's turn based style of gameplay and 3D like world. Mario has two basic attacks, Jump and Hammer, along with
Special moves
earned by helping out random characters. A new mode will be introduced allowing the player to choose 1 of 50 enemies and bosses as a playable character for a D.I.Y. type battle.
Story
Prologue
Story Characters and Partners
Mario
Luigi
Peach
Bowser
Goombill
Shy Bomb (a shy guy mask-wearing Bob-omb)
A Mini Mario
Adult Yoshi (Kid Yoshi as an adult)
Thought to be a unmasked Shy Guy.
Toadette (Bonus)
SAC's
Gourmet Guy
Kent C. Koopa
A magikoopa.
Locations
Mario's House
Peach Castle
Dry Dry Desert
Glitz Pit
Rogueport
Dszdk Kingdom (Ending only)
Enemies
Goomba
Paragoomba
Spiked Goomba
Gloomba
Paragloomba
Spiked Gloomba
Headbonk Goomba
Headbonk Paragoomba
Koopa Troopa
Koopa Paratroopa
Koopatrol
Bosses
Goomboss
Dimentio
Koopa Bros.
Bowser Jr.
Doopliss
Anti Guy
Bowser
Goombossus
Frade
Ghost Hooktail
Ad blocker interference detected!
Wikia is a free-to-use site that makes money from advertising. We have a modified experience for viewers using ad blockers

Wikia is not accessible if you've made further modifications. Remove the custom ad blocker rule(s) and the page will load as expected.