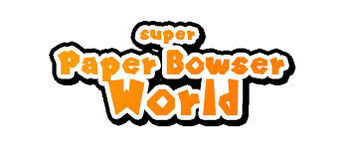 Super Paper Bowser is an upcoming game from the Wii u it is a long awating-sequal to the paper mario series ,in it  Mario and Peach are getting ready for there weading day However Bowser and his son Bowser jr. kidnap the princess and Mario along with his brother Luigi must save them except this time this is the villians side of the game.
Places
Mansion Bathroom Mansion Secret Altar
Partners
Ad blocker interference detected!
Wikia is a free-to-use site that makes money from advertising. We have a modified experience for viewers using ad blockers

Wikia is not accessible if you've made further modifications. Remove the custom ad blocker rule(s) and the page will load as expected.