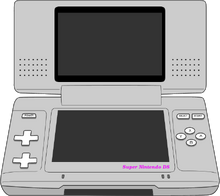 The Super Nintendo DS is a new version of the ds which will be released in 2017.
The Console will have HD graphics and have 40 Gigabytes.
The Super Nintendo DS Can except GB GBC GBA DS & 3ds games.
Games
You don't need permission to make a game for my system. If you do make one, add it to this list and the Super NDS Games Category.