Super Miranda Quest is a story by Miranda22 (t∣b∣c) about herself, Alice Miranda Martinas and HER LIFE in the Mushom Kingdum.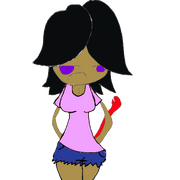 Parts
Season One
Season Two
Season Three
Cortoon Strop
BONUS - NICOL DO NOT BRANCHSES~!
Interactive Stuff
BONUS - ASK ME ANYTHING/QUESTIONS BLOG
Characters
Heroes
Alice Miranda Martinas is a grirl who lived in a nic neigh bouroud but was unhappied because her parents were evil. One day a Ring told her she was teh Cohsen On and took her to Mushom Kingdyum to have fun life. Mirandza wears a pink t-shirt and a small blue shorts all the time except when she doesn't. Miranda is smart, nice, funny, cute and attractive. She wields a crowbarb straight out of the Half Lives. She is currently 15 years old and her birthday is September 30th.
Xlavier Drake Mannesqueleon is Miranda's boyfriend who was capured by Bower. Drake is smart, sometimes shy but usually really cool.
Richard Rick Battlekoopa is Miranda's cousin who was in the Mushrom Kindoms being beat up by Baron Webley. He is a nice friend and cousin to Miranda.
Villains
Bower is the king of koopas who kidnapped Drake and some on named Mario.
Miranda's Parents are evil parents who makes Miranda DO THE DISSEHS. They work with Bower.
Prey-Predator Lord Baron Webley Eckenstecow is an evil, evil man who beat up Rick because he was related to Miranda and Miranda is good, funny, nice, smart, cute and attractive.
Mark Alamazook is a peverted bully who owns a shed. You're supposed to stay out of it.
Mariothemoive/Hearthphilia is a creepy otaku who likes the animes and japanese and the anime females. What a pevert, to fall in love with fictional characters!
Slender is the bad guy from the video game Slender that began chasing Miranda around.
TOMMOROQ IS THE DARK RULER OF THE UNDERWORLD, FEASTING ON THE FLESH OF HIS FOES WITH HIS TEN MOUTHS.
Allies
Hooly is not the main character of Doodled Lands who helped Miranda defeat her parents temporarily b-cuz they were attacking Squid City but Hooly lovved Miranda who lovved Drake instead so seh used teh powerz to kill Hooly by doing such things as punching him, throwing him and droping a brige on him.
Princes Peach is the mushom princes who brought Miranda hdrere.
Mario is a guy nobody cares about.
Ad blocker interference detected!
Wikia is a free-to-use site that makes money from advertising. We have a modified experience for viewers using ad blockers

Wikia is not accessible if you've made further modifications. Remove the custom ad blocker rule(s) and the page will load as expected.