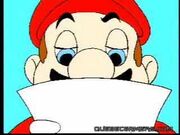 Dear Pesky Plumbers. Only Workers in AquaAtia can edit on this.The Koopalings and I decided that you can edit if only it is grammer or spelling mistake.
Super Mario World GC is the sequel of Super Mario World made on the Nintendo GameCube on November 17th 2001 for NA.This game has 10 Worlds and has the return of the Baby Yoshis.Also Introduces Day and Night cycles.
Story
Dinosaur Island has been having weird weather 4 Rainstorms in one day and a blizzard in July so Mario, Luigi and Yoshi suspected that Bowser was behind this weird weather on Dinosaur island. So the three heros embarked on a journey to investigate the weather.
Gameplay
Super Mario World GC work out as 2-D Platforming with gimmicks. With over 60 levels!
Characters
| Mario | | Mario is the Main Hero.After his first adventure in Dinosaur Island he knows the island like the back of his hand but this time it has many Secrets | Mario can jump the farthest |
| --- | --- | --- | --- |
| Luigi | | In the Last Adventure He was 2P but this time he can be 1P. The man in Green is Ready to run | Luigi is the highest jumper.He is unlocked for 1P play after you beat World 1 |
| TBA | | | |
| TBA | | | |
Devolpers

AquaAtia
Publisher
Nintendo
Platform
Nintendo GameCube
Release Date

[1] September 14 2001

[2] November 17 2001

[3] May 3 2001

[4] May 17 2001

Genre
Platform
Ratings

ESRB [5] - Everyone

PEGI [6] - Three years and older

ACB [7] - General

USK [8] - All ages

Modes
4 Player
Media
Nintendo Gamecube Disc
Input

Gamecube:

Nintendo Gamecube

Controller
Ad blocker interference detected!
Wikia is a free-to-use site that makes money from advertising. We have a modified experience for viewers using ad blockers

Wikia is not accessible if you've made further modifications. Remove the custom ad blocker rule(s) and the page will load as expected.