Super Mario VR is a game by Popple Co.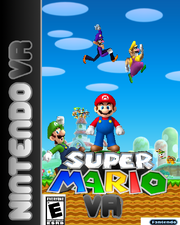 Characters
Mario

- The hero of the Mushroom Kingdom, player 1 controls him.

Luigi

- Mario's cowardly brother, Player 2 controls him.

Wario

- Mario's rival and sometimes ally, Player 3 controls him.

Waluigi

- Luigi's rival and sometimes ally, Player 4 Controls him.

Princess Peach

- The princess of the mushroom kingdom is the damsel in distress.

Bowser

- The main villain, he captures Princess Peach and transfers the players into The Bros.

Toad

- Peach's servants, appear as helpers.

Bob-omb Buddy

- Bob-ombs who help Mario, will give Mario hints.

Wiggler

- A wiggler who only appears in Humoungous Fungus Forest.
Worlds
Peach's Castle: Main Hub
Bombshell Battlefield - A battlefield inhabited by Bombshell Bills and Bob-omb Buddies, Boss(es): Bombshell Barry, Chain Chomp.
Thwomp's Mountain - A mountain inhabited by Thwomps, Whomps, Piranha Plants, and a Bob-omb Buddy.Boss(es): Thwump.
Pirate Bay - A bay inhabited by Bloopers and Swoopers, and a Toad. Boss(es): Patch the Blooper Pirate, Unagi.
Freezy Cheesy Mountain - A mountain inhabited by Tap-Taps and Bumpties, and two Bob-omb Buddies. Bosses: Bumpty King.
Boo's Mansion - A mansion inhabited by Boos, Pink Boos, Dark Boos and Dry Bones. No allies are here. Bosses: King Boo and Boolossus.
Goomba Cave - A cave inhabited by Goombas, Koopas and Buzzy Beetles. A bob-omb buddy is here. Bosses: Buzzy King
Bowser in The Matter World - An area inhabited by Bowser. Boss: Bowser (1)
Humungous Fungus Forest - A forest witth many twists and turns, Copter Koopas and Shy Guys inhabit here. A wiggler appears as an ally. Boss(es): Cosmic King
Valor Volcano - A volcano inhabited by Amps, Embers and Piranha Plants. Boss(es): Blargg, Battery Amp.
Phaoroh Pyramid - A pyramid inhabited by Pokeys, Spines and a Lakitu. Boss(es): King Tut Koopa
Flanky Factory - A factory inhabited by Cosmic Clones and Monty Moles. Boss(es): Mecha Mario
Koopalings in The Volcano: A volcano that the Koopalings took over. Bosses: The Koopalings
Terror Flare Forest - A forest which grows Fire Trees. Bob-omb Buddies are also here. Boss: Treevil.
Bob-omb Country - A peaceful country which is the Bob-omb Buddies home. Boss: King Bob-omb
Cosmic Black Space - An area explored by Cosmic Creatures. Boss: King Cosmo
Bowser in the Castle - Bowser's Castle. Boss: Giga Bowser.
Bosses
Ad blocker interference detected!
Wikia is a free-to-use site that makes money from advertising. We have a modified experience for viewers using ad blockers

Wikia is not accessible if you've made further modifications. Remove the custom ad blocker rule(s) and the page will load as expected.