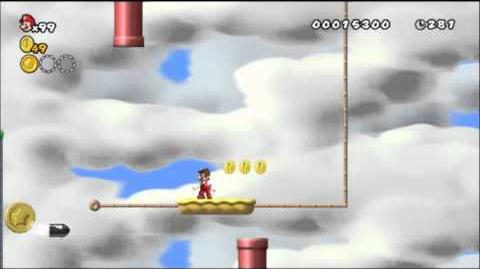 Attention: All Copyright belongs to Nintendo and Fanart to their original maker.
Welcome to Super Mario Skyland.
Super Mario Skyland is an Mini-Hack based on World 7 of NSMBWII. The Goal of it was to replace every level including the ambush ones. The Difficult has been increased also so you might consider to die harder then in the Original. Even it was not tested in Multiplayer it may work or not. You can also check out this page for further information and the state of the hack. Hack Page
Story
Once upon a long time ago when Mario and Co. saved the Mushroom Kingdom from Bowser they decided to take a break. It doesn't take long that Peach is kidnapped once again but for some reason she is trapped in the Skyworld of the Mushroom Kingdom. Now Mario and Co. are going to the hightest place in the whole Kingdom the so called Skyworld. Mario knows it is dangerous there but they got to save the Princess. Once again they go trough courses to get to the end of the world and what does wait at the end? Is it Peach or is it just another Trap? Who knows? To find this out you should do it on your own. It is your Job to help Mario and Co. to rescue the Princess. Are you brave enough for another Adventure?
Characters
| Image | Name | Description |
| --- | --- | --- |
| | Mario | The Main Character of this hack. Mario is here to save the Skyland. |
| | Luigi | Luigi is available in the 2-4 player mode. |
| | Blue Toad | Blue Toad is also available for the 2-4 player mode. |
| | Yellow Toad | Not to forget Yellow Toad who is available for the 2-4 player mode. |
Ad blocker interference detected!
Wikia is a free-to-use site that makes money from advertising. We have a modified experience for viewers using ad blockers

Wikia is not accessible if you've made further modifications. Remove the custom ad blocker rule(s) and the page will load as expected.