''''Super Mario Skaters is a skateboarding video game published by Nintendo and developed by Next Level Games released for the Wii U.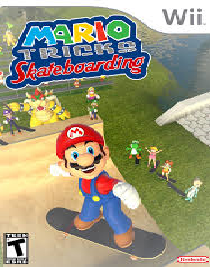 Gameplay
1-2 Players
The game stars Mario and company in a competition known as the M Games. Players can compete in the M Games as a part of the game's Story Mode. There is also a Challenge Mode and Free Skate Mode. Skateboard designs and wheels can be customized, and additional designs can be purchased at a shop ran by Lakitu. Online tournaments and leaderboard are also featured. This game is rated T for "teen" for the reasoning of Luigi acting and being a faggot.
Parks
Characters
Ad blocker interference detected!
Wikia is a free-to-use site that makes money from advertising. We have a modified experience for viewers using ad blockers

Wikia is not accessible if you've made further modifications. Remove the custom ad blocker rule(s) and the page will load as expected.