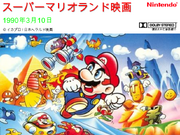 Super Mario Land Eiga is a 1990 Japanese animated film, and the first feature film produced by Icarus Pro. The film was released in Japanese cinemas on March 10, 1990 and runs 69 minutes in length.
Summary
The film's story adds newer elements to the game's original story, such as Bowser was also kidnapped by Tatanga and they must both work together to defeat his captor and rescue Daisy. The story also states that Tatanga was sealed away by three pearls but they were stolen in order to revive him. Tatanga also plots to over-run Mushroom Kingdom in the movie, once he has married Daisy, but Mario and Bowser stop him before this can happen.
Reception
The movie was released in theaters by Nippon Herald Eiga, and in spite of competition from Doraemon: Nobita and the Animal Planet, the movie drew in 2.1 billion JPY ($28,167,210.55) against a budget of approximately 345,673,219 JPY ($4,512,116.16), mainly due to Mario's popularity in Japan.
Critically, the film was also successful. The film was especially well-recieved from moviegoers and journalists. The Asahi Shimbun ran a favourable review of the movie but criticized the movie's short running length compared to Doraemon's 100 minute running length.
Mario Land Prod. Committee
The film's production committee consisted of the following:
Re-issue
The movie was given a 10th anniversary re-issue to Japanese theaters on July 15, 2000 and brought in a further 1.4 billion yen.
Video release
The film was released on VHS and Laserdisc in Japan on December 12, 1990 by Pony Canyon, and became one of the top selling video releases during the 1990-1991 season. The film was re-released on VHS in October 1996 by CIC-Victor in a Collector's Set, which contained a Mario figurine, Super Mario Land 1, 2 and 3 cartridges for Game Boy and an art book.
The film was re-released on VHS, Laserdisc and DVD in Japan on December 2000 in a 10th anniversary edition and became a best-seller for two months.
Ad blocker interference detected!
Wikia is a free-to-use site that makes money from advertising. We have a modified experience for viewers using ad blockers

Wikia is not accessible if you've made further modifications. Remove the custom ad blocker rule(s) and the page will load as expected.