Ad blocker interference detected!
Wikia is a free-to-use site that makes money from advertising. We have a modified experience for viewers using ad blockers

Wikia is not accessible if you've made further modifications. Remove the custom ad blocker rule(s) and the page will load as expected.
Super Mario Galaxy Kart
is a game for the
Wii
,
DS
and
3DS
. The gameplay is similar to Mario Kart but has new features such as some tracks having no gravity and new characters.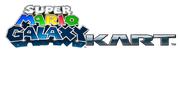 Story
All the racers have been blasted into space! Now they can race in Galaxies from the Super Mario Galaxy games. Tracks from the first Galaxy game are selected from the Comet Observatory and tracks from Starship Mario. Not every galaxy appears in the game but most of them do.
Gameplay
Playing the game is just like any other Mario Kart game. Gliders reappear and propellers for underwater courses. Launch Stars will also let you travel to different parts of the galaxy.
Items
All the items from the other game in the Mario Kart series appear with some new items.
Characters
Most of the characters from previous Mario Kart games appear. There are some new ones and unlockable ones. Characters from other series also appear