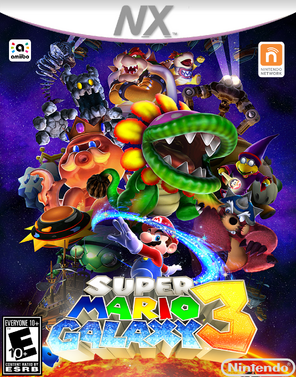 Super Mario Galaxy 3 is the third installment of the Super Mario Galaxy franchise, continuing the franchise that began on the Nintendo
Wii
on Nintendo's upcoming console, the
Nintendo NX
. 
Unlike in previous games, Mario will not be venturing to save Peach, but rather alongside her in a quest to save Rosalina from a new intergalactic villain, Black Hole Bowser. Along the way, Mario meets up with many iconic characters throughout his journey, including everything from teaming up with Donkey Kong in his jungle galaxy to take down the vicious Petey Piranha, to finding Luigi in a haunted galaxy to take down King Boo.
New to the Super Mario Galaxy games is the ability to play as characters you find along your journey in select galaxies. Playable characters include Luigi, Princess Peach, Wario, Waluigi, Donkey Kong, Lakitu, and more.
The sequel will be officially announced during Nintendo's digital event for the 2016 Electronic Entertainment Expo (E3), and a demo will be playable on the show floor for attendees of the expo. Super Mario Galaxy 3 was the second game confirmed for Nintendo's new console and will release on the Nintendo NX in Q1 of 2018.
The game has been rated E10+ by the ESRB.