Super Mario Galaxy 3 (Nascar2012's Version) Rating: E
Super Mario Galaxy 3 is a video game made for the Wii U. It's release date is December 4,2013. It is the third installment to the Super Mario Galaxy series.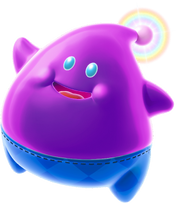 Storyline
Mario gets an invitation from Lubba and the Lumas that they are going to visit him at Peach's Castle. Mario starts off toward Peach's Castle, enjoyed that his old friends are back, but then something happens. When Mario arrives at Peach's Castle he finds a wrecked Starship Mario and some Lumas overboard. Next thing he knows it Bowser appears and smashes Peach's Castle to bits. An overboard Luma creates a launch star and blasts Mario into space.
Main Characters
Mario- the hero
Bowser- the main enemy
Peach- the princess Mario has to save
Yoshis- Mario's companion dinosaurs
Lubba- the leader of lumas
Lumas- Mario's helpers
Luigi- Mario's brother
Bowser Jr.- Bowser's son
Bogis- Bowser's main henchmen
Power-ups
Fire Flower
Ice Flower
Rainbow Star
Bee Mushroom
Boo Mushroom
Cloud Flower                                                            
Spring Mushroom
Spin Drill
Penguin Suit
Bomb Flower
Yoshi's Power-ups
Dash Pepper
Bulb Berry
Galaxies
World 1
Space Station Galaxy
Honeybee Galaxy
Dino-Dino Galaxy
Yoshi Time Galaxy
Underwater Railway Galaxy
Bowser Jr.'s Fearsome Fleet
World 2
Penguin Palace Galaxy
Super Mario Bros. Galaxy
Haunted Mansion Galaxy
Deep Dark Galaxy
Yoshi's House Galaxy
Bowser's Grand Star Hideout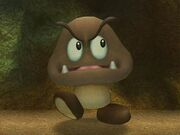 World 3
Supergiant Galaxy
Yoshi Tree Galaxy
Slip Slide Galaxy
High-Up-In-The-Sky Galaxy
Motor Rev Galaxy
Bowser Jr.'s Lava Trap

World 4
Cozy Cove Galaxy
Junkyard Galaxy
Sea Side Galaxy
Yoshi Again Galaxy
Instrumental Galaxy
Bowser's Big Crusher

World 5
Super Fast Galaxy
Jumbo Feast Galaxy
Cloudy Farmyard Galaxy
Bob-omb Battlefield Galaxy
Mushroom Manor Galaxy
Bowser Jr.'s Robotic Castle
World 6
New Dino-Dino Galaxy
Crashland Galaxy
Dig-Dig Galaxy
Goomba Gamble Galaxy
Bosses Galaxy
The Center Of The Universe
This Game Belongs To Nascar2012 No Editing Without Permission
Ad blocker interference detected!
Wikia is a free-to-use site that makes money from advertising. We have a modified experience for viewers using ad blockers

Wikia is not accessible if you've made further modifications. Remove the custom ad blocker rule(s) and the page will load as expected.