Super Mario Galaxian
Developer(s)
Nintendo
Publisher(s)
Nintendo
Platform(s)
MSNES
Release Date(s)
December 2, 2008
Mode(s)
4 players
Age Rating(s)
ESRB:Everyone
Genre(s)
Bowser
Media Included
2 DVD´s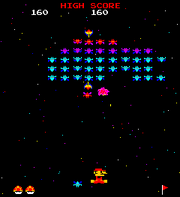 Super Mario Galaxian is the most famous game of the MSNES.
Description
The story begins when Bowser kidnaps Peach and enclosed in a big castle above of the Sun. Now Mario is going to rescue her or Mushroom Kingdom will be destroyed by Bowser.
Controls
The player's character is controlled via the MSNES Remote and Moonchuk.
Media
None