In this Mario game Bowser is not the bad guy it is King Sluggel he has stolen the Princess and many coins King Sluggel is actauly Bowsers friend who wants revenge Bowser has betraided King sluggel by doing bad things and telling to the police King Sluggel did it In this game King Sluggel has Sluggelings That is Sluggo Slugga Sluggu Sluggi and Sluggel.Jr oh yeah another detail Bowser met King Sluggel in School And Bowser is a playable character in Super Mario Coin Choas!
Added things in Super Mario Coin Choas: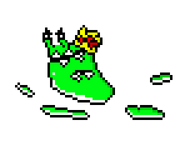 .New boss King Sluggel

.Sluggeling
.New enemy Slugg
.New powerup Glide
.New powerup Ultra power
.And much more
Ad blocker interference detected!
Wikia is a free-to-use site that makes money from advertising. We have a modified experience for viewers using ad blockers

Wikia is not accessible if you've made further modifications. Remove the custom ad blocker rule(s) and the page will load as expected.