Ad blocker interference detected!
Wikia is a free-to-use site that makes money from advertising. We have a modified experience for viewers using ad blockers

Wikia is not accessible if you've made further modifications. Remove the custom ad blocker rule(s) and the page will load as expected.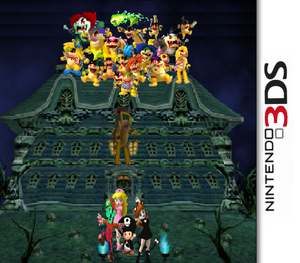 Super Mario Bros Undead or SMBU is a 3DS game and is on sale for a limited amount of time (it is made especially for Halloween).
Plot
Mario and friends are trick or treating and they knock on the door of an old mansion, the knock on the door and the door slowly creeks open and they walk inside the door slams behind them. A candle flys across the room ans stops infront of them. A shadowish figure apears from the smoke of the candle. It says "Mario you have foild my husband and chilrens plans to many times to count, so i am imprisoning you all here for life" Daisy is about to say somting but the shadow shouts "SILENCE" and Daisy is soon incapable of speeking. The shadow grabs Mario and Daisy and atempts to fly away, Daisy manages to get away and falls to the floor hiting her head by this point the silence spell had worn off. You must chose a character to play as for the hole of the game (once you have chosen your character you cant change it).
Characters
Levels and Bosses
Tutorial Level - No Boss
Level 1 - Find The Magic Amulet - Undead Dragonia
Level 2 - Get The Book - Undead Jacob
Level 3 - Prevent The Fire 1 - Dry Bowser Jr
Level 4 - Move The Bolder - Undead Tim
Level 5 - Burn The Book - Undead Harley
Level 6 - Prevent The Fire 2 - Undead Larry
Level 7 - Find The Acid - Undead Jackson
Level 8 - Find The Secret Pasage - Undead Morton Jr
Level 9 - Escape The Lava - Undead Risien
Level 10 - Find The Magic Earings - Undead Wendy
Level 11 - Prevent The Flood - Undead Dolly
Level 12 - Prevent The Over Groth - Undead Ellen
Level 13 - Kill The Cockroaches - Undead Iggy
Level 14 - Find The Other Trick or Treaters - Undead Noah
Level 15 - Prevent the Fire 3 - Undead Roy
Level 16 - Protect Your Self - Undead Lemmy
Level 17 - Get Rid Of The Piano - Undead Ludwig
Level 18 - Blow Up The Out House - Undead Lavora
Level 20 - Every Koopaling Battle - All Undead Koopalings
Level 20 - Dry Bowser Battle - Dry Bowser
Level 21 - Rescue Mario - Ghost Clawdia
Enemies
The Enimeis in this Game are...
Dry Bones
Boos
Dry Goombas
Bone Bros
Wet Bones
Boolines
Ghosts
Cockroaches
Rats
Trivia
The Shadow Ghost is ment to be a dead Clawdia.
The Guid Book says "the Koopalings seek revenge for being killed by Mario..." but Jacob is a good guy so his death still remains a mystery.