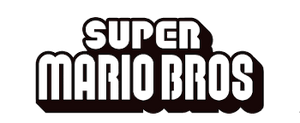 —The game's tagline.
Super Mario Bros.
is a reboot of
Nintendo
's well-known
Super Mario series
, named after the original 1985 video game for the Famicom/NES. It is under development by
Lone Planet Productions
for the mysterious
NX
console.
According to the director, the reboot "takes everything people love about Mario games and puts it all together in a strange new universe." It will also be plot-focused, similar to Mario RPGs such as Paper Mario and Mario & Luigi.
Plot
Mario and Luigi are busy middle-class workers in Brooklyn. The former is a carpenter, and the latter is a plumber. They work together and attempt to build the safest, cleanest buildings in town.
However, dimensional portals begin to open up throughout the city, releasing odd creatures that wreak havoc. The Mario Bros. investigate, but soon find themselves trapped in the world they came from. They get caught up in a war between the Mushroom Kingdom, ruled by the wealthy Princess Peach, and the Koopa Troop, commanded by a ruthless, yet charming warlord known as Bowser.
Mario and Luigi join Peach's faction to find a way home, but when Bowser wants to revive a greater threat that could mean doom for both worlds, what will they do to stop it?
Production
Lone Planet has stated that the reboot will bring together heroes and villains from several Mario games, including subseries like Wario and Donkey Kong. Elements from the Paper Mario games have also been confirmed to appear.
The game will be a 2D platformer, but will not use the engine used for the New Super Mario Bros. games. Instead, Lone Planet opts to present a more vivid experience similar to the Kirby games.
The reboot is not connected to Lone Planet's more familiar projects, like the Vicinity Saga and the Multiversal Silver Spurs series, and turns out to be a separate canon.
Logo
The logo for the reboot is designed to blend into any color you place it over, because the letters are transparent.
Ad blocker interference detected!
Wikia is a free-to-use site that makes money from advertising. We have a modified experience for viewers using ad blockers

Wikia is not accessible if you've made further modifications. Remove the custom ad blocker rule(s) and the page will load as expected.