This page on the beta elements of Super Mario Brawlers.
Mario Bros. Brawl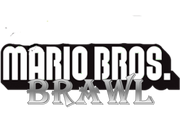 Te original name planned for this game was Mario Bros. Brawl. It was discarded for unknown reasons.
Smash Attacks
Toad, Toadette, Toadsworth, and Bowser all were going to have different Super Smash Attacks. Toad's was somewhat roughly similar to the final, in fact, the only difference was the vehicle used.
Beta Characters
In the original game, Lubba and Boo were going to be playable characters.