==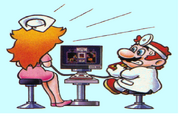 Super Mario Adventures: Epi. 1 When Bowser Hated Ludwig Von Koopa Part 2== Back in Toad Town where Princess Peach Toadstool lived, Mario and Peach was playing a video game.
Mario: Man, I didn't know a princess could be good at killing people on a video game.
Mario thought. Peach was just trying to concentrate on the game. Luigi and Toad was playing go fish.
Toad: GO FISH IN THE POND!
Luigi: Could you just say go fish.
He said upsetly.
Toad: Okay... LOSER. HA HA HA!
Luigi: Not Funny... son of a...
Luigi mumbled. The ground started shaking and Mario and Peach's game shut off.
Mario and Peach: AWW!
Luigi and Toad card game went everywhere.
Toad: AWWWWW, Darn it.
Luigi: Yesss. Boo, Yah.
All of a sudden.. The Koopalings poped out of no where and took Peach.
Peach: AAAAAAAAAHHHHHHHHHHHHHHHHHHHHHHHHHHHHHHHHHHHHHHHHH!
Mario: The Princess!
Mario, Luigi, and Toad followed Peach, in the airship tied up.
Koopalings: NaNaNa Boo B...
The Koopalings bumped to the tree and the Airship blew up. Peach fell from the tree and Mario catched her. They both blushed, but Mario still carried her.
Mario: Lets go home.
Mario, Luigi, Peach, and Toad walked home. On the parachute the koopalings were falling back to the Koopa Castle. Bowser was standing in front of the door.
Bowser: Ludwig and the kooplings, I have a surprise for you all.
In a crib, a baby was born. His name was Bowser Jr.
Lemmy Koopa: What the heck happened to Clawdia?
Bowser: Oh, Uh... I kind of, uh... killed her.
Bowser said quietly.
Bowser: My new son will now be my little sidekick. That is why I named him Bowser Jr.
Ludwig: What I thought, I was your sidekick.
Bowser: Not anymore. I am going to fire you.
Ludwig: How 'bout you hire me.
Bowser: No way. I fired you because all you do is nothing.
Ludwig: NOTHING! I DID EVERYTHING. FOR YOU AND MY BROTHERS AND SISTER!
Bowser: Yeah, but your getting kind of old and boring. Besides your the oldest and I always see you.
Ludwig's mouth fell on the ground and walked away.
Ludwig: BooBoo Bowser. Why him? I'm better and the smarter one. You never know Boobie Jr. could be the dumb one. I hate Bowser.
Ludwig thought. Then, he walked away, while the rest of the Koopalings where crowding around the baby.
THE END!
Ad blocker interference detected!
Wikia is a free-to-use site that makes money from advertising. We have a modified experience for viewers using ad blockers

Wikia is not accessible if you've made further modifications. Remove the custom ad blocker rule(s) and the page will load as expected.