Super Mario 64 Wii u Is the Second remake, and 3rd overall of Super Mario 64. it is the first Super Mario 64 game to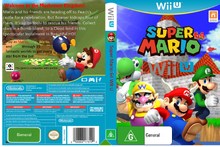 have 1080p HD Graphics.
​Snyposis
Princess peach is having a Birthday ceremony, Until Bowser comes to ruin the Party with his "Sidekick, Bowser junior". Mario, Yoshi, Wario, and luigi are ready to Grab some Stars and Collect Coins in this Full hd Adventure! Will Mario Stop bowser, or will Bowser lock all the stars in his Castle?
Mario
Full Name
Mario Mario
Current Age
28
Date of Birth
July 9 1968
Gender
Male
Species
Human
Location
Mushroom kingdom
Current Status
Alive (Defeated when he loses)
Main Weapon(s)
Powerups
Ability/ies
Walljump
Nationality
Italian
Family and Relations
Princess peach
Voice Actor(s)
Charles Martinet
Luigi
Full Name
Luigi Mario
Current Age
27
Date of Birth
July 14, 1968
Gender
Boy
Species
Human
Location
Mushroom
Current Status
Alive, (Dead When he loses the Game
Main Weapon(s)
Power ups
Ability/ies
Scuttle Jump
Nationality
Italian,
Family and Relations
Princess Daisy
Voice Actor(s)
Charles martinet