Ad blocker interference detected!
Wikia is a free-to-use site that makes money from advertising. We have a modified experience for viewers using ad blockers

Wikia is not accessible if you've made further modifications. Remove the custom ad blocker rule(s) and the page will load as expected.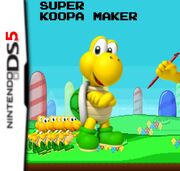 Super Koopa Maker is a game for the 
Nintendo DS5
. It was released on December 4, 2015 in America, and Decmeber 8, 2015 in Japan, Europe, and Australia. It's like the Wii U's Super Mario Maker, put Koopa is the main character. 
Release Date(s)

America: December 4, 2015

Europe: December 8, 2015

Japan: December 8, 2015

Australia: December 8, 2015

System
Nintendo DS5
Series
Mario Maker 
Genre
D.I.Y.
Publisher
Nintendo
Playable Characters
| | Koopa | Default |
| --- | --- | --- |
| | Goomba | Default |
| | Chargin Chuck | Make 30 courses |
| | Koopalings | Get a total of 65 stars |
| | Bowser Jr. | Upload 20 courses |
| | Bowser | Get a total of 125 stars |
Enemies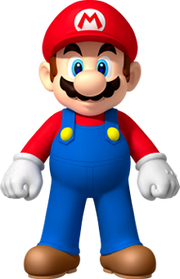 Mario
Fire Mario
Tanooki Mario
Cat Mario
Ice Mario
Frog Mario
Hammer Mario
Penguin Mario
Propeller Mario
Squirrel Mario
Raccoon Mario
Light Box Mario
Cape Mario
Hero Car Mario

Green Mario
Gold Mario
Metal Mario
Dog Mario
Baby Mario
Wiggler Mario
Goombario
Cheep Chario
Lakituwario
Thwompario
Bloopario
Shy Guy Mario
Mousario
Dry Mario
Angry Sun
Waluigi
Birdo
Stage Layouts
Ground
Underground
Desert
Sky
Desert
Mountain
Ice
Trophy Store
All Enemies
All Enemy trophies cost 1 star each
Koopa - Buy for 3 Stars
Goomba - Buy For 3 Stars
Squiggler - Buy for 5 stars
Chargin Chuck - Buy for 7 stars
Koopalings - Buy for 10 stars
Bowser Jr. - Buy for 12 Stars
Bowser - Buy for 15 stars