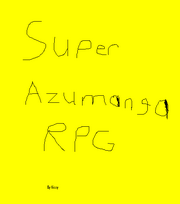 Super Azumanga RPG(スーパーあずまんがRPG Sūpā Azumanga Ārupījī) is a short fan-fiction about Azumanga Characters came in to Super Mario RPG SNES game.
Shorts
Charaters
From Mario series
Mario
Luigi
Mallow
Geno
Bowser
Peach
form Azumanga Daioh
Chiyo Mihama
Tomo Takino
Yukari Tanizaki
Minamo Kurosawa
Koyomi Mizuhara
Ayumu Kasuga(Osaka)
Sakaki
Kagura
Kaorin
Masaaki Ohyama
Miruchi and Yuka-chan
Mayaa
Kamineko
from the AzuSanity
Original Characters
Kagura's little sister
Yuko Ohyama
Chiya Mihama
ChibiSakaki
Ad blocker interference detected!
Wikia is a free-to-use site that makes money from advertising. We have a modified experience for viewers using ad blockers

Wikia is not accessible if you've made further modifications. Remove the custom ad blocker rule(s) and the page will load as expected.