Adventure Mode is a returning game mode for both single and multiplayers. While Super Smash bros. for Wii U and 3DS didn't have a true Adventure Mode, Super Smash Bros. Brawl had something similar to an Adventure Mode in "The Subspace Emissary". Super Smash Bros. Melee was really the only game to have a true Adventure Mode. Players can go on an adventure; navigating a level that contains enemies and elements from a certain franchise that all have a certain goal to be completed before they can advance. This mode is a bit longer but has greater rewards. Players are awarded with trophies, equipment's, stamps, and other locked content both during and the end of the mode.
Upon Starting
Players can choose between the following difficulties:
Upon choosing the character and difficulty, they are able to invest on how much gold they would like to put into the pot. Putting more money into the pot from the start results in more money given at the end of each level. The money is lessened if the player has to continue. Unlike Classic Mode, the player doesn't receive this money until the end of the Adventure Mode. They can take the money at any time after completing a level but that resets the money to zero and decreases the amount given in later levels. For example, investing 100 G into the pot results in 400 G being given after the first level with the next level giving 600 G and the one after that giving 1000G. However, taking the G resets the money to 0 and only gives 200G for the first match. The longer you keep the money in the pot and completing levels, the more gold is given after each level.
Levels
The console and handheld versions differ between the levels. Each level is tailored to a particular franchise with the console and handheld versions having different ones. In addition, each level has three goals to complete and a final boss to defeat before advancing. Once the level boss is defeated, players must face against a team battle of 3 characters before advancing to the next level. The levels are randomized and do not have a fixed order. All difficulty settings has 5 levels for the players to go through.
| Franchise | Description |
| --- | --- |
| Mario | This level has three portions to it: a typical Mario setting, an underwater setting, and a desert setting. Players must reach the end and grab the goal flag to continue to the next section. In the underwater section, players swim through the stage, avoiding enemies and gusts of water. They must find and pick up a key and bring it into a keyhole which warps the players to the next section. The next section is a desert theme with dangerous quick sand, enemies, and vanishing blocks. The final boss is Angry Sun who will attempt to dive bomb opponents. |
| The Legend of Zelda | This level is a dungeon that requires players to complete a set of goals before continuing. Players find themselves within a grove area with trees and enemies. To continue forward, there is a glowing diamond on the wall containing the door as well as the wall behind the player. Players must hit both within quick succession in order to open the door. Upon entering, they find themselves a fire-like dungeon and must avoid lava traps and fire plumes. They must pick up boulders and chuck them into the lava before advancing across the lava. Staying too long on them causes it to sink. Along the way, there is a chest with a key in it that will unlock the next door. This opens up the final section which results in light being used. Players must push a mirrors or attacking them to tilt them in order to create the Triforce. This causes the Final Boss, the Dakrnut to appear. It wikll sue its massive sword to try and attack opponents. |
| Donkey Kong | This level contains Blast Barrels that will propel players through the air. There are several ways to go through the stage but they all end up joining together. Players are then shot into a jungle are and must continue while avoiding pit traps and enemies. This one is bit shorter but has more enemies within it. Completing the end of this section causes a large Kremling to appear. It will throw out powerful slashing attacks and attempt to damage the player. |
| Metroid | This level is rather short with players having to jump up a shaft while enemies try to attack players. Lava is also rushing down from below and causes an OHKO if it touches the player. The shaft also has several horizontal sections. Reaching the top causes the lava to subside and the Queen Metroid will appear; delivering powerful energy based attacks. |
| Yoshi | Players traverse through several Yarnified levels. The first level is a Yarnified forest. Players must traverse it while avoiding enemies and gathering Eggs. Gathering 30 eggs results in the player advancing. The next stage is spent riding onto of Poochy as he moves around. The player is unable to attack during this state and must use Poochy's speed to avoid damage. Finally, the player finds themselves in the air and must navigate through clouds that threaten to vanish if the player stays on them for too long. Completing this section causes the end opponent, Naval Piranha will appear from the bottom of the stage. It will try to bite the opponent and spit out fire. |
| Megaman | Players must navigate a robotic level with various enemies within the stage. There is a section with vanishing blocks much like in the Mega Man games. Players must jump over pits of spikes that can OHKO players and climb up ladders. There is a mid section boss which consists of a large Mettaur. Completing the stage initiates a familiar boss stage entry and players must fight against the Yellow Devil; who functions much like in Wily's Castle. |
| Kirby | Players must navigate various stages within Pop Star while avoiding enemies. This has the most amount of sections which consists of: Green-Greens, Fountain of Dreams, Red Canyon, and the Halberd. The final boss is Kracko, Jr. |
Handheld
| Franchise | Description |
| --- | --- |
| Kid Icarus | Players are given the Rocketbelt and must fly through this level which is reminiscent of the older Kid Icarus games. They must avoiding being hit by enemies and obstacles. The Rocketbelt will not wear off but will lose power the more it is pressed so conserving your power is key. Navigating through this area results in the player fighting Medusa as a final boss. |
| Golden Sun | This is a single area level that has a Mercury, Venus, Mars, and Jupiter Pedestal in the four corners of this large dungeon. Players must defeat 10 enemies of each type and bring their elemental essence into the pedestal. It goes in the order of Venus, Mars, Jupiter, and Mercury. Once this is completed, players fight against the final boss, Valukar who sues fire and physical attacks to demolish opponents. |
Console
| Franchise | Description |
| --- | --- |
| Pikmin | Players navigate a natural area where players must fight against the indigenous enemies and navigating ponds on floating leafs. Pikmin are busy in this stage, building structures for players to cross over but it takes time so player must help locate certain objects to add in the construction. Progressing through the level initiates the final boss, the Emperor Bublax. |
| Bayonetta | Players must navigate the ruins of Noatun while fighting off hordes of angels and devils. The players must defeat 20 Angels and 20 Demons before advancing into the final boss, Glamor. |
Enemies
Mario
Koopa Troopa
Paratroopa
Goomba
Paragoomba
Bullet Bill
Banzai Bill
Hammer Bro
Cheep-Cheep
Blooper
Pokey
Dry Bones
Fire Snake

The Legend of Zelda
Deku Scrub
Deku Baba
Poe
Skulltula
Wallmaster
Keese
Chuchu
Octorok
Redead
Peahat
Stalflos
Phantom Ganon
Final Boss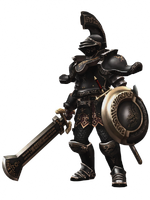 Donkey Kong
Kritter
Klaptrap
Tiki-tork
Zinger
Tiki-zing
Tiki-Tank
Final Boss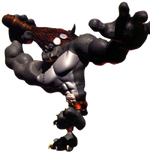 Metroid
Reo
Kihunter
Sheegoth
Geemer
Poylp
Metroid
Yoshi
Shy Guy
Fly Guy
Stilt Guy
Spear Guy
Bandit
Final Boss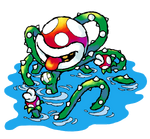 Mega Man
Mett
Sniper Joe
Telly
Pipi
Batton
Spine
Cannon
Final Boss

Kirby
Bronto Burt
Waddle-Doo
Plasma Wisp
Bonkers
Blade Knight
Parasiol Dee
Tac
Gordo
Final Boss

Kid Icarus
Daphne
Specknose
Boomer Stomper
Flage
Monoeye
Reapette
Skuttler
Final Boss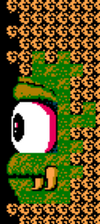 Golden Sun
Earth Golem (Venus)
Ant Lion (Venus)
Zombie (Venus)
Minotaurus (Venus)
Salamander (Mars)
Dread Hound (Mars)
Flame Dragon (Mars)
Phoenix (Mars)
Roc (Jupiter)
Gargoyle (Jupiter)
Gryphon (Jupiter)
Harpy (Jupiter)
Cuttle
Siren (Mercury)
Hydra (Mercury)
Blue Dragon (Mercury)
Final Boss

Pikmin
Bulborb
Peckish Aristocrab
Phosbat
Toady Bloyster
Burrowing Snagret
Watery Blowhog
Skitter Leaf
Final Boss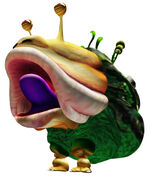 Bayonetta
Affinity
Dear and Decorations
Ardor
Beloved
Harmony
Fearless
Joy
Final Boss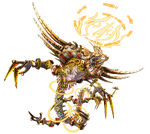 End Level Battles
After defeating an opponents, the level transitions into a match between the player and three other characters from that franchise.
Mario
Handheld

'Console

The Legend of Zelda
Handheld

Console

Donkey Kong
Yoshi
Handheld

Console

Metroid
Handheld

Console

Megaman
Handheld
Robot Museum
Console
Maverick Crisis
Kirby
Handheld
Kid Icarus
Handheld

Golden Sun
Handheld
Pikmin
Console

Bayonetta
Console

Rewards
Completing Adventure Mode on various difficulties yields more rewards with greater quantities. Killing enemies, defeating the Final Boss, and completing the level quickly attributes to the rarity of the item received. Completing Adventure Mode on any difficulty results in getting an Alt Trophy of a character.
Easy: Small amount of gold, 1 trophy, 1 custom move
Normal: Moderate gold, 1 trophy, 1 custom move, 1 stamp, 1 custom accessory
Hard: Large amount of gold, 2 trophies, 2 custom moves, 1 stamp, 1 custom accessory, 1 custom item part, 1 cheerpal
Insane: Huge amount of gold, 3 trophies, 3 custom moves, 2 stamps, 2 custom accessories, 2 custom item parts, 1 cheerpal, 1 CD
Completing a level on Easy will insure that you get the above items listed. Getting a high score and dealing a lot of damage while completing the level quickly can result in more rewards given than doing poorly.
Make Your Own Adventure
In addition, there is a new mode called Make your Own Adventure where players can create their own Adventure Modes by selecting from a number of the available franchises. Here is a list of content players can customize in this mode:
Select which adventure rounds will have which franchises.
Select which enemies will appear, how many, where, and even mix the enemies up.
Set the number of stocks or time.
Add additional rules or effects such as Stamina or Bunny Hood.
Share your created Adventure Modes with friends or anyone online.
Note: Completing a created Adventure Mode does not reward the player with an Alt character trophy.