This page is under construction.
Please excuse its informal appearance while it is being worked on. We hope to complete it as soon as possible!
This is an article by KirbiMiroir.
Please do not edit unless it's fixing a grammatical error, or if you are working on it with me or my company. Thank you for taking the time to read this, and I hope you appreciate the effort I am putting into this page.
A Summoner is someone who can summon Pokémon in Power Paintbrush Adventures.
Appearance
Not much can be done to identify a human from a Summoner, though Summoners tend to genetically have dark and spiky hair, and usually wear a red cap and a red jacket with white details - in some media, however, the jacket is actually their body.
Notable Summoners
Ash Ketchum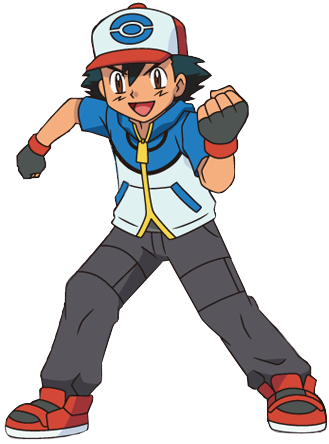 Ash is depicted as a budding summoner and the deuteragonist of KirbiMiroir's World, and one of several protagonists in the Final World. He is unique from other Summoners in that he wears blue and white as opposed to red and white, and has a Pet Pichu.
Ash is shown to be the only protagonist not to live in their own game. While Theodore lives in Loralia, Kirby lives on Pop Star and Viridi lives in Heaven, Ash clearly hails from KirbiMiroir's World.
According to Ash, the reason he embarks on a journey around the world is because he is going on the "Pilgimage" of the Summoners. This resultingly tasks the Summoner to slay a Behemoth, pray to the Goddess of Lightning, and then complete whatever task she sets for you.
However, since Ash has a pet Pichu, these tasks go horribly wrong. The Behemoth is attracted to Pichu's scent and bursts out his mirror rather than forcing Ash to splice it himself, and the Goddess is so enraged that Ash (Unintentionall) broke the unofficial law that Summoners may not own pets that she attacks the party and they have to almost kill her in order to gain their task.
According to Ash, Summoners must complete their pilgrimage before they turn 11, or else they will be stripped of their ability to summon.
The Creator
Although not technically a Summoner, the Creator's Gigavolt attack clearly shows Zekrom in its animation, and after use Ash says "You... you're a Summoner?!"