Star Fox is an upcoming American live action-animated television series based on the Nintendo franchise Star Fox, created by Shigeru Miyamoto, that will premiere on Disney XD in 2017.
Premise
Set in a universe based off of the original Star Fox game, Star Fox 64, and Star Fox Zero, the series follows Fox McCloud (Mike West), Falco Lombardi (Mark Lund), Peppy Hare (Jaz Adams), and Slippy Toad (Lyssa Browne) of Star Fox as they protect Corneria and the rest of the Lylat System from dangerous forces.
Production
Nintendo announced on October 13, 2015 in a press release that a television series based on the Star Fox video game series is under production. The press release revealed that Disney-ABC Television Group approached Nintendo to co-create television series based off of their franchises. Both later came in agreement and greenlit production on a Star Fox television series as testing grounds for many possible shows to come. Shigeru Miyamoto gave an approval of the show and will oversee the production and act as a consultant.
Live action and animation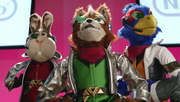 The press release detailed that the upcoming television series is being co-produced by Nintendo of America, The Jim Henson Company, and Disney Television Animation. In a unique blend of visuals, the show will utilize puppetry, stopmotion, traditional animation, and computer animation. Most of the characters will be portrayed by puppets created by The Jim Henson Company, reminiscent to the puppets used for the Nintendo Digital Event at E3 2015, with the puppets and some of the sets shot live. Some of the other characters will be created using various kinds of material and are animated in stopmotion by Disney Television Animation. Disney Television Animation will also provide the traditional and the computer-generated animation for the show, mainly used for special effects. Additionally, all of the end credit bits are fully traditionally animated with hand-drawn backgrounds.
Voice cast and characters
It was announced that Mike West, Mark Lund, Jaz Adams, and Lyssa Browne will reprise their roles from Star Fox 64 3D, Super Smash Bros. for Nintendo 3DS and Wii U, and Star Fox Zero as Fox McCloud, Falco Lombardi, Peppy Hare, and Slippy Toad, respectively. Additionally Daniel Oswen will reprise his role as ROB 64 and Jaz Adams will also reprise his role as General Pepper, both from Star Fox 64 3D and Star Fox Zero. Jay Green will also reprise as the narrator from the former game.
On the following day of October 14, 2015, it was confirmed that Jaz Adams, Jay Green, and Mark Lund will reprise their roles as Wolf O'Donnell and Pigma Dengar, Leon Powalski, and Andrew Oikonny of the rivaling team Star Wolf from Star Fox 64 3D, respectively.
Music
Emmy Award-winning composer Adam Berry (Buzz Lightyear of Star Command, Kim Possible, The Penguins of Madagascar, Monsters vs. Aliens) is set to compose the music for the show, utilizing a full orchestra. The theme music will be an original piece created specifically for the show, but will join with the theme music of the original Star Fox game, Star Fox 64, and Star Fox Zero which will all be used as recurring themes in the show. Other notable themes from the games will be heard on the show occasionally, such as the Corneria theme from the SNES game and Meteo from Star Fox 64.
Episodes
The press release released on October 13, 2015 states that the show was ordered for a 40 episode season with a made-for-television film that will be treated as the pilot for the series.
Season
Episodes
Original air date
First aired
Last aired
1
40
2017
TBA
Season 1
No.
Title
Air date
-
"Star Fox Zero"
2017

A prequel to the series, the direct-to-television film showcases a reimagining of Star Fox's most famous story, their involvement in the Lylat Wars and saving the Lylat System from exiled mad scientist, Andross.

Note: In some countries, the film was given "Star Fox Zero: The Lylat Wars" as its title.

1
"Star Pilots"
2017

TBA
Ad blocker interference detected!
Wikia is a free-to-use site that makes money from advertising. We have a modified experience for viewers using ad blockers

Wikia is not accessible if you've made further modifications. Remove the custom ad blocker rule(s) and the page will load as expected.