Ad blocker interference detected!
Wikia is a free-to-use site that makes money from advertising. We have a modified experience for viewers using ad blockers

Wikia is not accessible if you've made further modifications. Remove the custom ad blocker rule(s) and the page will load as expected.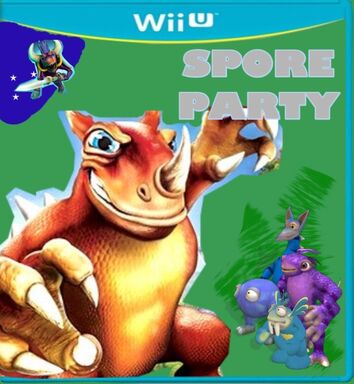 Spore Party is a new Spore Game for Wii U and ROC.
ROCU

Sporeling
(just hatched form)
Description
Spore Party is a game that is similar to Mario Party, but has it's own array of Spore Events!
Playable Characters
Default Characters
Custom Character 1
Custom Character 2
Custom Character 3
Custom Character 4
Meejee
Sporeling Hero
Sporeling
Tufferot (First Appearance with Name)
Yeedo
Skoog
Unlockable Characters
Custom Character 5
Custom Character 6
Custom Character 7
Custom Character 8
Zarkhator
Grox
Babbit
Skratcher
Warriokee (First Appearance)
Party Games
There are 30 Party Games!
Races
Kart Race
Row-Running
Mushroom Bounce (unlockable)
Meteor Crashing
Amazing Maze (unlockable)
Hover Racing
Battles
Spore Arena
1-on-1 (unlockable)
Tounge Tuber Tanks
Spore Boxing
Fencing (unlockable)
Multi-Player Battle
Sports
Baseball
Ping-Pong (unlockable)
Fruit Bowling
Target Practice
Golf
Archery (unlockable)
Spore Themed
Arena Battles
Dancing
Singing
Posing (unlockable)
Stink-Bugs' Hive Match
Galactic Battles (unlockable)
Boss Battles
Ultimate Zarkhator (unlockable)
Ultimate Corshty
Evil Stone Guardian
Tounge Tuber Titan
Dark Critter Chief (unlockable)
Stone Throwing Beast
Teams
In some modes, you can team up with another player. Therefore, Old Sage will adress you by the team's name. Here are the lists of team names.
Sporeling Hero Teams
with Sporeling - Evolutionarees
with Meejee - Friends for Fighting
with Tufferot - Cover Companions
with Zarkhator - Old Foes
with Yeedo - Mega Masters
with Skratcher - Super Scalers
with Skoog - Odd Couple
with Babbit - Fruitful Friends
with Grox - Alpha Alliance
with Warriokee - Winning Warriors
with Any Custom Creature - Spore Stars
Sporeling Teams
with Sporeling Hero - Evolutionarees
with Meejee - Friends at Birth
with Tufferot - Step by Step
with Zarkhator - Dudes of Destony
with Yeedo - Watch and Learn
with Skratcher - Mix and Matched
with Skoog - Couple of Cuties
with Babbit - Regular Rivals
with Grox - Sporelings for Success
with Warriokee - Speedy Super-Stars
with Any Custom Creature - Battle Apprentices
Meejee Teams
with Sporeling Hero - Friends for Fighting
with Sporeling - Friends at Birth
with Tufferot - Trophied Trainers
with Zarkhator - Mixed Meteors
with Yeedo - Medal winning Masters
with Skratcher - Primal Prize Winners
with Skoog - True Blue
with Babbit - Mushroom Match
with Grox - Imp Anihallation
with Warriokee - Tribe of Two
with Any Custom Creature - Trained for First
Tufferot Teams
with Sporeling Hero - Cover Companions
with Sporeling - Step by Step
with Meejee - Trophied Trainers
with Zarkhator - Thunder Thugs
with Yeedo - Combat Couple
with Skratcher - Armed and Ready
with Skoog - Upsidowners
with Babbit - Bigger than Burrows
with Grox - Tyranical Two-some
with Warriokee - Fists of Fury
with Any Custom Creature - All-Star Armoured
Zarkhator Teams
with Sporeling Hero - Old Foes
with Sporeling - Dudes of Destiny
with Meejee - Mixed Meteors
with Tufferot - Thunder Thugs
with Yeedo - Lords of Learning
with Skratcher - Creepy Companions
with Skoog - The Good, The Bad, and The Evil
with Babbit - Fast for Fighting
with Grox - Two Tyrants
with Warriokee - Spiked Stars
with Any Custom Creature - Normally Nemisees
Yeedo Teams
with Sporeling Hero - Mega Masters
with Sporeling - Watch and Learn
with Meejee - Medal winning Masters
with Tufferot - Combat Couple
with Zarkhator - Lords of Learning
with Skratcher - Powerful Parasites
with Skoog - Happy Hoppers
with Babbit - Forces of Nature
with Grox - Extreme Empire
with Warriokee - Star Pupils
with Any Custom Creature - Mantis Masters
Skratcher Teams
with Sporeling Hero - Super Scalers
with Sporeling - Mixed and Matched
with Meejee - Primal Prize Winners
with Tufferot - Armed and Ready
with Zarkhator - Creepy Companions
with Yeedo - Powerful Parasites
with Skoog - Cute and Creepy
with Babbit - Tables are Turned
with Grox - Evil Empire
with Warriokee - Running Riot
with Any Custom Creature - First of Fate
Skoog Teams
with Sporeling Hero - Odd Couple
with Sporeling - Couple of Cuties
with Meejee - True Blue
with Tufferot - Upsidowners
with Zarkhator - The Good, The Bad, and The Evil
with Yeedo - Happy Hoppers
with Skratcher - Cute and Creepy
with Babbit - Party Animals
with Grox - Little Look-Alikes
with Warriokee - Lookin' for Trouble
with Any Custom Creature - Team 'o' Tiny
Babbit Teams
with Sporeling Hero - Fruitful Friends
with Sporeling - Regular Rivals
with Meejee - Mushroom Match
with Tufferot - Bigger than Burrows
with Zarkhator - Fast for Fighting
with Yeedo - Forces of Nature
with Skratcher - Tables are Turned
with Skoog - Party Animals
with Grox - Cunsumputous Critters
with Warriokee - Heroes and Side-Kicks
with Any Custom Creature - Thin Win
Grox Teams
with Sporeling Hero - Alpha Alliance
with Sporeling - Sporelings for Success
with Meejee - Imp Anihalation
with Tufferot - Tyranical Two-some
with Zarkhator - Two Tyrants
with Yeedo - Extreme Empire
with Skratcher - Evil Empire
with Skoog - Little Look-Alikes
with Babbit - Cunsumptuous Critters
with Warriokee - Galactic Gladiators
with Any Custom Creature - Lots 'o' Grox
Warriokee Teams
with Sporeling Hero - Winning Warriors
with Sporeling - Speedy Super-Stars
with Meejee - Tribe of Two
with Tufferot - Fists of Fury
with Zarkhator - Spiked Stars
with Yeedo - Star Pupils
with Skratcher - Running Riot
with Skoog - Lookin' for Trouble
with Babbit - Heroes and Side-Kicks
with Grox - Galactic Gladiators
with Any Custom Creature - Alpha All-Stars
Custom Creature Teams
with Sporeling Hero - Spore Stars
with Sporeling - Battle Apprentices
with Meejee - Trained for First
with Tufferot - All-Star Armoured
with Zarkhator - Normally Nemisees
with Yeedo - Mantis Masters
with Skratcher - First 'o' Fate
with Skoog - Team 'o' Tiny
with Babbit - Thin Win
with Grox - Lots 'o' Grox
with Warriokee - Alpha All-Stars
Gallery