Ad blocker interference detected!
Wikia is a free-to-use site that makes money from advertising. We have a modified experience for viewers using ad blockers

Wikia is not accessible if you've made further modifications. Remove the custom ad blocker rule(s) and the page will load as expected.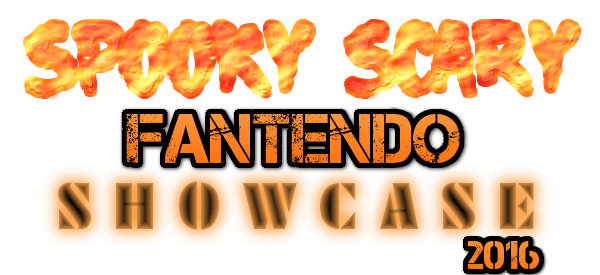 Spooky Scary Fantendo Showcase 2016 is the second annual Spooky Scary Fantendo Showcase (the wiki's official Halloween showcase), this time hosted by Sr.Wario. While the showcase itself will run for five days, October 27th to October 31st, other events that are part of the showcase will take part across the entire month.
Sign-ups can be found in the comment section of this page, or on this blog. Please note that sign-ups will be open from September 18th to October 26th, so there's no need to worry about being late to signing-up.
Companies
The company names are placeholders, the logo for each company will be posted here soon. Previews will run from October 1st to October 26th.
POISONSHOT
BOSS GAMES
BLENDER MAXIMUM
GEAR GAMES

PLASMA PRODUCTIONS

THE SOUPY INVESTIGATION
OMEGAFIRE
MONSTERMANCHEGO
THEFOXYRIOLU
ELECTRIC VERSION
PHAZONWORKS
SUPER LEAF STUDIOS
ENDERLEGENDS
NIXUS

OTHERREALM STUDIOS
Events
Two events will be held across October, and the winners of each will recieve a special Userbox. Voting for both of these events can be found here.
Authors all across Fantendo are encouraged to submit spooky stories and games from October 2nd to October 31st!
From October 4th to October 31st, artists on Fantendo are encouraged to create art of spooky characters and characters in Halloween costumes.
Updates
Here users can post updates about their presentations such as when they're posting their previews, any delays, or other information. Sr.Wario will also use the section to post updates to the showcase and events.
09/18/16 - Sign-Ups blog is created.
10/01/16 - Spooky Scary Fantendo Showcase 2016's page is published, previews begin.
10/02/16 - The Spooky Scary Writing Contest is up!
10/04/16 - The Spooky Scary Drawing Contest is up!
10/27/16 - The Spooky Scary Fantendo Showcase 2016 has begun!
11/1/16 - The Spooky Scary Fantendo Showcase 2016 has ended! Thank you for participating!
11/1/16 - Voting has begun for the Spooky Scary Writing Contest and Spooky Scary Drawing Contest.
11/3/16 - Voting has ended for the Spooky Scary Writing Contest and Spooky Scary Drawing Contest.
Highlights
Each day of the showcase, Sr.Wario will draw special attention to one presentation here for going above and beyond the normal standards of the showcase or showing off something especially well done or interesting. The owners of the companies who recieve Highlights here will also be given a special Userbox.
Awards
The winners of each event, as well as users who had a presentation that received a Highlight will win a special Userbox.