Sactown Studios
October 30th
The World's Strangest Fighting Game
Hello all, and welcome to the Sactown Studios Showcase! Its been quite a long time since Sactown's made a Fantendo presentation, and I can ensure you that you won't leave here disappointed! With that being said, I invite you take a look at a little something called the World's Strangest Fighting Game!
The World's Strangest Fighting Games is intended to be an unrealistic, cartoony, and wacky take on the fighting game genre. Unlike games such as Street Fighter which tend to look at different styles of fighting from around the world, WSFG intends to showcase the strangest fighters from around the world! Ever wanted to play as a Grandma and Baby tag-team? Perhaps a skateboarder who smokes weed all day? Maybe, a Disco Duo from Soul Train is your style? Whatever your taste, this game is sure to keep you entertained!
October 31st
November 1st
Super Smash Bros. Universe
Now, for our Smash fans in the audience, we intend to showcase some newcomers for the game as promised along with some other things! First off, is a brand new fighter making his way to Smash! Introducing the Lone Wolf of SNK, and the leader of Team Fatal Fury, Terry Bogard!
Terry Bogard is the main character of the Fatal Fury series of fighting games from SNK, a legendary company in the gaming industry known for making great fighting games, and he is also a regular participant in the King of Fighters franchise alongside his fellow Fatal Fury fighters. In addition, he's also switched blows with Street Fighter's very own Ryu in the Capcom Vs. SNK series, making this the first time since 2001 that he will be in the same game as Ryu! Much like Ryu, Terry Bogard brings in a replica of his game's style into Smash, including the famous "Slam Dunk" move! Terry Bogard will be unlockable alongside Ryu of the Street Fighter series, so I hope that you will enjoy playing as him! Oh, and if his Mark of the Wolves design isn't your style, no need to worry for we've also included his classic Fatal Fury design as a bonus costume! It even comes with its own palette swaps as well!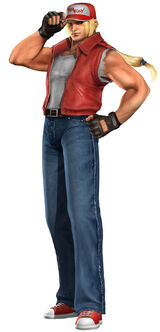 Thank you for your continued patience as we resume our presentation once more! And now, I would like to present to you not one but TWO brand new fighters joining the battle for the first time! Our first new fighter is a dedicated soilder that knows hand to hand combat, specilizes in the lastest military technology, and pilots one of the most advanced machines on the F-Zero circuit, and did I mention that she's only 14 years old? Introducing....
Ad blocker interference detected!
Wikia is a free-to-use site that makes money from advertising. We have a modified experience for viewers using ad blockers

Wikia is not accessible if you've made further modifications. Remove the custom ad blocker rule(s) and the page will load as expected.