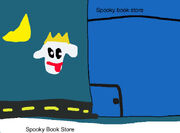 Do Not Edit! Spooky Book Store is a level found in Yoshi Kart 2.
How to play it
The level starts outside the store. You will first begin driving on a carpet. You will notice a lot of King Boos floating around. It will take you inside a book. It will take you out and take you into a elevator. When it gets to the second floor, The second round starts. There is a dark black room with no lights on. More King Boos will be shown. You have to watch out for the deadly ghosts, Or else, You will go to last place! Then it will take you back into the elevator. When it gets to the third floor, The last round starts. There is a not so scary room, And you can see some Shy Guys buying books. Then you will have to turn around and you have to take the elevator to the first floor. You will go out the door and that is the end of the race.
Music
Welcome To Spooky Hollow!
Ad blocker interference detected!
Wikia is a free-to-use site that makes money from advertising. We have a modified experience for viewers using ad blockers

Wikia is not accessible if you've made further modifications. Remove the custom ad blocker rule(s) and the page will load as expected.