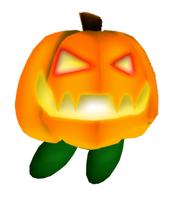 Splunkins are pumpkin enemies debuted in New Super Mario Bros. in the ghost houses. These guys act just like Goombas: they patrol the area as an "attack". When Mario stomps on them, they will turn red, got a crack in their head and finally run faster. The little foes are defeated when stomped another time.
Appearances
Edit
Replaced by Another Pumpkin
Edit
Originally, Splunkins would be playable in Super Mario MHL, but when the creator revealed a picture of a Pumpkinhead Goomba, several people complained that was not a Splunkin. The creator changed it, and the Splunkin was taken out.
The Real Reappearance
Edit
Splunkins reappeared for real in New Super Mario Bros. Omega. They act just the same as in its debut and appear again in the ghost houses.
Splunkins do not appear in the first two Koopa Kart games, but they eventually appear in Koopa Kart DS as lightweight drivers.