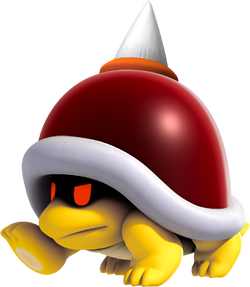 Spike Tops are a species of Buzzy Beetle with a giant spike on their shell. They, unlike normal Buzzy Beetles, have a bright red shell.
Appearances
Spike Tops appear in the D.I.Y. game, New Super Mario Bros. D.I.Y., just like they did in the previous New Super Mario Bros.
Sloppy Spike Tops appear as common cave enemies in Super Sloppy Bros.
Spike tops are enemies in this game and also one is a Partner for Mario
Gallery
Ad blocker interference detected!
Wikia is a free-to-use site that makes money from advertising. We have a modified experience for viewers using ad blockers

Wikia is not accessible if you've made further modifications. Remove the custom ad blocker rule(s) and the page will load as expected.