Spanish 101 is the first author-appealing game by Tom (t∣b∣c). It will be released in summer 2014 for the Wii U e-Shop only.
Gameplay
The game features 2 modes: An adventure mode called Time and a Mission Mode. Despite being entirely different modes, they work together, meaning a mission has to be cleared to continue in Time, or the player must make it to a certain point in Time to unlock a mission. There is also a gallery, in which players can find various things from or about characters.
Time
The gameplay for this mode has yet to be announced. It is known that players can look for hidden letters written by the creator of the game, and that character stamps can be collected when clearing (a part of) the story with a character.
Mission Mode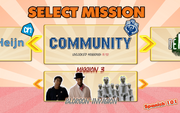 As the name suggests, players can play missions in this mode. The missions are divided into the series they are based on, and each series offers different characters to play as, each with different attacks and statistics. Each character has two main attacks and one super attack. The super attack can only be used once during a mission.
For a full list of missions, see here.
Plot
The intro shows a letter getting blown through a dark forest by the wind.
A long time ago, a mysterious bandit showed up who seemed to have incredible powers, travelling through various worlds located in Universe 101, something no one had ever done before... or well, maybe in cross-overs. The bandit caused havoc, and even destroyed various worlds, killing innocents. When he disappeared, everyone assumed he was death. Worlds were rebuilt and new ones were created. It was a time of peace.
I'm sure it isn't a surprise to you when I say he now seems to be back. Many brave ones have tried to defeat this being, but none of them has returned. It is now up to the next group of heroes to regain victory. May their soul rest in peace.
The forest then ends, and after a bright light the mode's logo is seen, slowly turning into the title screen. The game starts here.
Characters
Default
These characters can be chosen from the start in both modes.
| Name | Time Stamp | Description | Statistics | World |
| --- | --- | --- | --- | --- |
| Abed Nadir | | Abed believes his life is (like) a TV-show. He's not good in social and relationship stuff, but he's very smart. Abed mainly has paintball related attacks. | TBA | Community |
| Troy Barnes | | Troy is Abed's best friend. He's often referred to as the sidekick, but he's much more than that. He has punches with the power of kicks! | TBA | Community |
| Britta Perry | | Britta is the worst... and a buzzkill. She's the worst buzzkill. She can also turn it into a snake... kinda. | TBA | Community |
| Jeff Winger | | Jeff is the one that actually got the study group together. One of his attacks involve an axe, and his Super Attack is called Hero at Law. | TBA | Community |
| Mario | | Mario might be the most famous person in this game, he's also the most overrated. He uses attacks based on his most famous adventures. | TBA | Super Mario |
| Luigi | | Mario's infamous brother has attacks based on his ghost hunting adventures, such as the Poltergust 5000. | TBA | Super Mario |
| Rayman | | The hero without limbs plays just like in his games. He uses many elements from his legendary last adventure, making him pretty unique. | TBA | Rayman |
| Fix-it Felix, Jr. | | Often just referred to as Felix. Felix is the only one that can heal himself, but be sure not to use that hammer on your enemies. | TBA | Disney |
| Hit-Girl | | The only person that's really kicking ass in Kick-Ass. Her moves are very violent and she is pretty athletic. | TBA | Kick-Ass |
| The Henry Mails | | Although counting as one character, they actually aren't. You can pick your favourite and play as them. They use Skype-based attacks. The number of Mails might be outdated when the game releases. | TBA | Fantendo |
Hidden Characters
These characters have to be unlocked in Time.
| Name | Time Stamp | Description | Statistics | World |
| --- | --- | --- | --- | --- |
| Mr. Chow | | Mr. Chow is a weird gangster/mafia boss. It is speculated he's Changs twin brother. He uses guns as attacks, as well as himself. | TBA | The Hangover |
| The MotherF*cker | | The not so villainy villain. He uses guns and mist bombs as attacks. | TBA | Kick-Ass |
| AH Manager | | The heroic supermarket manager who has a special place in everyone's heart. He has more moves than anyone, meaning he will use a random attack every time. His Super Attack is called Hamsterweken (don't tell PETA). He's only playable on Sundays. | TBA | Albert Heijn |
References
Coming soon!
Ad blocker interference detected!
Wikia is a free-to-use site that makes money from advertising. We have a modified experience for viewers using ad blockers

Wikia is not accessible if you've made further modifications. Remove the custom ad blocker rule(s) and the page will load as expected.