Sonic the Hedgehog: Vortex Island is a Sonic arcade game and a spiritual succesor to SegaSonic the Hedgehog.
Story
Sonic and his friends are having their usual day until they all find pamphlets advertising a brand new island resort named "Vortex Island", they all go except Sonic who's too busy. Many days pass and Sonic's friends haven't come back yet so Sonic starts suspecting something and goes to Vortex Island only to be trapped inside a prison train.
Sonic wakes up (and if you're in Co-Op he finds Fang, Mighty and Ray) and notices the train is driving itself off a cliff, so he escapes and goes into the jungle while Eggman monitors from his tower and sends the Egg Guardian, a robot with a mind of its own made to protect Eggman.
Gameplay
The game plays from an isometric perspective as Sonic must avoid obstacles and reach the end of the stage, unlike other Sonic games the stages are shorter but way more fast-paced and chaotic. In this game, Sonic actually has a health system, as he's only able to take 6 times, however if Sonic gets 15 rings he can get one hit back.
The control scheme uses the brand new "MotionStick" which is supposed to replicate a controller's joystick in an arcade machine and two buttons, the Jump button and the Roll button, which lets Sonic roll around depending on the momentum gained before pressing the button like in Sonic 1. The Jump button can also be pressed again mid-air to perform a Super Spin which gives Sonic invincibility for a brief second (and if timed correctly it can deal more damage to enemies and breakable obstacles).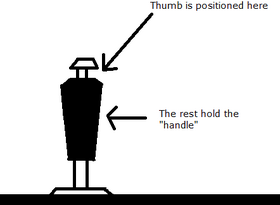 The game also supports up to 4-Player co-op, with the other 3 players being able to control Mighty, Ray and Fang respectively, however they play exactly the same as Sonic, with the only difference being some minor changes in cutscenes.
Zones
The game only has 8 short zones:
Train Zone
The starting zone, the first act serves as a tutorial letting you get used to the controls while running through train wagons, then you reach Act 2 where you climb out the train, sometimes Drillers will pop their drills through the roof to try and get you, once you get near the end you'll find a defense mechanism: A giant laser gun and a machine that shoots out spiked balls, after destroying the robot you have to jump out of the train before it drives itself off a cliff.
Jungle Zone
The first act resembles a normal jungle with traps that must be avoided by swinging on vines and someties robots will throw barrels you must jump over. The second act, however, takes place in some old ruins, so it features more platforming sections, with robots wielding rocket launchers and firing missiles at you, eventually you meet the Egg Guardian who starts using buzzsaws and laser eyes to kill you until it hits a tower that falls on-top of him, after that the ruins start collapsing so you must jump on some springs.
Waterfall Zone
You land on a bridge with some barrels until they drop some logs which destroy the bridge and you land on one of th barrels which you must ride down the waterfall while avoiding obstacles until reaching Act 2 where you land in some wooden bridges which start falling down, forcing you to progress quickly until reaching the end, where a geiser abruptly erupts and sends you flying over to the next zone.