Ad blocker interference detected!
Wikia is a free-to-use site that makes money from advertising. We have a modified experience for viewers using ad blockers

Wikia is not accessible if you've made further modifications. Remove the custom ad blocker rule(s) and the page will load as expected.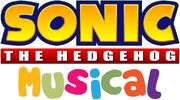 Sonic, Sally and Tails is back!!! Join with Sonic and his friends are having the rock band with the singing groups. Sonic defeated the evil Dr. Robotnik and mysterious the blue robot a Metal, and so the blue hedgehog save the day. And, don't miss the TV Shows it's Sonic The Hedgehog: Musical, coming soon the June 6, 2015. On Disney Junior.
Characters
TEAM SONIC

TEAM ROSE

TEAM FACTOR

TEAM DARK

TEAM SOL

TEAM EGGMAN
Episodes
See, Sonic The Hedgehog: Musical/Episodes.
Gallery
Rock Band Instruments
Songs
See, Sonic The Hedgehog: Musical/Songs.
Transcript
See, Sonic The Hedgehog: Musical/Transcript.
Voice Cast
Roger Craig Smith as Sonic the Hedgehog
Tara Strong as Sally Acorn
Max Charles as Miles "Tails" Prower
Michelle Ruff as Cream the Rabbit
Travis Willingham as Knuckles the Echidna
Cindy Robinson as Amy Rose
Alyson Court as Cosmo the Seedrian
Greg Cypes as Manic the Hedgehog
Louise Rideway as Sonia the Hedgehog
Kirk Thornton as Shadow the Hedgehog
Karen Strassman as Rouge the Bat
Vic Mignogna as E-123 Omega
Quinton Flynn as Silver the Hedgehog
Laura Bailey as Blaze the Cat
Wendee Lee as Marine the Raccoon
Nika Futterman as Sticks the Badger
Kirk Thornton as Orbot
Wally Wingert as Cubot
Mike Pollock as Doctor "Eggman" Robotnik