Ad blocker interference detected!
Wikia is a free-to-use site that makes money from advertising. We have a modified experience for viewers using ad blockers

Wikia is not accessible if you've made further modifications. Remove the custom ad blocker rule(s) and the page will load as expected.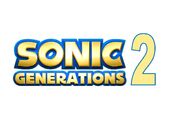 Sonic Generations 2
is a Sonic game tying in with the series 25th anniversary. The game will be split into two versions, a home console version for
Wii U
, PS4 and XBOX One, and a portable version for
Nintendo 3DS
. Both versions will be released in 2016.
Story
To be added...
Gameplay
Just like the first game, Sonic Generations 2 collects stages from past Sonic games and divides them into eras. Each era has four stages and two bosses. There are a total of six eras in each version of the game. Three of these eras are the same in each version of the game, albeit with different stages, Classic Era, which has elements from Sonic 1, Sonic 2, Sonic CD and Sonic 3 and Knuckles, Dreamcast Era, containing elements from Sonic Adventure, Sonic Adventure 2, Sonic Heroes and Shadow the Hedgehog, and Modern Era, with elements from recent games like Sonic Lost World and Sonic Boom. The other three depend on the version. The portable version contains eras based on Sonic's handheld history, Game Gear Era, featuring elements from Sonic Chaos, Sonic Triple Trouble and Sonic Blast, Advance Era, with elements from the Sonic Advance trilogy, and Rush Era, containing elements from Sonic Rush, Sonic Rush Adventure and the portable version of Sonic Colors. While the home console version has eras based on Sonic's home console history, HD Era, with elements from Sonic Next-Gen, Sonic Unleashed, Sonic 4 and the home console version of Sonic Colors, Extra Era, containing elements from Sonic platformers that are not considered to be part of the main series, like Knuckles Chaotix, Sonic 3D Blast, Sonic and the Secret Rings and Sonic and the Black Knight, and Future Era, with a sneak peek at what the next five years of Sonic will offer, with elements from four upcoming Sonic titles.
Each stage will be divided into three acts, each with a different version of Sonic to play as. Act 1 features Classic Sonic, who plays just like the last game, in pure 2D stages like the Genesis games, with classic moves like the Spin Attack and Spin Dash. Act 2 features Modern Sonic, who like before, plays in the 2D/3D style of gameplay seen in current games, and uses the Homing Attack and Boost. Act 3 features Boom Sonic, who's stages are pure 3D and slightly more puzzle based like in the Boom titles, and he uses his EnerBeam to remove energy shields and grab onto speeding rails.
Characters
Playable
| Image | Name | Bio |
| --- | --- | --- |
| | Classic Sonic | The Sonic of the early 1990's. He doesn't speak like his future counterparts, but he is able to move fast with his spin dash and spin attack. |
| | Modern Sonic | The Sonic of the present day. He can use his homing attack to target enemies, and his boost helps him run faster. |
| | Boom Sonic | The Sonic of the not-so-distant future. He can use his EnerBeam to grab objects, and toss them at opponents. |
Non-Playable
| Image | Name | Bio |
| --- | --- | --- |
| | Tails | Sonic's best buddy and a great inventor. All three of his forms appear to help the Sonics figure out what's going on; the young Classic Tails, the current Modern Tails, and the gadget-fanatic Boom Tails. You'll find all three of them in front of the Marble Zone entrance in both the home and portable versions. |
| | Knuckles | The friendly rival of Sonic and guardian of the Master Emerald on Angel Island. His easily manipulated Classic, tough Modern and clumsy Boom forms appear in both the home and portable versions in front of the Emerald Hill entrance. |
| | Amy Rose | Sonic's biggest fan and self-proclaimed girlfriend. Her three incarnations, Classic Amy, Modern Amy and Boom Amy, stand by either the Stardust Speedway entrance in the home version, or the Palmtree Panic entrance in the portable version. |
| | Espio | The ninja of the Chaotix Detective Agency. You'll find him in front of the entrance to Ice Cap in the home version, or Hydro City in the portable version. |
| | Tikal | The spirit of a young girl from 4,000 years ago, who usually resides in the Master Emerald. She stands in front of the entrance to Windy Valley in the home version, while in the portable version, she's near the Twinkle Park entrance. |
| | Rouge | A treasure hunter and agent of the Guardian Units of Nations. In the home console version, she stands in front of Metal Harbor, while in the portable version, she'll be waiting in front of White Jungle. |
| | Big | A lazy fisherman who is usually fishing in his hut with Froggy. You can find him standing near Rail Canyon in the home version, while in the portable version, you'll find him near Hang Castle. |
| | E-123 Omega | A rogue Eggman robot who's now a weapon of the Guardian Units of Nations. You'll find him in front of Iron Jungle in the home console version of the game, and in the portable version, he'll be in front of Lethal Highway. |
| | Blaze | A princess from an alternate dimension, and guardian of the Chaos Emeralds' counterparts, the Sol Emeralds. She'll be in front of Radical Train in the home version, while in the portable version, she's in front of Pirates' Island. |
| | Chip | Also known as Light Gaia, the primordial incarnation of all light and daytime on the planet. He appears exclusively in the home console version, right in front of the entrance to Dragon Road. |
| | Jet | The arrogant leader of the Babylon Rogues. In the home console version, he stands in front of Casino Street, while on the portable version, he's in front of Huge Crisis. |
| | Yacker | A White Wisp with curly hair, and ambassador of all Wisps in general. You'll find him in front of Aquarium Park in the home version, while in the portable version, he'll be waiting in front of Sweet Mountain. |
Stages
Classic Era (home version)
| Image | Name | Previously seen in.. | Description |
| --- | --- | --- | --- |
| | Marble Zone | Sonic the Hedgehog | The second Sonic stage ever! An ancient underground complex filled with booby traps and flooded with boiling hot lava. |
| | Emerald Hill | Sonic 2 | The first stage of the first Sonic sequel! A tropical paradise on the shores of West Side Island. |
| | Stardust Speedway | Sonic CD | A musical city with a highway adorned with musical instruments and one of the fastest stages in the series history. You can use the Time Warp plates to travel to the past or future for alternate routes. |
| | Ice Cap | Sonic 3 and Knuckles | Located on the mountains of Angel Island. You can explore the icy caverns and the bright overworld. |
| | VS. Mecha Sonic | Sonic 3 and Knuckles | Another robotic counterpart of Sonic. You have to hit him eight times to win, but be careful, because after he's taken four hits, he'll start using the Master Emerald to activate the Super transformation. |
| | VS. Egg Elevator | Sonic the Hedgehog | The very first final boss! Classic Eggman will try to hit you with two of his elevators. Hit him five times to win! |
Dreamcast Era (home version)
| Image | Name | Previously seen in.. | Description |
| --- | --- | --- | --- |
| | Windy Valley | Sonic Adventure | In this stage, you will find floating islands and a fierce twister! |
| | Metal Harbor | Sonic Adventure 2 | A security training facility on Prison Island, filled with a giant missle you have to grab on to progress. |
| | Rail Canyon | Sonic Heroes | This base is filled with the largest amount of rails ever seen in a Sonic game. There are also multiple cannons that you can be shot from. |
| | Iron Jungle | Shadow the Hedgehog | An Eggman base under attack by GUN. Get to the goal while facing Eggman's forces, just don't attack GUN, or else they will start attacking you!! |
| | VS. E-102 Gamma | Sonic Adventure | An Eggman robot with a personality. He's challenged you to a friendly sparring match for a Chaos Emerald. Hit him five times to claim it. |
| | VS. Black Doom | Shadow the Hedgehog | The leader of the monstrous aliens, the Black Arms. You have to hit him five times to win! But he will use Chaos Control, blades of fire and miniature meteors to prevent it, so use your best strategy! |
HD Era
| Image | Name | Previously seen in.. | Description |
| --- | --- | --- | --- |
| | Radical Train | Sonic '06 | A railroad located in the new city section of Soleanna. Whoever designed it seems to have had a peculiar (and dangerous) liking for bottomless gorges and rickity-looking bridges constructed thereupon. Avoid those as you reach for the goal. |
| | Dragon Road | Sonic Unleashed | An ancient path located in Chun-nan. You have to scale across giant dragons, revolving wheels and fireworks to proceed. |
| | Casino Street | Sonic 4 | A big casino, filled with a huge pinball table, decks of cards that you can run on, rolling tunnels and cannons. You can also get a ton of 1-ups here thanks to the cards. If luck is on your side, why not try a hand at the slots? |
| | Aquarium Park | Sonic Colors | A massive water park in Dr. Eggman's Amazing Interstellar Amusement Park. Each of the three Sonics can use a different Color Power here. Classic Sonic can use the Yellow Drill, Modern Sonic can use the Blue Cube, and Boom Sonic can use the Cyan Laser. |
| | VS. Rotatatron | Sonic Colors | A giant robotic ferris wheel!! You have to hit the giant machine in the eye four times to win, just watch out for the giant ninja stars!! |
| | VS. Egg Heart | Sonic 4 | Modern Eggman in a heart-shaped machine surrounded by serveral large electric rings on the Death Egg MKII! Attack the cockpit six times while avoiding lasers!! |
Extra Era
| Image | Name | Previously seen in.. | Description |
| --- | --- | --- | --- |
| | Amazing Arena | Knuckles' Chaotix | A musical arena filled with speakers and projectors. To advance, you need to find a switch within the dark stage. |
| | Spring Stadium | Sonic 3D Blast | An Eggman facility on Flicky Island. A mad fusion of bouncy, pinball fun and spiked pits of death. Filled with retracting metal plates and fake spring-pads set into the floor. |
| | Sand Oasis | Sonic and the Secret Rings | A desert in the world of the Arabian Nights. You need to get past the Erazor Djinn's numerous traps and minions to proceed. |
| | Crystal Cave | Sonic and the Black Knight | A labyrinth of voluminous cavern systems in the realm of the Arthurian Legends. Filled with giant, spiral starlacites that you can jump from, and bouncy mushrooms. |
| | VS. King Arthur | Sonic and the Black Knight | The illusionary king of Camelot, corrupted by the Scabbard of Excalibur. He runs away on his dark horse bringing havoc with his sword, Deathcalibur. You need to catch up with him and hit him three times to win! |
| | VS. Erazor Djinn | Sonic and the Secret Rings | The genie from Aladdin, seeking revenge on the writer of the Arabian Nights for trapping him in the lamp by bending the stories to his will. He'll strike with spells and minions of his. Hit him on the head six times to claim victory!! |
Modern Era (home version)
| Image | Name | Previously seen in.. | Description |
| --- | --- | --- | --- |
| | Desert Ruins | Sonic Lost World | A desert in the Lost Hex filled with sand tornados, pyramids with puzzles inside, hungry blue sandworms, and large rotating cacti balls. Each Sonic has a different Color Power to use. Classic Sonic can use the Pink Spikes, Modern Sonic can use the Purple Frenzy, and Boom Sonic can use the Red Burst. |
| | Sky Road | Sonic Lost World | A location in the Lost Hex high above the skies, with ancient ruins and floating platforms. Each Sonic has a different Color Power to use. Classic Sonic can use the Magenta Rhythm, Modern Sonic can use the Crimson Eagle, and Boom Sonic can use the Black Bomb. |
| | Weapon Facility | Sonic Boom: Rise of Lyric | A high-tech weapon production facility from a thousand years into the past. Crammed with lots of advanced machinery, including conveyer belts and large tubes used for transportation. |
| | The Pit | Sonic Boom: Rise of Lyric | A polluted industrial dig site. Avoid hazardous obstacles like burning furnace floors, glowing shredders and waste floods. |
| | VS. Zazz | Sonic Lost World | The psychotic member of the Deadly Six. He'll use his Moon Mech to shoot stars at you, and toss it to squash you!! Hit him seven times to defeat him. |
| | VS. Egg Mech | Sonic Boom: Rise of Lyric | A large battle mech piloted by Boom Eggman. To defeat it, you must deplete it's health meter by tossing the missiles it shoots with the Enerbeam before they explode, then bashing the cockpit. Be sure to deal with the robots that acompany it, and avoid the cannonballs. |
Classic Era (portable version)
| Image | Name | Previously seen in.. | Description |
| --- | --- | --- | --- |
| | Marble Zone | Sonic the Hedgehog | The second Sonic stage ever! An ancient underground complex filled with booby traps and flooded with boiling hot lava. |
| | Emerald Hill | Sonic 2 | The first stage of the first Sonic sequel! A tropical paradise on the shores of West Side Island. |
| | Palmtree Panic | Sonic CD | A tropical region with sharp mountains and scattered waterfalls. Use the Time Warp Plates to travel to the past or future for alternate routes. |
| | Hydro City | Sonic 3 and Knuckles | An underground water park underneath Angel Island. |
| | VS. Mecha Sonic | Sonic 3 and Knuckles | Another robotic counterpart of Sonic. You have to hit him eight times to win, but be careful, because after he's taken four hits, he'll start using the Master Emerald to activate the Super transformation. |
| | VS. Psycho Egg | Sonic CD | A bladed machine created by Classic Eggman. You need to hit him four times to win, but he'll change his strategy after every hit, so be careful! |
Game Gear Era
| Image | Name | Previously seen in.. | Description |
| --- | --- | --- | --- |
| | Mecha Green Hill | Sonic Chaos | A mechanized version of the very familiar stage we know and love. You will find tilting bridges that you have to run on, or else you'll fall. |
| | Sunset Park | Sonic Triple Trouble | A dilapidated, run-down railway station. The wind here can make you get out of your spin attack, so be careful. |
| | Yellow Desert | Sonic Blast | A large desert with Egyptian caverns. Watch out for the falling spikes!! |
| | VS. Fang the Sniper | Sonic Triple Trouble | A crafty jewel thief trying to get his hands on a Chaos Emerald!! He's trying to crush him with his Marvelous Queen!! Hit him three times while avoiding the missiles that launch from his ride to win!! |
| | VS. Laser Walker | Sonic Chaos | Classic Eggman in a simple but deadly blaster mech!! You have to be careful and avoid the energy balls that the mech launches!! Hit him eight times to win!! |
Dreamcast Era (portable version)
| Image | Name | Previously seen in.. | Description |
| --- | --- | --- | --- |
| | Twinkle Park | Sonic Adventure | Station Square's amusement park. It includes bumper cars, a roller coaster, a large swimming pool and a giant house of mirrors. |
| | White Jungle | Sonic Adventure 2 | A jungle on Prison Island. Shadow was able to get past this before in under 10 minutes, can you? |
| | Hang Castle | Sonic Heroes | A haunted mansion filled with ghosts, invisible walkways, an anti-gravity switch, and a strange pocket dimension. |
| | Lethal Highway | Shadow the Hedgehog | A highway in Westopolis overrun by the Black Arms. Get through while fighting the alien invaders, and be careful not to fall! |
| | VS. E-102 Gamma | Sonic Adventure | An Eggman robot with a personality. He's challenged you to a friendly sparring match for a Chaos Emerald. Hit him five times to claim it. |
| | VS. Perfect Chaos | Sonic Adventure and the home console version of Sonic Generations | The super state of Chaos, the god of destruction!! This battle works exactly like it did in the home console version of the first game, you have to hit him five times to win, the first four by boosting into him, and the last via a homing attack!!! |
Advance Era
| Image | Name | Previously seen in.. | Description |
| --- | --- | --- | --- |
| | Ice Mountain | Sonic Advance | A winter-themed stage. Filled with round frozen shells that contain either items or a spring, and even a large underwater pathway. |
| | Music Plant | Sonic Advance 2 | A colorful stage full of musical instruments that are gimmicks the player can use to proceed through the level. |
| | Route 99 | Sonic Advance 3 | A man-made urban city. Littered with rails, construction and switches. |
| | VS. Mecha Knuckles | Sonic Advance | A robot duplicate of Knuckles. He uses all of his organic counterpart's abilities against you, including gliding, and can shoot missiles! Hit him four times to win. |
| | VS. Hyper Eggrobo | Sonic Advance 3 | A giant mech piloted by Modern Eggman. Able to punch it's opponent, grabbing and slamming them, and bouncing three balls on it's hands. Hit it on the head six times to win. |
Rush Era
| Image | Name | Previously seen in.. | Description |
| --- | --- | --- | --- |
| | Huge Crisis | Sonic Rush | A bunch of G.U.N. naval aircraft carriers and battleships out on the sea. You can advance using pipes and mechanical cranes, as well as jet-powered sleds in the ship. |
| | Pirates' Island | Sonic Rush Adventure | Ruins of an ancient civilization in Blaze's dimension, invaded by Captain Whisker's pirates. Filled with trebuchets that allows you to get launched in the air, high-pressure water cannons that create rails you can grind on, dolphins that can be ridden underwater and a whole lot more. |
| | Sweet Mountain | Sonic Colors | A planet from Dr. Eggman's Amazing Interstaller Amusement Park with giant junk-food all over the place. Each Sonic has a different Color power they can use here. Classic Sonic can use the Violet Void, Modern Sonic can use the Orange Rocket, and Boom Sonic can use the Green Hover. |
| | VS. Captain Whisker and Johnny | Sonic Rush Adventure | A villainous robotic pirate and his right-hand man from Blaze's dimension. They will attack with a ground pound that emits a shockwave upon landing, charging at you like a missile and breathing out a powerful blast of flames. Hit each of them four times to win. |
| | VS. Nega-Mother Wisp | Sonic Colors | The Mother Wisp under the effects of Eggman's Hyper-go-on energy syphon. The poor thing has become an uncontrollable monster with the ability to shoot balls of energy from her mouth! She'll also swipe at you with her tentecles! You need to boost attack her six times to restore her!! |
Modern Era (portable version)
| Image | Name | Previously seen in.. | Description |
| --- | --- | --- | --- |
| | Silent Forest | Sonic Lost World | A gigantic forest on the Lost Hex, with flower cannons, electric rails and a stealth section with a giant robotic owl. Each of the three Sonics can use a different Color Power. Classic Sonic can use the Indigo Asteroid, Modern Sonic can use the Gray Quake, and Boom Sonic can use the Ivory Lightning. |
| | Scrap Yard | Sonic Boom: Shattered Crystal | A mucky purple island where the Ancients dumped their mechanical constructs in the past. You'll find it littered with broken-down aircrafts, which you can use by lighting some sunlight into them. |
| | Paleo Tarpits | Sonic Boom: Fire & Ice | A prehistoric island with the earthly remnants of dinosaurs, and filled with numerous tarpits. Use the Flame Shield and Ice Shield power-ups to get through the stage. |
| | VS. Zazz | Sonic Lost World | The psychotic member of the Deadly Six. He'll use his Moon Mech to shoot stars at you, and toss it to squash you!! Hit him seven times to defeat him. |
| | VS. Double Trouble | Sonic Boom: Fire & Ice | A massive robot made of lava and ice, backed by Boom Eggman. It can drop fiery meteors, and a large ball of either lava or ice that can create massive shockwaves! To win, you need to hit it's tail six times. Just watch out, it also has a mean bite!! |