Ad blocker interference detected!
Wikia is a free-to-use site that makes money from advertising. We have a modified experience for viewers using ad blockers

Wikia is not accessible if you've made further modifications. Remove the custom ad blocker rule(s) and the page will load as expected.
Sonic Drift X (Also known as ソニックドリフトX in Japanese) is a racing game featuring Sonic characters. This is also the 3rd installment of the Sonic Drift series. SDX will contain elements from past sonic games. Sonic Drift is kind of like All Star's Racing and Mario Kart.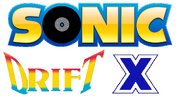 Characters
Default
Name
Image
Weight Class
Car/Bike
Special
Sonic

Medium

Standard Kart M
Speed Star
Blue Bike

Super Sonic
Tails

Medium

Standard Kart M
Sky Speeder
Two-Tailed Cycle

Tornado
Knuckles

Heavy

Standard Kart H
Land Breaker
Master Motorcycle

Master Emerald
Amy

Medium

Standard Kart M
Pink Cabriolet
Love Zipper

Piko Hammer
Shadow

Medium

Standard Kart M
G.U.N Auto Tread
Dark Rider

Super Shadow
Rouge

Medium
Heart Bomb
Eggman

Heavy
Missile Madness
Cream and Cheese

Light

Standard Kart L
Smile Speeder
Rabbit Rider

Chao Attack
Silver

Medium

Standard Kart M
Psychic Racer
ESP Bike

Psycho Burst
Espio

Medium

Standard Kart M
Chameleon Car
Ninja Cycle

Ninja Storm
Yacker

Light

Standard Kart L
Star Speeder
Color Cycle

Color Power
Unlockable
Name
Image
Weight Class
Car/Bike
Special
How to Unlock
Big

Heavy

Standard Kart H
Froggy-Mobile
Green Hopper

Froggy
Win 1st Place in Ring Cup 50cc
Blaze

Medium

Standard Kart M
Pyro Coupe
Blaze Bike

Burning Blze
Win 1st Place in Emerald Cup 50cc
Chaos

Medium

Standard Kart M
Aqua Racer
HydroBike

Flood
Win 1st Place in Wisp Cup 50cc
Charmy Bee

Light

Standard Kart L
Bumble-Mobile
Bee Bike

Ring
Win 1st Place in Ring Cup 100cc
Mephiles

Heavy

Standard Kart H
Shadow Speeder
Dark Star

Solaris
Get a 3 Star Rank in all cups on Mirror Mode
Metal Sonic

Medium

Standard Kart M
Metal Booster
Overdrive Cycle

Maximum Overdrive
Get a 3 Star Rank in all cups on 100cc.
Omega

Heavy

Standard Kart H
Robo-Truck
Omega Booster

Laser
Get a 3 Star Rank in all cups on 150cc
Orbot & Cubot

Light

Standard Kart L
Robo-Wagon
Double Racer

Badnik Attack
Race on all Tracks in Time Trail while playing as Eggman
Sticks

Medium

Standard Kart M
Survival Speeder
Forest Flyer

Boomerang
Win 50 Online Battles
Tikal

Medium

Standard Kart M
Ancient Racer
Light Cycle

Light Speed
Beat 4 time records in Time Trials
Vector

Heavy

Standard Kart H
Crocodile Kart
Reptile Rider

Music
Win 20 Online Races in a row
Tracks
| Chao Cup | Sneakers Cup | Ring Cup | Emerald Cup | Wisp Cup |
| --- | --- | --- | --- | --- |
| Green Hill Zone | Seaside Hill | | | Water Palace |
| | City Escape | BINGO Highway | | |
| | Chemical Plant Zone | | | |
| | Metal City | | Hydrocity Zone | Final Fortress |
| Ocean Palace | Windy Valley | | Crisis City | Starlight Carnival |