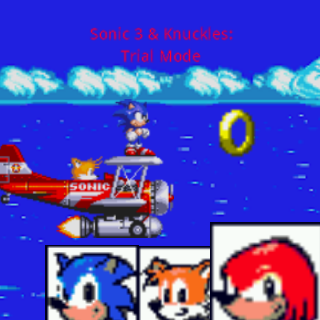 Sonic 3 & Knuckles: Trial Mode is a hack of Sonic 3 & Knuckles by traumaman and Sonic 13.
Stories
Sonic or Sonic and Tails
Sonic and Tails land on Angel Island as usual but see a lot of Motobugs invading the island.
Tails
Same above, but slight differences.
Knuckles
Knuckles was relaxing until Eggrobo came along and destroyed his relaxation.
Characters
Story
Badniks
Zones
Same as normal.
Main Goal
The game, each day, can be played to a trial of 12 hours. There is also an options menu to set the hour time.
Trivia
Dr. Eggman does not appear.

Act 1 and 2 bosses also do not appear.