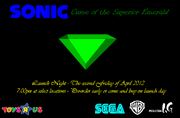 Sonic: Curse of the Superior Emerald is a 2012 direct-to-video animated feature film based on the Sonic the Hedgehog franchise. The film will be made available in Toys R Us stores in a launch day event on April 13, 2012 at 7:30 P.M.
Warner Home Video is the worldwide distributor of the movie which is also a joint project between Warner Bros. Animation and Production I.G.
Summary
Sonic, Tails and Knuckles are told of a Superior Emerald which will give whomever claims it and recites an incantation immense strength and power. But Eggman is not the only one who wishes to claim it, the cruel Lord Brutus Maximus wishes to bring the world under his rule. On top of that, a beautiful young princess is held captive in Brutus' dark castle, and should anyone try to rescue her, Brutus will unleash the Master Emerald's power.
Promotion
The film was in development since 2006, but little information was given besides it would be direct-to-video and it would likely see a 2010 release. In 2009, SEGA unveiled further information, stating that the movie will follow the original Sonic the Hedgehog games' character designs as opposed to current Sonic games, the release date was pushed back to Spring 2012, but information of the film's title, summary, and official release date were not given until the film was finally announced at the 2010 San Diego Comic-Con, where hype finally began. Warner Bros launched a Facebook account dedicated to the movie which Sonic fans could fan.
In the summer of 2011, Warner Bros launched a series of 30 second teasers which played in movie theaters before showings of The Green Lantern and Harry Potter and the Deathly Hallows – Part 2. These teasers were also uploaded on Apple.com, YouTube and the film's official website.
Warner Bros and SEGA announced that Toys R Us stores worldwide will host a launch day event where Sonic fans can obtain pre-ordered copies of the film or buy a copy. The movie will be also released to other retailers that same day.
In a section of the Toys R Us website, fans can pre-order a copy of the movie which can be purchased on launch day. The film's copy will be secured with a "Reserved" sticker. Fans can also pre-order by visting a ticket booth to the currently closed replica of Brutus Maximus' castle and signing a ticket reserving a copy for the event.
Editions
On launch day, a special steelbook edition of the movie (priced at $11.99) will be made available to pre-ordering customers. This edition will contain either a Blu-ray or DVD of the movie, a scaled-down replica of the Superior Emerald, the film's soundtrack, an exclusive lithograph, a Tails plush toy and a 3DS card containing the movie, formatted in 3D.
This edition will also be available at Walmart (albeit to non-pre-ordering customers), Best Buy, HMV, Zellers and other stores.
Music
The film's score was composed by James Horner, known for the scores for Braveheart, Titanic, Avatar and other films.
After launch day, the film's soundtrack will be made available in stores from Warner Music Group. On February 22, 2012, it was announced that WMG will allow users to upload the songs to YouTube provided no money is made off of the uploads.
Cast
The film features the Sonic franchise's current voice cast, but it was announced that Gary Oldman provided the voice of Lord Brutus Maximus.
Ad blocker interference detected!
Wikia is a free-to-use site that makes money from advertising. We have a modified experience for viewers using ad blockers

Wikia is not accessible if you've made further modifications. Remove the custom ad blocker rule(s) and the page will load as expected.