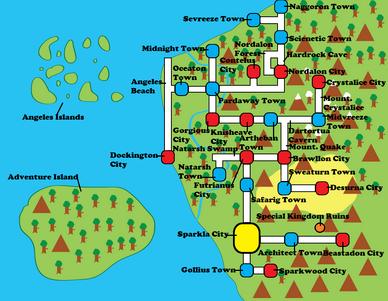 The
Sondar Region
is the region that the Eighth Generation of
Pokemon
takes place in. It is filled with new
Pokemon
, like Chickirddy & Zontonic, along with some old ones, like
Pikachu
 &
Sharpedo
. The
Sondar Region
also has two new Pokemon Types:
Robotic
, and
Sound
. This region consists of mountains (most of which are snowy), a little desert, a little swamp, but mostly consists of open fields and cities. It has an archipelago to the Northwest known as the Angeles Islands, and one big island to the Southwest, which is known as Adventure Island, which is shrouded in mystery. The region is located to the west of Unova, and to the east of Alola.
Other Info
This region is based on California. This would explain why the archipalego is named the Angeles Islands.