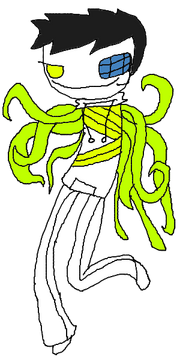 Solarizeus
is a light-based villain that debuted in Shattered Panes. His previous incarnation was known as Tritan.
Backstory
After Tritan went into space to fight a demon, he landed in a grey hole. Where as black holes erase matter, and white holes create matter, grey holes change matter. When Tritan arrived on the other side, he was no longer him self, as his arms were gone and his ribcage crashed entirely.
A few days later after floating in space in pain, he went into insanity and harnessed a sun. His missing arms gave way to a bunch of tentacles and he became effectively a sun-eater.
But that is not the full story. Through the hole, two beings emerged known as Peira Noid and Sheyna. While in the grey hole, DNA from the demon he was fighting not only managed to switch the gender of his alternate personalities, but also made both half-demon. The demon was destroyed, but still lives on as Eve, Sheyna's other personality.
Powers
Solarizeus has the powers of light. It is utterly effective against dark powers.
He also knows how to use fire as well.
Gallery
Ad blocker interference detected!
Wikia is a free-to-use site that makes money from advertising. We have a modified experience for viewers using ad blockers

Wikia is not accessible if you've made further modifications. Remove the custom ad blocker rule(s) and the page will load as expected.