Ad blocker interference detected!
Wikia is a free-to-use site that makes money from advertising. We have a modified experience for viewers using ad blockers

Wikia is not accessible if you've made further modifications. Remove the custom ad blocker rule(s) and the page will load as expected.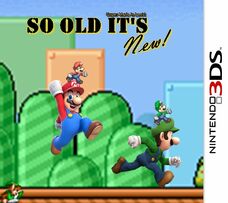 So old it's new! it's a game for the 3DS, but with some heavy patching, people made it work on SNES (system this game is based on).
It's design is a reference to Super Mario World, except the character sprites which are made from scratch.
It has A LOT of new powerups.
Characters:
Mario

Mario sprite (As shown in-game)

Luigi

Luigi sprite (In-game he's 2 pixels taller)

Link (when

pressing L

block)

  

Link Sprite (As shown in-game)
New blocks and powerups
5 Up

Plasma Flower

Money Bag (15-30 Coins)

Boo Mushroom

Carrot

L Block (Morphs the character into Link for a limited time)

Bowser Shell

Atom (Kills every enemie on screen)

Screenshot coming soon.