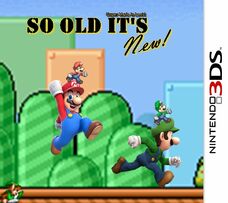 So old it's new! it's a game for the 3DS, but with some heavy patching, people made it work on SNES (system this game is based on).
It's design is a reference to Super Mario World, except the character sprites which are made from scratch.
It has A LOT of new powerups.
Characters:
Mario

Mario sprite (As shown in-game)

Luigi

Luigi sprite (In-game he's 2 pixels taller)

Link (when

pressing L

block)

  

Link Sprite (As shown in-game)
New blocks and powerups
5 Up

Plasma Flower

Money Bag (15-30 Coins)

Boo Mushroom

Carrot

L Block (Morphs the character into Link for a limited time)

Bowser Shell

Atom (Kills every enemie on screen)

Screenshot coming soon.