Im purple and i know it!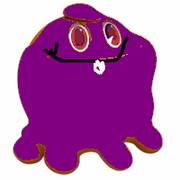 -Snox being Snox
Snox is Jimmny's best friend. He is quite large and helps Johnny by eating enemies and giving him advice. He really doesn't care about the big Hullabaloo with Sparkle and Jimmny, but he finds it amusing.
Life
TBC
Ad blocker interference detected!
Wikia is a free-to-use site that makes money from advertising. We have a modified experience for viewers using ad blockers

Wikia is not accessible if you've made further modifications. Remove the custom ad blocker rule(s) and the page will load as expected.