The main article is Super Smash Bros. Revolution.
Credit to: Spriters-Resource, for the Sprites. Smashbros.com, for giving me the idea. The people on MarioWiki, for teaching me how to do the formatting. Uniju, for teaching me how to do these Sprite Images, as well as make a few of the emblems.

Sep. 28 Fri. 2007
Dark Samus: Special Moves
Dark Samus is a clone of Samus, by which means, all her attacks are the same as Samus's. However, they do differ very slightly in effect.
<Standard Special Move: Phazon Blast>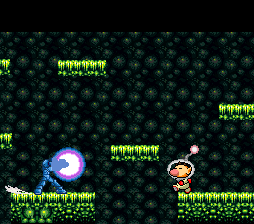 First, she charges the attack up...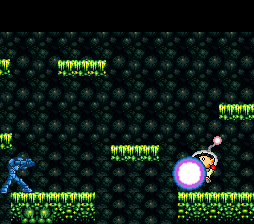 Then she fires. WHAM!!

Dark Samus shoots a phazon charge beam across the stadium, just like Samus. However, the force is so strong, she gets pushed back, and will even fall off ledges.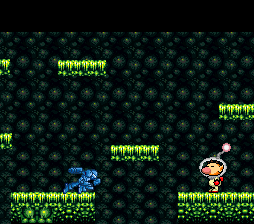 Also, the opponent gets dazed when hit
<Side Special Move: Ultimate Missile>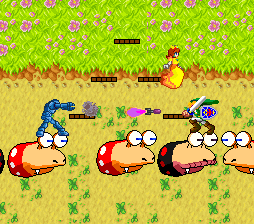 She fired the missile!

And when it hits...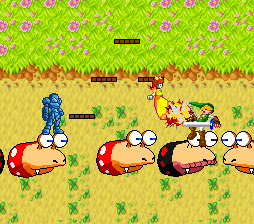 BOOOM!!!

Unlike Samus's Missile attack, Ultimate Missile explodes when it hits the opponent, making it more likely to hit more of your opponents.
However, Dark Samus gets stunned after using this attack, so, make sure you are not near an opponent when using this.----
Sep. 27 Thu. 2007
Pokémon: Champion Music



Pokémon: Champion Music


This is the Champion music used in the games, Pokémon Gold, Pokémon Silver, and Pokémon Crystal. Quite dramatic, really.
The original track, however, was not this dramatic, but we've decided to turn it around to match the Smash Bros. style.
And, what do you hear at the end? The Champion defeated music is also in this track as well.
---

Sep. 26 Wed. 2007
Item Defend
We decided to add a very useful, but very difficult, tactic, titled the Item Defend.



First, your opponent must find an item...

When a player gets an item that requires him/her to throw it, that is when the Item Defend shines.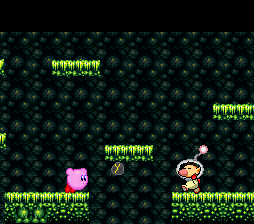 "OH-NO! HE THREW IT!"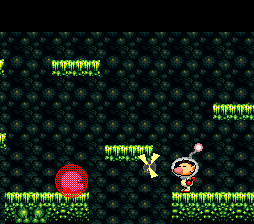 "PSYCHE!!"

Press the shield button the very instant an item is about to hit you.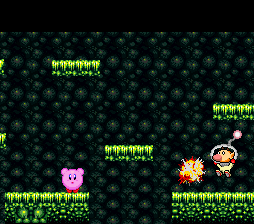 Right back at ya!

Although, there are other ways to block an item using shields, this ability allows you to deflect it straight back.
One of the first homing shield techniques in Smash Bros.!----

Sep. 25 Tue. 2007
Poké Ball
A Poké Ball is a very special item, as it has an effect shared with the Assist Trophy. Just wait and see.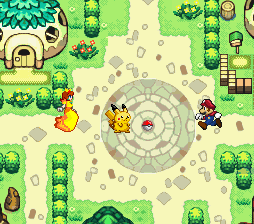 Well look here, a Poké Ball

Pick up a Poké Ball, then toss it, and what happens next?


You can also hurt someone by throwing the Poké Ball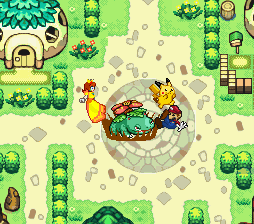 And out comes a Pokémon. VENUSAUR!!

A random Pokémon comes out when tossed, each with a differant effect.
Unlike the Assist Trophy, however, most Pokémon are not invincible. There are a wide range of Pokémon to use.


Some that run into players...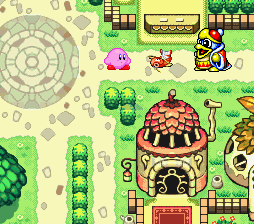 And others that are utterly useless----

Sep. 25 Tue. 2007
Drifblim
Drifblim is a Ghost and Flying Pokémon. It specializes in eery wind based attacks.
In Revolution, we use this trait to act as Drifblims attack.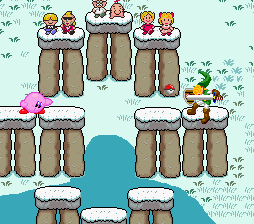 Toss the Poké Ball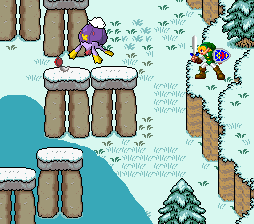 And, behold, Drifblim emerges

When released from the Poké Ball, Drifblim hovers in the air, and charges up an attack.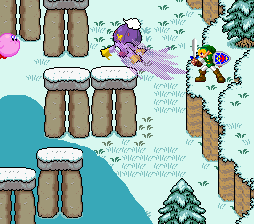 "I wonder what its doing"

Drifblim summons a cloud of eery-looking wind, which proceeds to home into the opponent.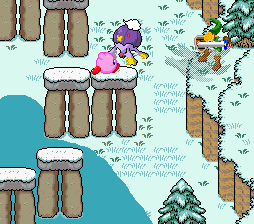 "WAH!!"

Drifblim uses Ominous Wind, which hits a player, and smacks them 5 times before disappearing.
It may SEEM rough, but trust me, there are a lot of worse Pokémon out there.----

Sep. 24 Mon. 2007
Dark Samus


Born from the fusion of the Metroid Prime and Samus's Phazon Suit, Samus's rival joins the fray.
She contains more power than Samus, but is slower, and has less tracking.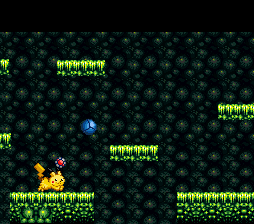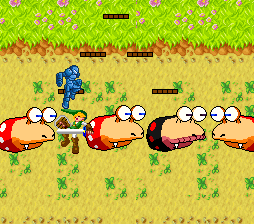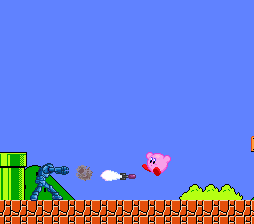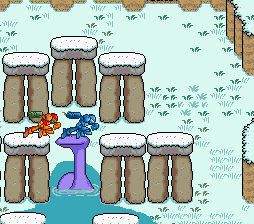 ----

Sep. 21 Fri. 2007
Brinstar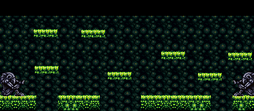 Well, well, what a surprise this is. This time, we have based it on Metroid: Zero Mission.
We have decided to bring Brinstar back from the past game



Players fight on a rather simple stage

The stage is set in a cave, with several platforms in the air, a few holes in the ground, and two Chozo Statues on the side.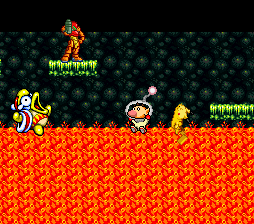 WHOA, LAVA!!

Lava occasionally rises, and will burn anyone who didn't get away in time
Another gimmick we used, is the Chozo Statues.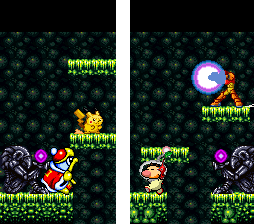 "Whoa, what are they doing?"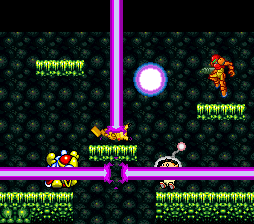 "Didn't expect this, did ya?"

The Chozo Statues charge up a powerful beam, then blast it across the stage.
A beam also falls from the top of the cave as well, so look out when this happens.----
Sep. 20 Thu. 2007
The Legend of Zelda: Main Theme



The Legend of Zelda: Main Theme


Any Legend of Zelda fan would recognize this track. It is the main Title Screen music of The Legend of Zelda.
We have taken the classic track and turned it into something absolutely amazing, something perfect for Smash Bros. Revolution.
It has everything, from a mellow track, to a depressing track, and even a happy fanfare.
---

Sep. 19 Wed. 2007
Ezlo
Well, I'd like to introduce Ezlo into Revolution, as an Assist Trophy.
He is sometimes known as the Minish Cap, as you will soon see why...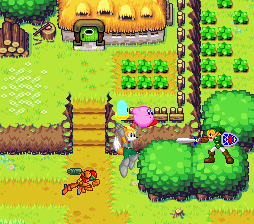 Toss the Assist Trophy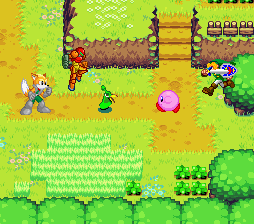 And out comes Ezlo

Ezlo has a rather unique ability. He isn't just called the MINIsh Cap for nothing



He jumps on someone's head

He will not jump on the users head, however, so rest easy.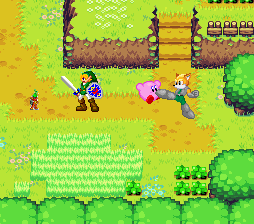 WHOA!! She is tiny

Ezlo will then shrink the player it jumps on, and due to the Minish Cap standing on his/her head, they will be drastically slowed down.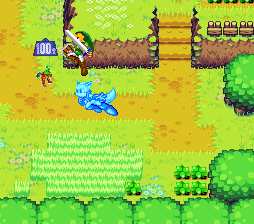 "Hey, cool, easy KO"

This makes them a perfect target for attacking. Ezlo jumps on the head of the player closest to him.
If a player is KO'ed while Ezlo is still in effect, he jumps off onto the closest opponents head, starting the process again.----

Sep. 18 Tue. 2007
Pikachu: Final Smash
<Discharge>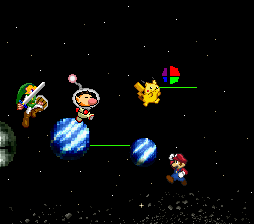 Hey, a Smash Ball. Suprise, surprise

Pikachu must collect the Smash Ball in order to use this Final Smash attack.



"Hey, w-what are all those rings?"

Pikachu starts surging with electricity, as electric rings protect him as they flow around his body.
What happens next, is unbelievable...


"Whoa, this looks bad..."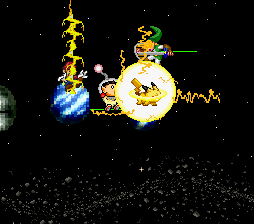 "AHHHH, IT IS!!!"

After charging up a decent amount of electricity, Pikachu sends out a humongous surge of electricity, that massively damages anyone nearby.
The Discharge is the strongest part of the attack, but, Pikachu can hit far away opponents using Thunder, something we added to the attack. However...



"WHY ME!!"

Like Kirby, Pikachu will find himself unable to move while using this powerful attack, so beware.----

Sep. 17 Mon. 2007
Mario's Story: World 1

<Mushroom Kingdom>

Mario and Luigi set out to catch Shadow Mario.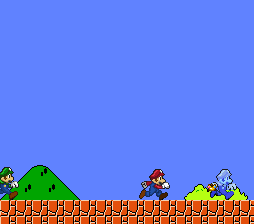 "GET BACK HERE, YOU THIEF!!"

They head to the outskirst of Toad Town, dubbed as Mushroom Kingdom.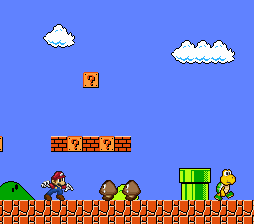 Whoa, look at all those enemies.

Mario manages to run ahead, due to Luigi being quite un-fit.
Mario traverses this world, Super Mario Bros. style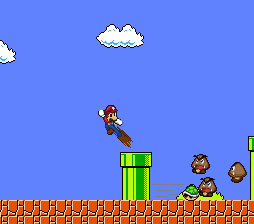 TAKE THAT!!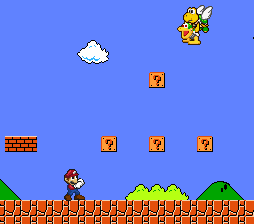 What's this?

Eventually, Mario will have to battle a Mini-Boss.

<Mini-Boss: Paratroopa>

Mario has to dodge the Mechakoopas that Paratroopa throws down towards him. However, once he jumps on them, he can toss them at Paratroopa.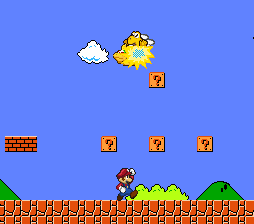 You Hurt him, like in Super Mario World

Hit him three times, and you're able to head further.
After Mario finishes this, he jumps on the flagpole, and waits for Luigi to catch up.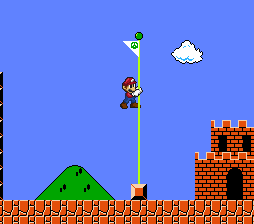 "That's-a so nice"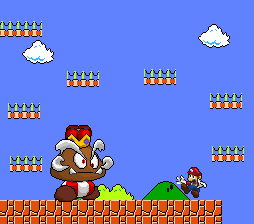 WAH!!!----

Sep. 17 Mon. 2007
Mushroom Kingdom: Boss

<Boss: Goomboss>

Yes, Goomboss is the very first major Boss Mario fights in Smash Bros. Revolution.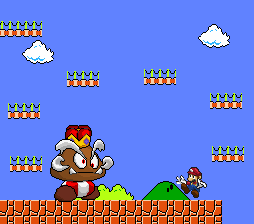 Wow, it is none other than Goomboss

Mario must jump up to the top platforms...


Here we go!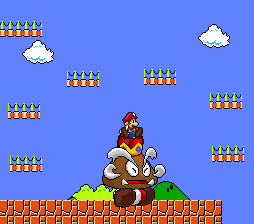 And then you ground pound.

You have to ground pound on Goomboss's head in order to defeat him. You must do this three times.
However, when he gets hit...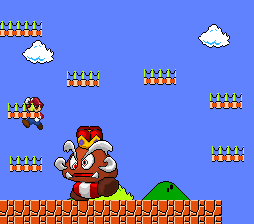 He gets angry...

Goomboss then changes into a more red-ish color, and starts running much faster.
This can cause problems for Mario. What happens when you hit him again?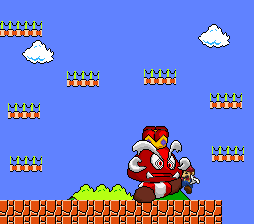 This. HE'S CRAZY!!!!

After hitting him again, Goomboss gets REALLY mad, steaming mad, call it what you want, he gets mad.
He starts running incredibly fast. Try dodging this with ease, I dare you.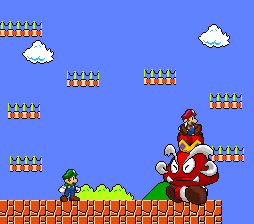 However, at last, Mario defeats him...

Hit him once more, and Goomboss is defeated. With Luigi saved, and this obstacle out of the way, Mario and Luigi head off to find Shadow Mario



And away they go----

Sep. 14 Fri. 2007
Mario's Story
It's just a normal day at Mario's Pad...



"Ah, I love these lazy Saturdays"

Until, suddenly...



"THE PRINCESS HAS BEEN KIDNAPPED!!!"

Toad bursts in, telling the Mario Bros. that Princess Peach has been kidnapped.
The kidnapper is terrorizing Toads in Toad Town Square, so the Mario Bros. hurry to go find this criminal...



It can't be, can it?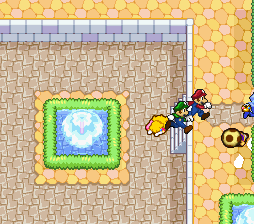 IT IS!

Shadow Mario has returned, back with his trusty Paintbrush.
But, wait, what's he doing? Why did he only take Peach's Crown?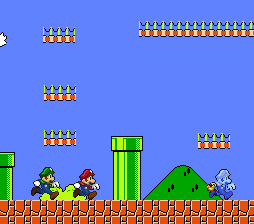 That's what Mario is going to find out

The brothers chase after the shadowy thief through Mushroom Kingdom.
But, eventually...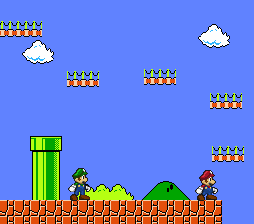 "I don't see him, Mario. Where did he go?"

"AHHHH!!!"----

Sep. 13 Thu. 2007
Kirby: Final Smash
<Plasma Kirby>

As usual, Kirby must collect the Smash Ball

Kirby grabs the Smash Ball to start his attack, and when he lands...



WOW!! Look at that awesome hat

Kirby dons a new odd hat, which seems to be made out of some Plasma material.
Kirby can walk around while wearing this Cap, but when he uses the attack...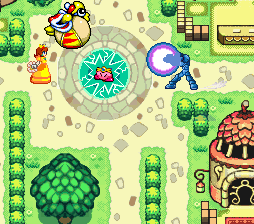 "W-What's he doing?"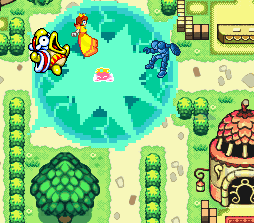 "AHHH, AN EXPLOSION!!

Kirby charges up the attack, protecting him from any attack, and then he lets the powerful plasma charge out, devastating others.
Although it may have massive power, and a very long range, there is something that you might want to watch out for...



Uh-Oh, here comes the Calvary

Kirby cannot move while using this attack, so make sure you don't use this on scrolling stages, or stages with dangerous gimmicks, like the one in Pokémon Square.----

Sep. 13 Thu. 2007
Mirror Shield
In Kid Icarus, the Mirror Shield was one of the Three Sacred Treasures that Pit needed to collect in order to defeat Medusa.
In Revolution, it does the same as it always has...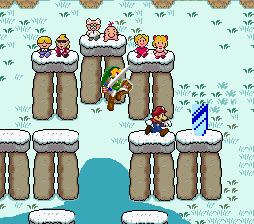 There it is!

Once collected, the character will continue to carry it around with him everywhere he goes...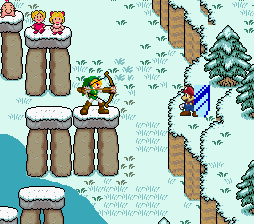 If your opponent shoots a projectile at you...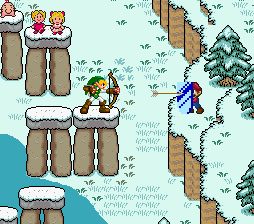 USE THE SHIELD, QUICKLY!!

And what happens when a projectile hits a shield?



This happens

It bounces back at the opponent, damaging him, not you. It can also be used to deflet normal attacks, although you are pushed back a little bit in that case
Unfortunately, you are open to attack from the back, so don't hold the item in one place forever.----
Sep. 12 Wed. 2007
Donkey Kong: Forest Frenzy



Donkey Kong: Forest Frenzy


I know, I know, this is certainly a change from the normal Donkey Kong Country music in previous installments. Well, change is good, and this change will work pretty well for us.
This music played on the Forest Frenzy area which was in Donkey Kong Country. It is the perfect combination of mellow, and mysterious, something we are aiming at for Revolution.
I've always wondered wether Forest Frenzy was a forest or a jungle.
---

Sep. 11 Tue. 2007
Pokémon Square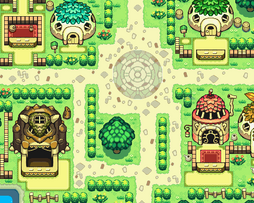 The Pokémon Square, the main hub of Pokémon Mystery Dungeon, happens to be a stage in Smash Bros. Revolution.
In Pokémon Square, the main city was not very open to fighting.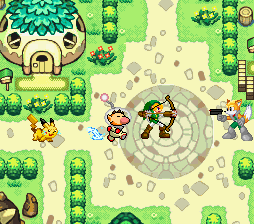 Just a normal fight?

However, sometimes chaos does errupt from this peaceful town.
What kind of chaos have we used?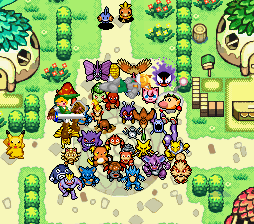 Maybe this kind

Pokémon come stampeding down from the north, devastating anyone they hit.
They only run in the center, however, so try to get to the sides.
And here is another feature we have added.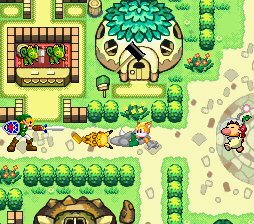 The Kecleon Bros.!!

The two Kecleon shopkeepers will toss random items to the players, which they can use against their opponents.
This increases the amount of items that appear on the stage----

Sep. 10 Mon. 2007
Princess Daisy: Special Moves
Daisy very rarely shows off moves other than her flower techniques, but we've taken somewhat of a differant approach.
<Down Special Move: Crystal Smash>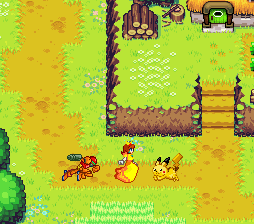 Uh-Oh, they're coming in fast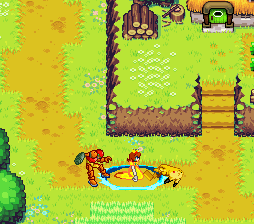 "CRYSTAL SMASH!!"

She punches the ground with incredible force, blasting anyone in the surrounding area.
It doesn't hit airborne foes, however, so be careful.

<Side Special Move: Flower Shuriken>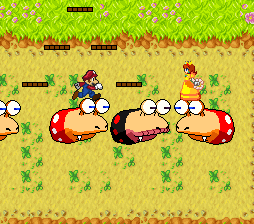 She holds the Flower Shuriken in her hand...

"Hi-YA!"

Daisy tosses the Flower at the opponent, which continues to sap health from them, and add to Daisy's health.
Since when has Daisy been a Ninja?----

Sep. 7 Fri. 2007
Story Mode
Super Smash Bros. Revolution isn't only just standard fighting. We have numerous extra game modes in the game, that set the player in a differant environment with differant set rules.

Among are more proudest achievements of these, is the Story Mode we have invented. This Story Mode may play in a style of fighting, but acts similarly to a Platforming game in some areas.

There are Bosses, partners, levels, and items to battle, and use.

To sum it up, we have made a Story Mode that could rival, even Super Mario Bros.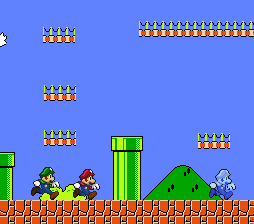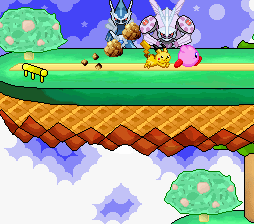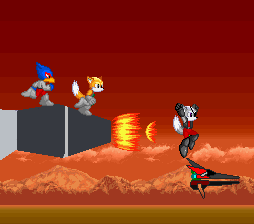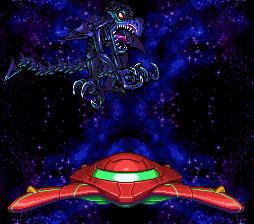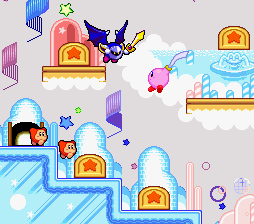 Each character has his/her very own unique story. They are connected only by the fact that each story has:
A Main, playable character.

2 Partners.

5 Normal Bosses.

A Reccuring Boss, who is fought 4 times.

A Final Boss.

And a very Special Level.
Look forward to more information about each characters very own unique story.
---

Sep. 6 Thu. 2007
Sonic the Hedgehog: Green Hill



Sonic the Hedgehog: Green Hill


This is the music that played on the Green Hill Zone stages in the original Sonic the Hedgehog.
It may be somewhat mellow, and not fit for Smash Bros., but this music sure represents the Sonic the Hedgehog series, and has become quite popular in the series.
Stick around to see more Sonic content in this game.
---

Sep. 5 Wed. 2007
Fox McCloud


Fox can't be expected to spend ALL his time in the cockpit of an Arwing, now can he?
Fox's great speed, and acrobatic manuevers make him perfect for teasing an impatient foe.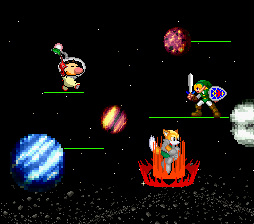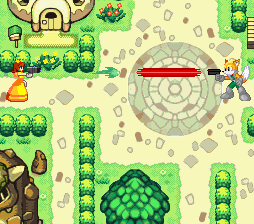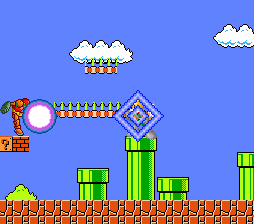 ----

Sep. 5 Wed. 2007
Samus Aran


Coming from the Tetra Galaxy, Samus Aran joins the gang for another Smash Bros. installment.
She has several weapons built into that Power Suit, and her physical power ain't too bad either. Who says girls can't fight?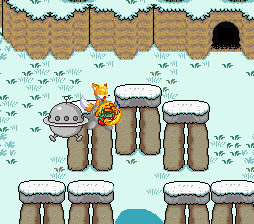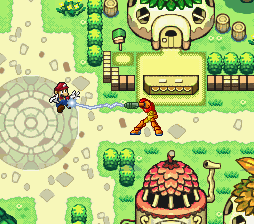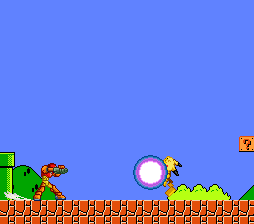 ----

Sep. 4 Tue. 2007
Assist Trophy
The Assist Trophy is a very special item, that can be used in tight situations.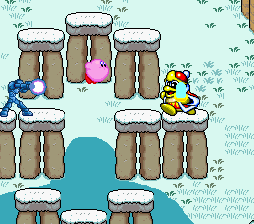 Hey look, an Assist Trophy

When used, a random character is released, and that character will proceed to assist the fighter who released it. Sorta comparable to the Poké Ball, I guess...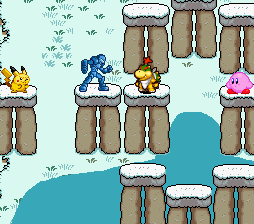 And out comes the character.

Our model here will be Baby Bowser, who will be an Assist Trophy character in Smash Bros. Revolution.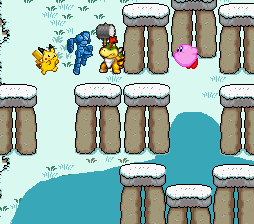 He jumps up towards the characters, then...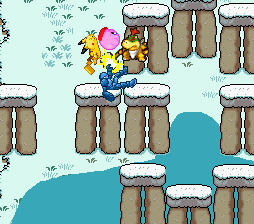 BAM!!! Ouch, that hurt.

He smacks down with his Hammer, twirling the hammer around his entire body. Just try and avoid this.
Most Assist Trophy characters are invincible, and the only way to avoid getting KO'ed, is to run away from them.----

Sep. 4 Tue. 2007
Pokémon Ranger
Wow, Pokémon Ranger, in this? You'd better believe it.
In the Pokémon Series, a Pokémon Ranger's goal is to save People and Pokémon alike. And Smash Bros. Revolution is no exception.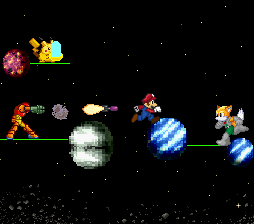 First, get the Assist Trophy...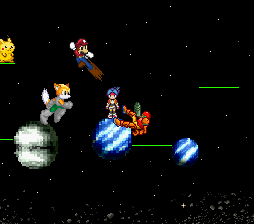 LOOK, A Pokémon Ranger!

Pokémon Ranger emerges from the Assist Trophy, and stands in the background.
Pokémon Ranger then gets her Ranger Styler, and starts waving it around. This creates Blue Rings around the players, which slowly grow smaller.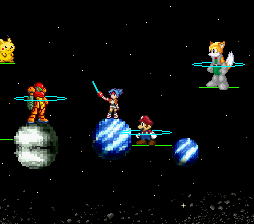 "What's she doing?"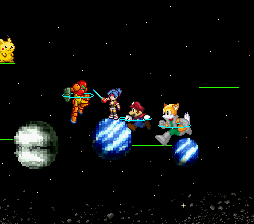 "Oh-No, they're shrinking!!"

In Pokémon Ranger, if the Styler is touched while still in effect, it will break. In Smash Bros., it is a bit more intense...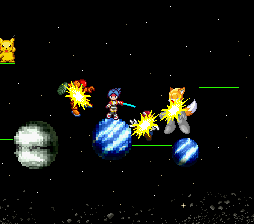 SMASH!!!!

It explodes, KO'ing the players quickly. This is a very powerful move.
Pokémon Ranger cannot reach out too far, however, so try and get as far away from her as possible.----

Sep. 3 Mon. 2007
Link: Final Smash
<Triforce Explosion>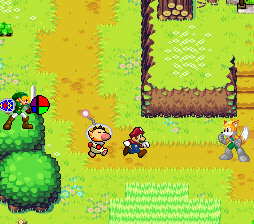 He collected the Smash Ball...

Link will then shine with the power of the Triforce, and then...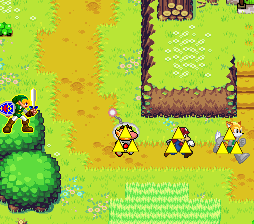 "Hey, w-what's going on?"

Suddenly, the Triforce surrounds Link's opponents.
The Triforce is a very powerful weapon, and it has many untold powers. In this case...



BOOM!! A HUGE explosion

The Triforce then explodes on all of Link's opponents, devastating them.
It causes more damage to players who are close to Link, so you are best running after your foes. However...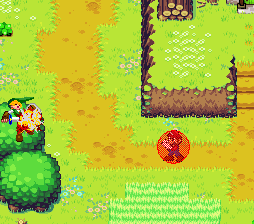 "OH-NO!! I'M HIT!!!!"

If the player shields the very instant the Triforce hits them, he will knock the attack back at Link.
However, the timing is incredibly hard, so I'd suggest practicing up if you want to avoid it.----