The main article is Super Smash Bros. Revolution.
Credit to: Spriters-Resource, for the Sprites. Smashbros.com, for giving me the idea. The people on MarioWiki, for teaching me how to do the formatting. Uniju, for teaching me how to do these Sprite Images, as well as make a few of the emblems.

Oct. 31 Wed. 2007
Samus Aran: Final Smash

<Phazon Suit>

Samus's most powerful suit in the Metroid Prime series is the Phazon Suit.
It proved vital in her battle against the Metroid Prime.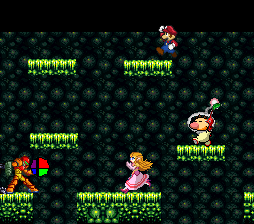 We decided to use it for Smash...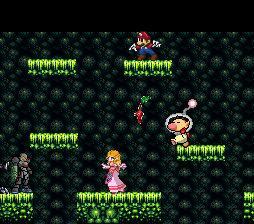 She instantly got the Phazon Suit!?

What is she shooting?

This power-up we gave to the Phazon Suit is very unique, actually. Never appeared in the Metroid Prime series.
After the bombs are fired...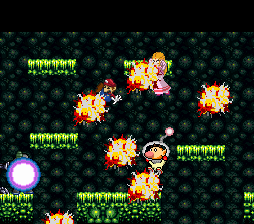 KABOOM!!

They explode with a large blast radius. And because numerous bombs are fired, your chances at hitting your foe are increased even further.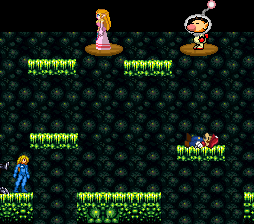 But, what happens afterwards?

As for the downside to the Phazon Suit, we won't cover that til' a later date.
---

Oct. 30 Tue. 2007
F-Zero: Mute City



F-Zero: Mute City


Ah, the energetic rumble of Mute City's very own theme. Speeding by at incredible speeds in vehicles that don't even touch the ground; this music definitely fits.

It doesn't take a genius to know that this will play on an F-Zero stage of some sort.

I think I might've said a bit too much just then.
---

Oct. 29 Mon. 2007
Princess Zelda


Zelda, princess of Hyrule, returns for another Smash Bros. fight, weilding her magical abilities.
Long range is her speciality, just like Link. Just try and hit her from close up.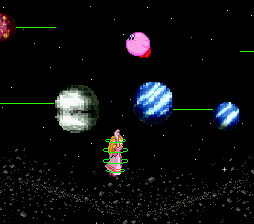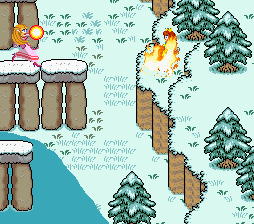 ---

Oct. 26 Fri. 2007
King Dedede: Special Moves
Like Dark Samus, King Dedede is a clone of Kirby. However, many of his attacks are different from Kirby's attacks.

<Standard Special Move: Swallow>


Suck them up...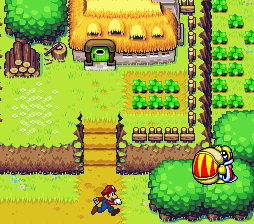 Hold them in...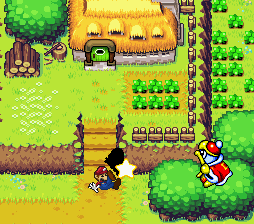 Spit them out!

King Dedede can't copy an opponents power, but he can spit them back out at other players with incredible force.

<Side Special Move: Hammer Slam>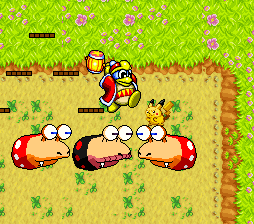 Jump up high!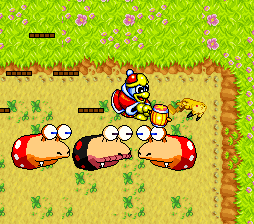 And slam down with power!

King Dedede doesn't swing sideways, like Kirby, but instead, slams downwards.
This is one bird you don't want to mess with!
---

Oct. 25 Thu. 2007
Metroid: Nightmare Boss



Metroid: Nightmare Boss


This rather mystical music track played in Metroid Fusion, which was Metroid: Zero Mission's sister game on the GameBoy Advance.

It is quite ominous, isn't it? Being quite spooky, it adds to the suspense of a Metroid stage. Remember Brinstar Depths?

I've always wondered, does Samus ever get nightmares?
---

Oct. 24 Wed. 2007
Space Pirate
The Space Pirate is the main troop of the villainous team, the Space Pirates.
The Space Pirates major role in the Metroid series makes it a perfect choice for an Assist Trophy.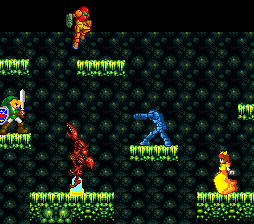 Now THAT'S a classy entrance!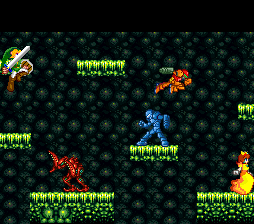 Run! It's the Space Pirate!

When the Space Pirate emerges from the Assist Trophy, it targets an opposing player, and pursues them.


You'd better not run! He won't stop chasing you!

H-He keeps on going!?

What's this!? He went after another!?
In the Metroid series, the Space Pirates show no mercy to anyone that gets in their way. It is the same in Revolution.
Also, you'd better not be the last one hit, because...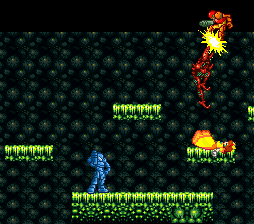 Ouch, THAT looked like it hurt!

An instant KO to the last person hit by the Space Pirate!
You'd better not run, you'd better not hide, because the Space Pirate doesn't quit until everyone is hit!
---
Oct. 23 Tue. 2007
Jungle Japes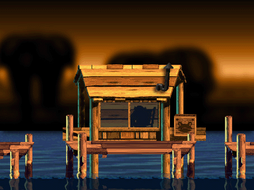 Jungle Japes, a location in Donkey Kong 64, appears as with a Pre-rendered design to copy that of Donkey Kong Country.



Wow, this is one unique stage!

The graphics are 3Dish, with 2D characters fighting on it.
How can you fight on something so different?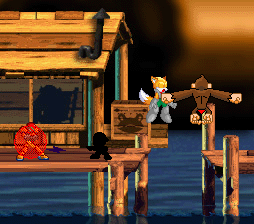 Jump, jump, and jump some more!

There are a few small platforms on the sides of the stage, which can be jumped on at any time in battle.
But, don't fall in the water, or else...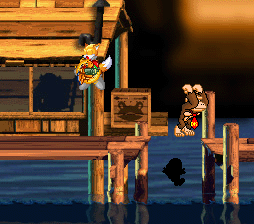 He fell in the water!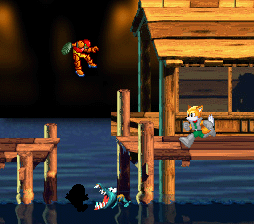 The currents too strong!

The current drags you down in the water, as well as push you away from the stage.
If you get hit by the Klaptrap, you are doomed!
---
Oct. 22 Mon. 2007
Hyrule Temple: Boss

<Boss: Link>

The mysterious shadow is none other than Mario's Nintendo partner, Link.


But... What's he doing here?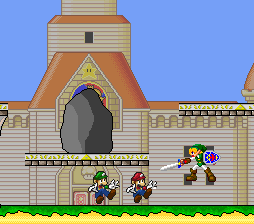 Well, whatever the reason, it ain't good!

The fight is a standard Super Smash Bros. fight.
Although, Link is a hard opponent. Luckily, Luigi is here to help Mario fight!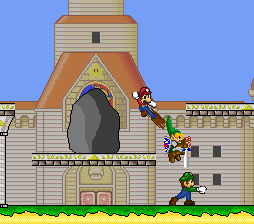 Mario and Luigi Vs Link. Doesn't sound too hard, does it?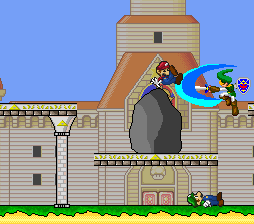 Wrong, Link is one tough opponent!

But don't worry, if you are used to the controls of Smash, this battle should be a cake walk.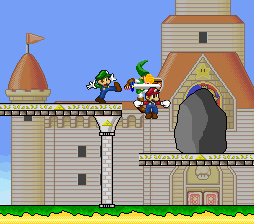 TEAMWORK!!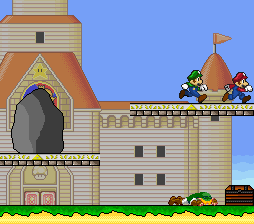 With that done, they set their sights on Shadow Mario.

But, what happens to Link?
---


Oct. 19 Fri. 2007
Shadow Ness

Shadow Ness is shrouded in complete mystery, as people ask "where did he come from?".
Well, answers to that will be revealed later at the upcoming F3 event.
Shadow Ness's abilities possess dark mysterious powers, with even more force and power than Ness himself!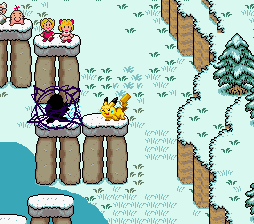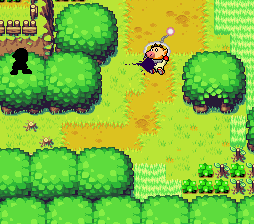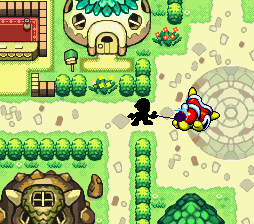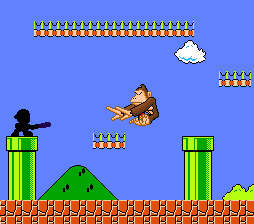 ---

Oct. 18 Thu. 2007
Kanghaskan
A very rare Pokémon from the original Pokémon games, Kangaskhan packs quite a big punch in Smash Bros.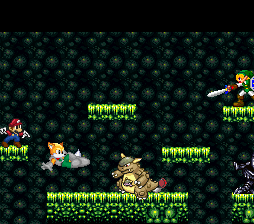 Kangaskhan emerges from the Poké Ball...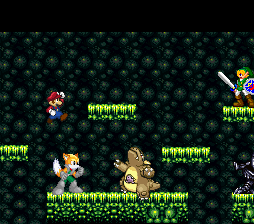 Charges up an attack...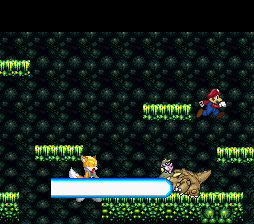 FIRE!!

Kangaskhan fires a powerful Hyper Beam attack straight forward. It has quite a large blast radius, so beware.
However, that is not the only worry.



That was... unexpected

The baby will attack anyone who tries to sneak away behind Kangaskhan.
But, come on, it is just so darn cute!
---

Oct. 17 Wed. 2007
Super Smash Bros. Revolution: The Strange Town



Super Smash Bros. Revolution: The Strange Town


What is this? Where does this play? Where is it from? Many questions that won't be answered for a while.

It is very cheery, isn't it? Well, let me tell you, the stage it plays on has a lot of chaos! Just you wait and see.

This original track has much mystery. This will confuse many fans for weeks to come.
---


Oct. 16 Tue. 2007
Captain Olimar: Final Smash

<Olimar's Ship>

Captain Olimar's ship, the Dolphin, was sold in Pikmin 2, but he got a new ship with its own personality.
We decided to use this ship as Captain Olimar's Final Smash.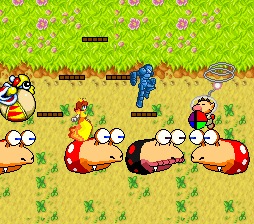 When he gets the Smash Ball, he sends a whistle out...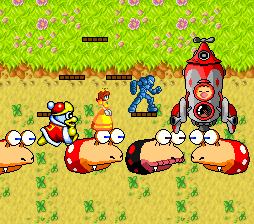 TA-DA!

This bird flies great!

Captain Olimar can ram into his opponents using the ship, and will be able to cause a large amount of damage on them.
The fire exhaust does some damage as well. Also, we have decided to add a new power for the ship...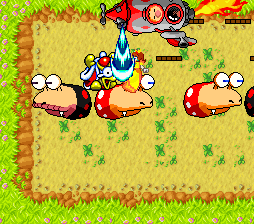 Energy Blasts!? That's new

Pressing the attack button allows Olimar to fire energy blasts towards his opponent.
He will fire in different directions if you tilt the control stick.
However, Captain Olimar has a few problems with his ship...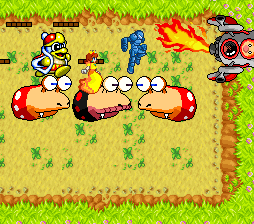 MAYDAY!! MAYDAY!!

It is very difficult to turn the ship around, which will cause him to fly off the stage if you aren't careful.
Other than that, this is one deadly Final Smash. What should we call Olimar's Ship, anyway?
---

Oct. 15 Mon. 2007
Donkey Kong: Special Moves
Donkey Kong's moveset has been changed slightly to match his Donkey Konga appearances.
Although not completely changed, we have moved closer to his Donkey Konga moves.

<Down Special Move: Chest Smash>


The opponents draw close...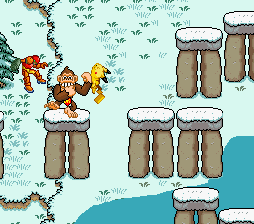 DK is definitely the King of the Jungle!
<Side Special Move: Clap>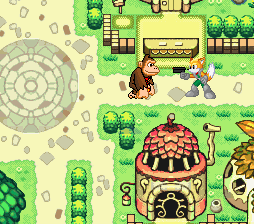 Use the attack...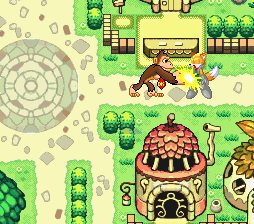 Then, CLAP!

However, Donkey Kong is very slow when using this move, which allows him to be attacked when preparing the Clap.
---
Oct. 12 Fri. 2007
Mario's Story: World 2

<Hyrule Temple>

After Mario defeats Shadow Mario in Mushroom Kingdom II, he continues to chase him threw a land known as, Hyrule.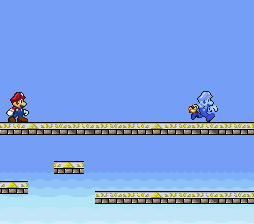 "UNHAND THAT CROWN!"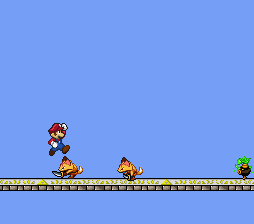 "I've never seen these creatures before"

Mario sees odd creatures, ones he has never seen before. I wonder what they could be.
Once Mario reaches the end of the road, he reaches a pedestal.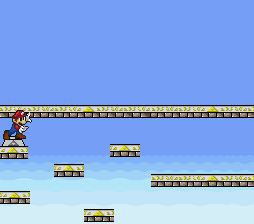 "I wonder what happens when I stand on it..."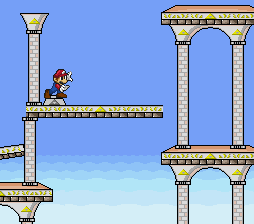 "I teleported?"

Mario teleports to the next road. However, soon after, he meets another creature...

<Mini-Boss: Armos>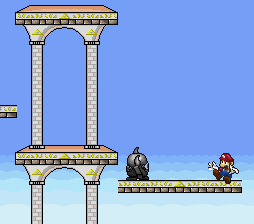 "Woah! What is it!?"

He must battle Armos in order to continue on.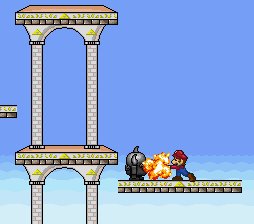 The only thing that will hurt him, is using Smash Attacks on his eye.

Now that wasn't so hard, was it? Mario can continue his travels, but the path is very short after this, so it should be easy.
Once you reach the end...


"W-Who is that?"
---

Oct. 11 Thu. 2007
Kirby: Meta Knight Battle



Kirby: Meta Knight Battle


This played in Kirby: Super Star, when Kirby fought his caped rival, Meta Knight.

It is creepy, dark, and sounds like your in the heat of battle. So, it is only natural we pick this music track for Smash Bros. Revolution.

Meta Knight is definitely ready to fight his rival with this music roaring in the background!
---

Oct. 10 Wed. 2007
Mario: Special Moves

<Hammer>

Mario's trademarked weapon in many of the Mario RPG's, is his Hammer.
It is packed with painful power, so we've decided to replace Mario's Cape with this weapon.


Oh-no, here comes an opponent!
"Uh-oh, I've made a mistake"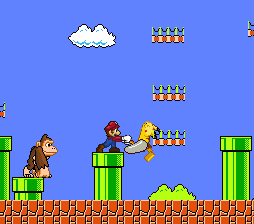 "HOME-RUN!!!"

Mario swings his Hammer around, and smashes his opponents. This is one powerful replacement.
Er, but, Mario's new hammer is a bit heavy, so he will be stunned for a very short while after use.



"What the!?"

Also, what have we done with the Cape, you ask?
Don't be alarmed, we found a good home for it.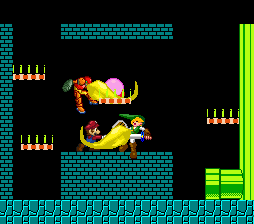 Wow, the Cape sure made a new name

We've turned the Cape into an item. Pretty nifty, eh?
---

Oct. 9 Tue. 2007
King Dedede


Is it a bird? Is it a plane? The first one was right. It is King Dedede, king of Popstar. He is a powerful clone of Kirby, and has many of Kirby's abilities and tricks. Be prepared for pain when going up against this behemoth.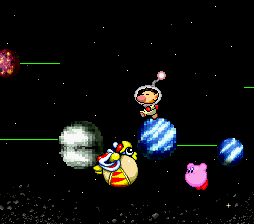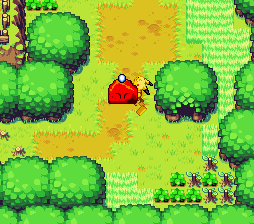 ---
Oct. 8 Mon. 2007
Link's House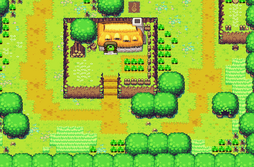 This is Link's House, obviously, it is where Link lives.
We have based it on its appearance in The Legend of Zelda: The Minish Cap.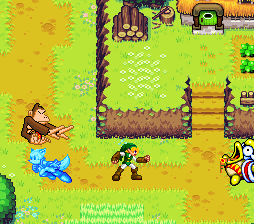 Fight in front of Link's House

The stage is quite large, with trees on the sides.
Actually, jumping on the trees is the only way to get to the other side of the stage



Just jump on top of the trees

Occasionally, an Octorok will appear on either side of the stage, shooting small energy balls at the players.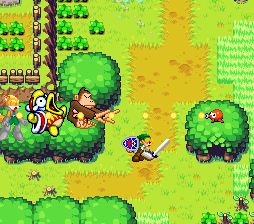 INCOMING!! DUCK DOWN!!

Just duck down bellow the trees to avoid getting hit.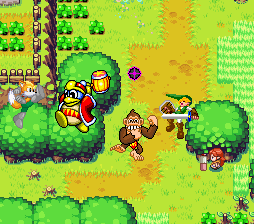 Look who it is! Malon!

Malon may occasionally appear and toss items towards the players, similar to the Kecleon Bros. on the Pokémon Square stage.
Quickly pick them up, before your foes get to them!
---

Oct. 5 Fri. 2007
Donkey Kong


The ape with the red tie returns in Smash Bros. Revolution, with a new fighting style based on the Donkey Konga series.
Although he may be big, he packs more than enough power to send his foes flying like jets.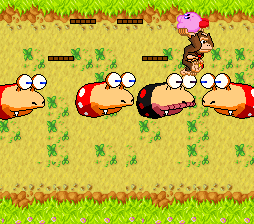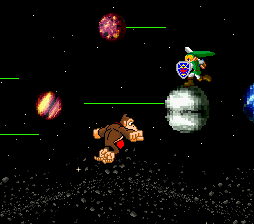 ---


Oct. 4 Thu. 2007
Mettaur
The Mettaur is a virus in the Mega Man series, but it now enters as an item in Smash Bros. Revolution.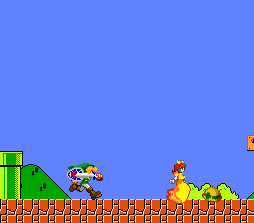 A Mettaur will be found lying on the ground

After finding it, pick it up.
The Mettaur is very similar to the Mr. Saturn from Melee, however, it does differ slightly in effect.


Pick it up...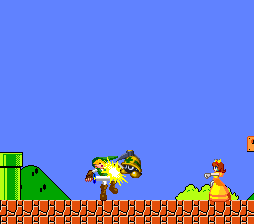 And throw it, SMASH!

Toss it at your opponent, it will damage them more than the Mr. Saturn did, but it still only does minor damage.
Unlike the Mr. Saturn, which walks around and awaits players to pick it up, the Mettaur is slightly differant after it is thrown.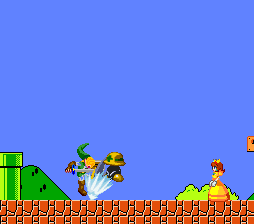 You mean he does more!?

The Mettaur starts swinging his pick-axe around, hurting any player it happens to hit.
Be warned, he also hurts the user.
---


Oct. 3 Wed. 2007
Pikmin: Perplexing Pool



Pikmin: Perplexing Pool


This first appeared in the game, Pikmin 2. It is one of our longest music tracks in Smash Bros. Revolution.

Originally just very depressing and mellow music, this one is a bit more tropical and jolly.

It is quite obvious this plays on a Pikmin stage. As to what the stage is, you have to wait and find out.
---

Oct. 2 Tue. 2007
Fox McCloud: Final Smash

<Arwing Invasion>

Fox McCloud is the leader of the Star Fox Team, which use mainly Arwings as their choice of weapon.
As such, I have decided to uses the Arwings as his Final Smash.


Grab the Smash Ball...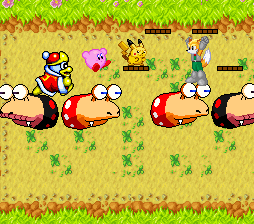 "CALLING ALL ARWINGS!!"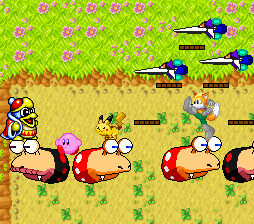 "ATTACK!"

Fox calls in the Arwings for assistance. The pilots are Slippy Toad, Falco Lombardi, and Peppy Hare.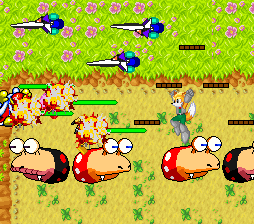 BOOM!

The Arwings shoot extra powerful beams at Fox's opponents. The only thing you can do now, is hope you don't get KO'ed.
Uh, but, there is one thing wrong with it...



"WAH! GUYS, you are supposed to shoot THEM!"

If an opponent shields the very instant they are hit, the attack will be blocked, and shot towards Fox. Similar to Link's Final Smash.
---
Oct. 1 Mon. 2007
Mushroom Kingdom II: Boss

<Boss: Shadow Mario>

After Mario and Luigi defeat Goomboss, they reach Mushroom Kingdom II.
They finally corner Shadow Mario here, and challenge him to a fight.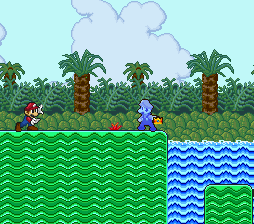 "I finally cornered you! Let us settle this like adults."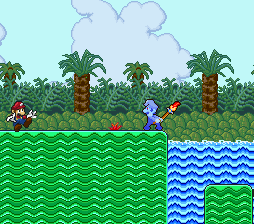 "WHOA!"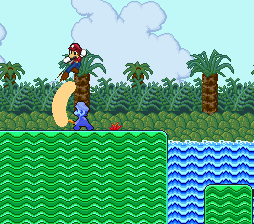 "Guess not"

Luigi tripped on the way there, and thus, is unable to help Mario in this battle.
The battle is a standard Super Smash Bros. battle, with Mario and Shadow Mario fighting as they would in a normal fight.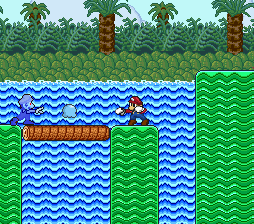 Just fight, its easy.

Shadow Mario has 50% of health, and Mario must lower it to 0%.
This is definetely an easy fight.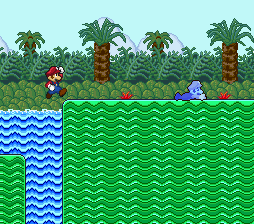 And Shadow Mario is DOWN!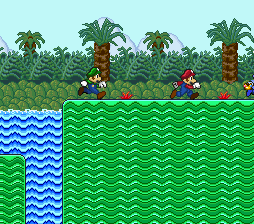 Oh boy, Deja Vu!

After Shadow Mario is defeated, however, he gets up, and runs off again.
Mario and Luigi pursue the thief to get Peach's Crown back.
---
Ad blocker interference detected!
Wikia is a free-to-use site that makes money from advertising. We have a modified experience for viewers using ad blockers

Wikia is not accessible if you've made further modifications. Remove the custom ad blocker rule(s) and the page will load as expected.