The main article is Super Smash Bros. Revolution.
Credit to: Spriters-Resource, for the Sprites. Smashbros.com, for giving me the idea. The people on MarioWiki, for teaching me how to do the formatting. Uniju (t∣b∣c), for teaching me how to do these Sprite Images, as well as make a few of the emblems.

Nov. 30 Fri. 2007
Baby Mario Bros.: Special Moves
The Baby Mario Bros. specialize in tag attacks, and they combine their strength to deal increased damage.

<Side Special Move: Goo Goo Buggy>



WOO HOO HOO HOO! WHEE!!

The babies ride past in their Mario Kart vehicle, and despite being powerful, its control is bad.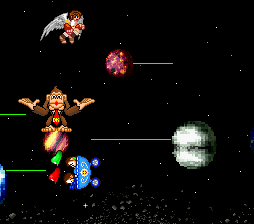 MAMA-MIA!
<Standard Special Move: Shell Toss>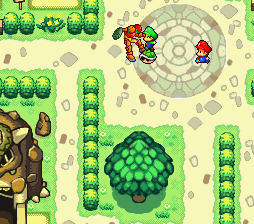 And the shell just slides along!

Baby Mario fires a green shell, as Baby Luigi rides on it.
However, if Baby Luigi isn't with his brother, the attack is much weaker.

<Grab Move: Chain Chomp>

The babies have been seen using the Chain Chomp in several cases. It is their... pet... that's the best way to describe it.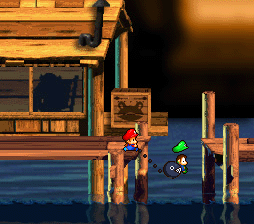 WHOA! That was a close one!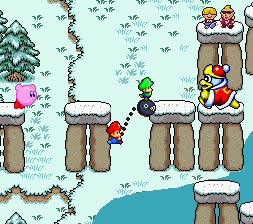 Hello!

This is one of the most useful grab moves in the game, so use it effectively, and you'll have yourself a near indestructable duo.----

Nov. 29 Thu. 2007
Baby Mario Bros.


The two brothers in their juvenile form have joined the fray!
The two babies settle for power in numbers, and act very weak alone. They also pack quite a few helpful recovery moves.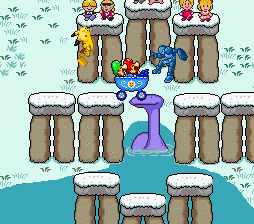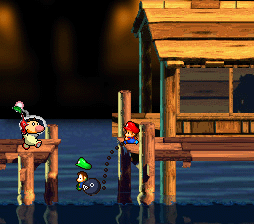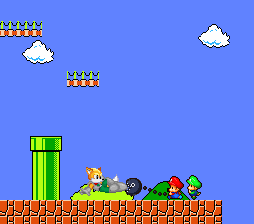 ----

Nov. 28 Wed. 2007
Tyranitar
Tyranitar is one of the strongest non-legendary Pokémon in the entire series, matching Dragonite and Metagross in power.
Of course, we match his strength in Revolution.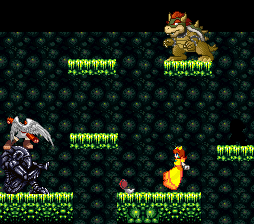 Here comes the king!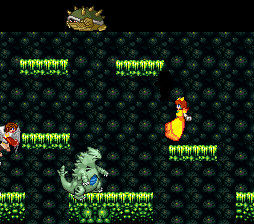 The mighty rock dragon emerges!

This behemoth is quite frightening, isn't it?
His powerful attack is much more terrifying!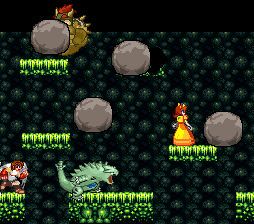 ROCK SLIIIIIIIIIIIDE!!!

The powerful Rock Slide move sends Rocks tumbling from the skies.
These rocks are huge, and several fall at one time. You'll have a hard time dodging them all!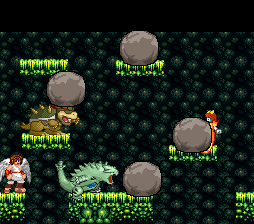 They just fall, and fall, and fall, AND FALL!

Whoa, this is long! The rocks fall for about 5 to 10 seconds, which can be be very dangerous if you weren't the one who tossed the Poké Ball.
It is much more deadly on smaller stages, and works better on bigger opponents. Can you avoid it!?----


Nov. 27 Tue. 2007
Ice Climber: Icicle Mountain



Ice Climber: Icicle Mountain


This medley played in Super Smash Bros. Melee. I'm sure many who have played that game would recognize this track.
A very urban music track, despite the fact it is set around an ice-covered mountain.
From urban to icy, this track covers a lot of the different music styles.
---
Nov. 26 Mon. 2007
Mario's Story: World 4
After getting past the Pokémon World, Mario and Luigi find Shadow Mario in...
<Butter Building>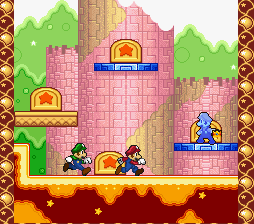 Don't climb the tower!

He climbed the tower

Mario and Luigi have to climb up this tall building. Try not to fall off, or else, you'll lose a life.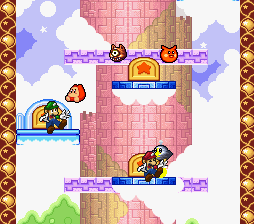 THESE ENEMIES ARE THE WORST!

A major problem in this world, is the huge amount of enemies.
After all, Kirby is known for its large amount of enemies.

>

But, with good timing, and strategy, you can overcome that problem

<Mini-Boss: Kirby Clan>

As was the case in the last Smash game, the player has to battle a Kirby clan.
There are only 8 Kirby's in this group, but, they know teamwork really well.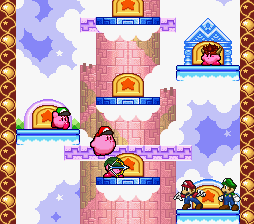 THE KIRBY CLAN!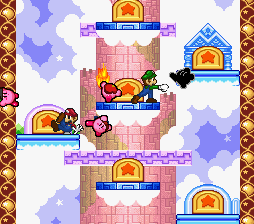 But, you can take care of them with good teamwork

A normal sized Kirby follows after all eight are defeated, but he battles like a normal, but heavier, Kirby.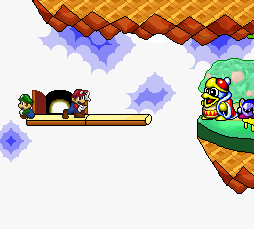 But, what happens afterwards?----
Nov. 26 Mon. 2007
Dream Land: Boss

<Boss: King Dedede and Meta Knight>

King Dedede and Meta Knight appear to impede the brothers travles.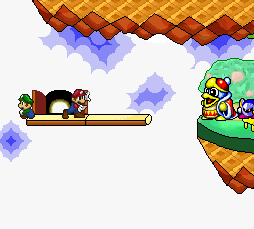 They fight here, in Dream Land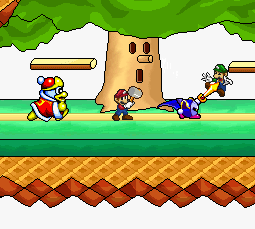 A 2-on-2 battle, taking place on this large confusing stage.

The stage is quite large, so fighting space acts as no problem.
Just keep trying to knock out the two powerful foes.



They are anything but weak, however

After a little while, however, your free will on the stage is shattered.
Why? The stage starts scrolling!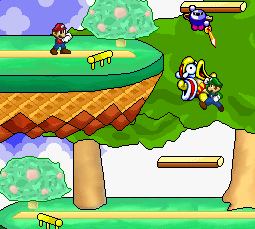 Jump onto the top platform! Hurry!

After it reaches the top platform, the battle continues.
The battle continues here until you knock both of them out.


There we go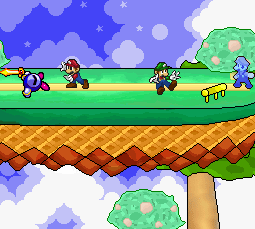 But, look who appears behind you!----
Nov. 26 Mon. 2007
Dream Land: Secondary Boss

<Boss: Shadow Mario>

Shadow Mario appears to fight the brothers.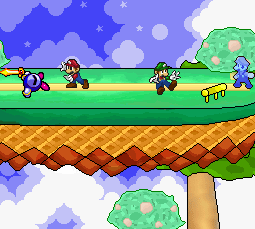 Whoa! There he is!

Or, should I say, Mario.



OH NO! LUIGI!!

He pounds Luigi far away from Dream Land.
It seems Meta Knight managed to get up from his defeat.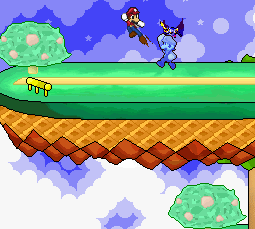 It is a normal fight... or is it?

The battle is like every normal battle.
Except, the fight only takes place on this one platform, and walking off it causes a KO, even if there is land underneath it.
Other than that, it is a normal KO fight.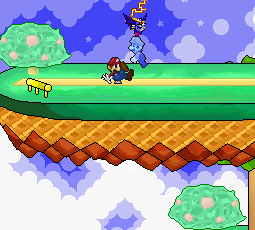 W-What's Meta Knight doing!?'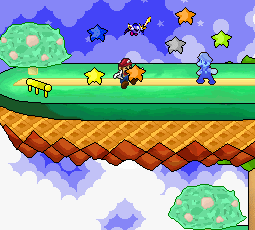 WAH!! SHOOTING STARS!!

Strangely, these stars don't hurt Shadow Mario.
Just try and get to a spot the stars aren't gonna hit.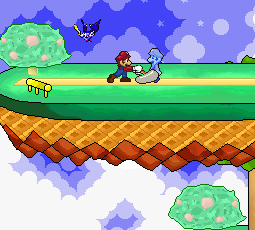 And, SMASH! A single KO wins the match!

After the long fight, Mario finally defeats Shadow Mario, and gets the crown back.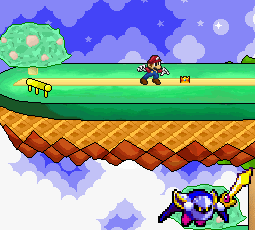 But, what about Luigi?----

Nov. 23 Fri. 2007
Smash Attacks
Smash Attacks aren't like Special Moves, not at all, but they are rather powerful normal moves.
They pack extra power in them, and allow for easier KO's.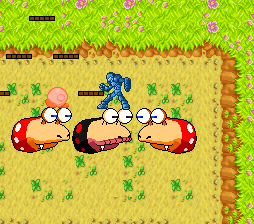 This is a Smash Attack while charging...

To start a Smash Attack, push the Control stick in any direction, and press the 2 button at the same time.
After it charges enough, or when 2 button is released...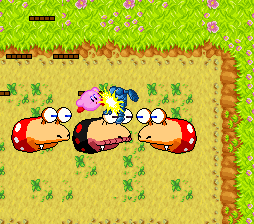 SMASH!

There are three kinds of Smash Attacks; Side, Down, and Up.
The above demonstration was a side Smash.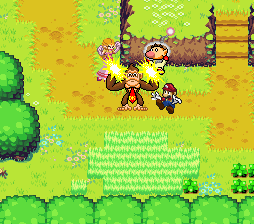 This is an Up Smash

And this is a Down Smash

It takes practice to get the timing right, but once you get the timing right, winning a match should become much easier.----

Nov. 22 Thu. 2007
Kid Icarus: Main Theme



Kid Icarus: Main Theme


This is the main theme to the game, Kid Icarus. Certainly a noble and peaceful track.
This plays on a Kid Icarus stage, obviously. It sure fits the motif of the stage, actually.
To think, a fraction of this track acts as Pit's theme music as well.
---
Nov. 21 Wed. 2007
Trophies
I think you would remember the Trophies from Super Smash Bros. Melee. Collectible items that could be displayed for enjoyment, as well as offering interesting information.
Well, Trophies return in Super Smash Bros. Revolution, but this time, they can be earned from your performance in VS Mode matches.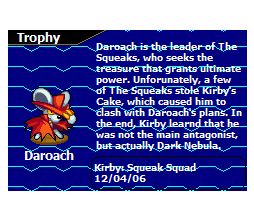 Daroach's Trophy

Oh, by the way, we have around 400 Trophies in this game. Yep, certainly a lot, isn't it? You'll have your work cut out for you, but it should be fun collecting all these interesting items.



Put them on display. We offer several different backgrounds, and terrains in this game.

Collect them all, and learn as much as you can about Video Game history from them.----

Nov. 20 Tue. 2007
Food
In the last two Smash games, there have been food items that players can munch on for extra health.
We kept these delicious items, but we added a few extra treats.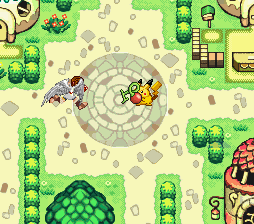 A berry from the Pokémon games!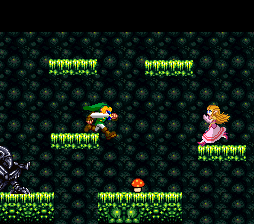 That isn't what it looks like. That is from The Legend of Zelda: The Minish Cap, not Super Mario Bros.

But Food doesn't just randomly appear on the stage, oh no.
It can appear from items as well.



The Party Ball returns! Still releasing food half the time

Another new feature we added, is that a large amount of food will occasionally fall from the skies!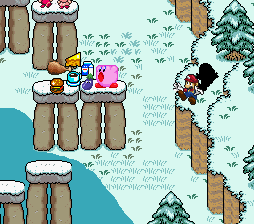 FOOD, GLORIOUS FOOD!!

Keep an eye out for all the different kinds of food, and try to figure out where they came from.----

Nov. 19 Mon. 2007
Pit


The hero of Angel Land enters the fray from the Kid Icarus game.
Acting as a good recovery master, Pit leans towards technical attacks and tricks.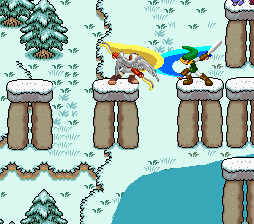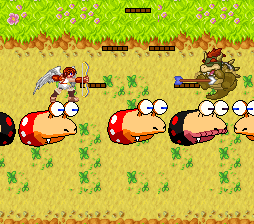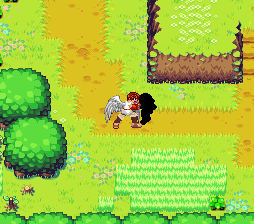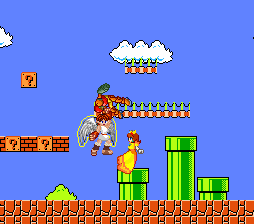 ----

Nov. 16 Fri. 2007
Pong Ball
What's this? A... Pong Ball!?
Don't quote me on this item. The Pong Ball may SEEM very silly and simplistic, but just wait and see what it does.


He prepares to throw it...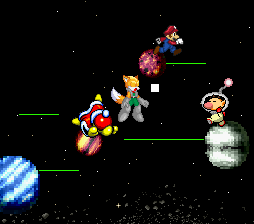 BONK!

The Pong Ball flies around the stage, and hits players as it floats around.
However, it doesn't vanish after hitting one player.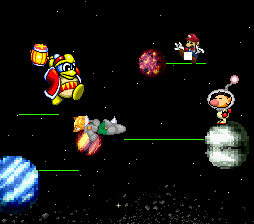 HEY! NO FAIR!

So long as something gets in the way, the Pong Ball keeps on flying across the stage. Uh, but, I think I should mention the bad side to using it...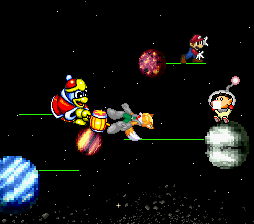 But I was the one who tossed it!

It shows no mercy, even to the User of the item.
All you can do, is hide, and hope the Pong Ball doesn't come your way.----

Nov. 15 Thu. 2007
Bubbles
Bubbles, the star of the game, Clu Clu Land.
Is it a "he" or a "she"? We'll just call Bubbles an "it".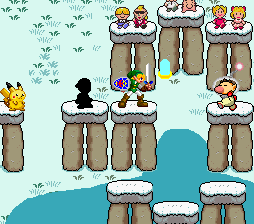 Toss the Assist Trophy! Why should I be telling you this?
Aw, it's so cute!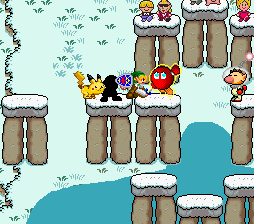 It starts charging up...

SCREECH!!

Bubbles sends a blast of sound waves across the stage! It is loud!
So my advice would be to get behind Bubbles at all costs. Otherwise, you'll end up getting a knock out.----
Nov. 14 Wed. 2007
Pokémon Square: Boss

<Boss: Pikachu and Pichu>

Pikachu, along with his little pal, Pichu, are blocking Mario and Luigi's path!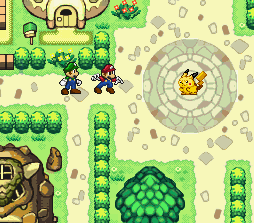 Why are they doing this?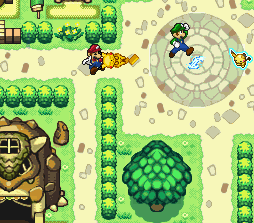 Yep, just a standard battle

In this battle, the four fighters start at 150% of health.
First team to lose all 150% health points, loses.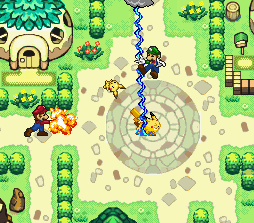 But this time, it's 2-on-2!

If you are familiar with the Pokémon games, you should know that 2-on-2 battles are a common sight across the Hoenn, Kanto and Sinnoh regions.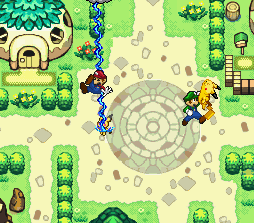 Pikachu and Pichu are really strong!

Pikachu and Pichu are around the same difficulty level as Link, and because there are two opponents, well, trust me, this won't be easy.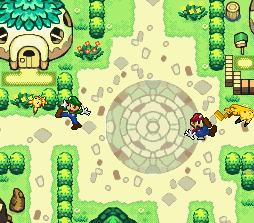 But eventually, you'll beat them.

And away they go!----

Nov. 13 Tue. 2007
Yoshi's Island: Main Theme



Yoshi's Island: Main Theme


Ah, the peaceful music that comes from the game, Yoshi's Island. I've always appreciated the style of art used in that game.
Such a peaceful track, does it really fit in with the rest of the music tracks in Smash Bros. Revolution!?
Well, we just had to use it anyway! Yoshi must be very happy.
---

Nov. 12 Mon. 2007
Dark Samus: Final Smash

<Ridley>

Dark Samus's Final Smash is... Ridley?
OK, these guys have absolutely no affiliation with each other whatsoever. But they're both bad guys in Metroid, so we paired them up for Revolution.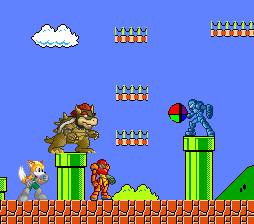 She collects the Smash Ball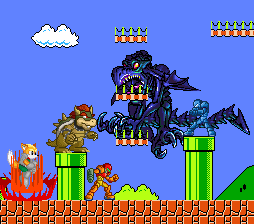 WAH!! RIDLEY!

Ridley appears in the background of the stage, while the players fight.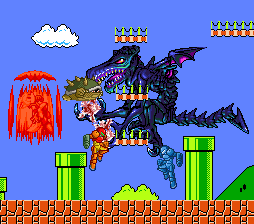 Are they just ignoring it!?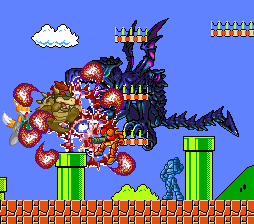 Now THAT'S what you call power!

Ridley uses strange energy beams on Dark Samus's opponents.
How could something bad come out of this!?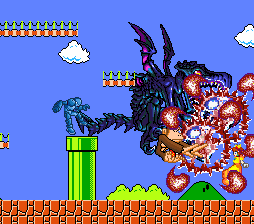 WHOA! Watch the tail, watch the tail!

Although Ridley may SEEM very useful, his tail will instantly KO Dark Samus if she hits it.
I'd say to try and avoid it at all costs!----

Nov. 9 Fri. 2007
Bowser


Mario's archnemesis comes in as a heavy, slow, but unbelievably powerful character. He's been training, hasn't he? Can Mario defeat him again?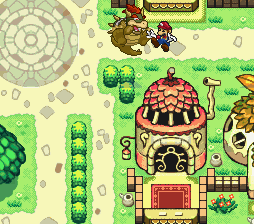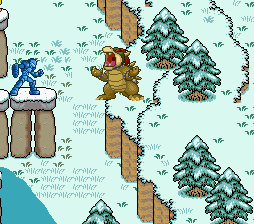 ----

Nov. 8 Thu. 2007
Frosty
Frosty is a recurring boss in the Kirby series.
Brrrrrrr, so cold!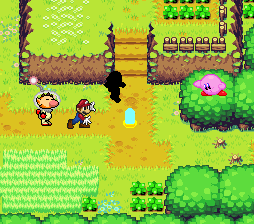 Is this new?

AHHH!! He... has a headache?

Is this a joke!? Is he just standing there holding his head?
Well, yeah, but only for the first few seconds he is released. After that...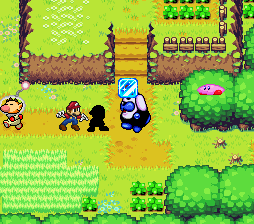 Wah! Where did he get that thing!?

It's so cold!

He tosses a large ice cube at the opposing players. It just slides and slides and slides, and doesn't stop when it hits someone.
WOW! He may seem worthless, but he can hit everyone at one time! He can even slide them off the stage!----
Nov. 7 Wed. 2007
Mario's Story: World 3
With that last blockade down, Mario and Luigi continue to chase down Shadow Mario.
<Poké Floats>

But the location they reach is one of the craziest yet!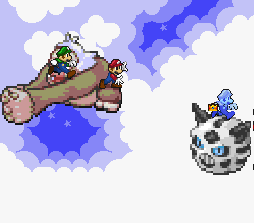 WHOA! Watch your step!

Mario reaches the Poké Floats, a place in the skies filled with Pokémon balloons.
This doesn't stop Mario, however. And this time, Luigi has finally caught up!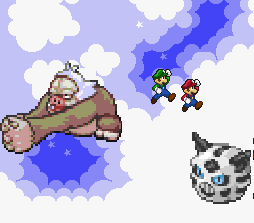 The two head off!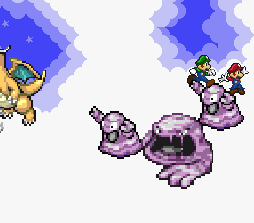 Luigi seems to be following Mario

During this level, Mario & Luigi act like the Ice Climbers, as Luigi just follows Mario without doing anything of his own.
However, when a battle is reached, Luigi acts as his own character.

<Mini-Boss: Ditto>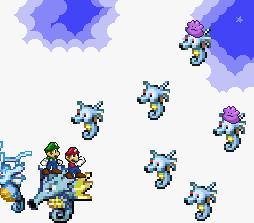 Aw, look at the cute Dittos

WAH! THEY TRANSFORMED!?

These Dittos are very rough creatures. They transform into Mario and Luigi, and start fighting them!



Who are you!? It's so hard to tell!

After defeating them, all you have to do next, is make it past the Horsea balloons, and you're done.



But, the next trial looks bad----

Nov. 6 Tue. 2007
Tauros
Tauros are very dangerous Pokémon. Especially when they stampede in great numbers!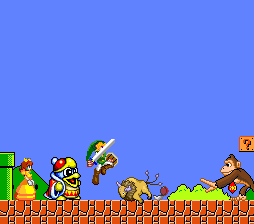 Whoa, he looks fierce!

...

Tauros doesn't seem to do much for the first few seconds it is released, but after a while...



OW! Hey, watch it!

But that's not the end of it!
What's that noise?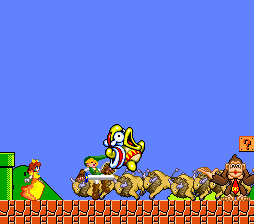 STAMPEDE!!!

Although they take a while to mass, the group of Tauros are deadly once used.
This is extra dangerous on flat stages, so beware!----

Nov. 5 Mon. 2007
Final Fantasy: Boss Battle



Final Fantasy: Boss Battle


What's this? Final Fantasy music? That was an unexpected move, now wasn't it?
This is the Boss Battle music from Final Fantasy II; definitely one of the more active tracks.
I wonder if someone will be joining the game of Smash to match this music.
---

Nov. 2 Fri. 2007
Four Special Move Types
In the world of Smash, players are able to use four special moves that have different effects from normal moves.
Pressing the B Button will allow you to use these attacks.
There are four kinds of special moves: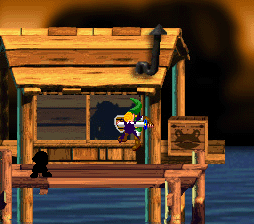 <Standard Special Move: Dark Flash>
These usually involve projectile weapons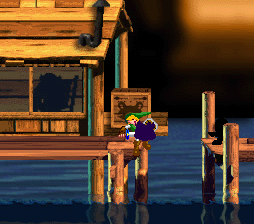 <Side Special Move: Dark Fire>
These are long-distance attacks
<Up Special Move: Dark Thunder>
These help the player get back to the stage after a fall

<Down Special Move: Shadow Magnet>
These are usually a shield of some sort.

Learn to use all four moves at just the right time.
Beware, as an unwise move can sometimes cost you the match.----

Nov. 1 Thu. 2007
Staff
Ah, the Staff. This was Krystal's most prized posession in Star Fox Adventures.
And her prized posession just became an item in Smash!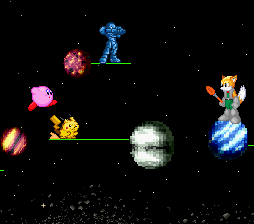 It doesn't seem like much

But looks can be decieving

The Staff can shoot fireballs, which was one of its first abilities in Star Fox Adventures.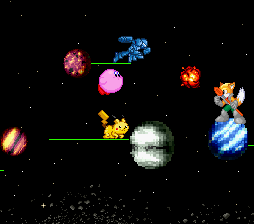 It can be shot diagonal as well!?

The Staff can be pointed in several different directions.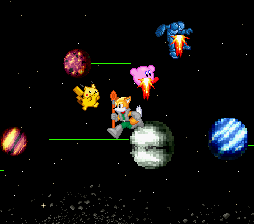 Up, down, sideways, so many choices!

However, that's only what the special move button does. The normal attack button is quite different.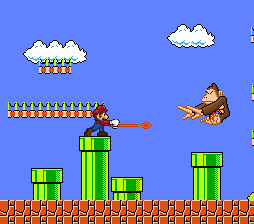 This is a Smash attack with the Staff

Instead of firing balls of fire, you simply beat up your opponent head on!
Enjoy this destructive weapon.----
Ad blocker interference detected!
Wikia is a free-to-use site that makes money from advertising. We have a modified experience for viewers using ad blockers

Wikia is not accessible if you've made further modifications. Remove the custom ad blocker rule(s) and the page will load as expected.