The main article is Super Smash Bros. Revolution.
Credit to: Spriters-Resource, for the Sprites. Smashbros.com, for giving me the idea. The people on MarioWiki, for teaching me how to do the formatting. Uniju, for teaching me how to do these Sprite Images, as well as make a few of the emblems.

Aug. 31 Fri. 2007
Stonehenge

What a weird place to host a stage.
Yes, welcome to the Stonehenge, a location close to Dr. Andonuts lab in Winters.

Wow, look at the people who came to watch the match

The people in the background have come from afar to watch this match, despite the cold.

Look! The Bubble Monkey!

On occasion, the Bubble Monkey or Sky Runner will appear, acting as another platform for players to jump on.

What's this? The wind is blowing?

There is a legend that states that when the wind blows, Tessie will appear...

What do you know, it's true!

When Tessie appears, players can safely walk over the ditch, without having to worry about falling through the hole.
Tessie leaves when the wind changes, however, and she disappears fast, so be very quick.----

Aug. 30 Thu. 2007
Final Smash
The Final Smash is a powerful attack that can be triggered with the collection of the Smash Ball.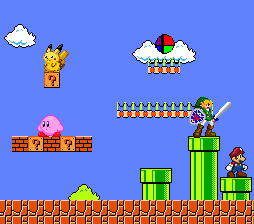 "Hey, where is it?"

A Final Smash is incredibly powerful. It packs enough punch to knock out three whole players in one hit. Kinda comparable to a Hammer, except, with more chance of KO'ing the opponent.



"GIMME, GIMME, GIMME!!!"

However, to every Final Smash, lies a downside. Each Final Smash update we reveal will cover the ups and downs of each individual Final Smash.----

Aug. 30 Thu. 2007
Mario: Final Smash
<Super Mario!>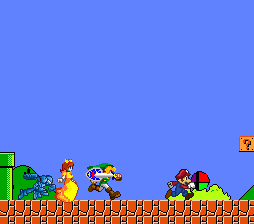 He has the Smash Ball...

Once Mario collects the Smash Ball, he starts to glow, and then...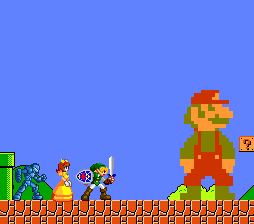 WHOA! HE'S HUGE!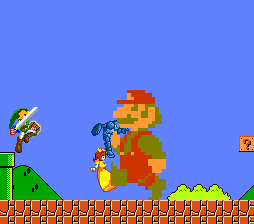 No one can hurt the great Super Mario!

Mario smashes through everyone, New Super Mario Bros. style. One hit by this, will KO anyone, regardless of the foe's health.
However, these effects only last about 5 seconds, so make it quick. There is also one more downside to this...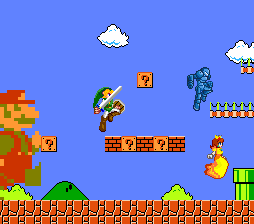 "Hey, I can't get through"!

Mario is, surprisingly, unable to smash through blocks, or other stage gimmicks. So, I'd be careful when using this on a scrolling stage.----

Aug. 29 Wed. 2007
Princess Daisy

Is this, Peach? No, it's the princess of Sarasaland, Daisy.
With her strength, and great recovery abilities, it's no doubt she impresses Luigi.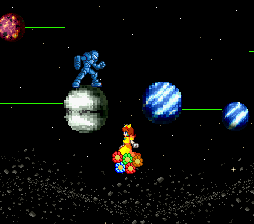 ----


Aug. 28 Tue. 2007
EarthBound: Winters



EarthBound: Winters


Heard in the northern country of Winters, this place is where Jeff was first seen.
A very cold place, indeed, but the music is much rather peaceful. Still sounds good for an icy stage.
By my opinion, I would have to say that this is one of the most serene music tracks we have in this game.
---
Aug. 27 Mon. 2007
Asteroid Belt

This is the dangerous Asteroid Belt, located in the game, Star Fox. The Star Fox crew found it hard making it through this area.

The Zero-Gravity allows the players to jump higher

However, this doesn't mean you will stay in the air. You will fall, but at a slower rate. However, danger lurks in this stage...

"Oh-No! A BLACK HOLE!!!"

A Black Hole will randomly appear.
The only thing you can do when this happens, is run to the other side of the stage as fast as you can.
What happens when you don't get to the other side?

Something like this...

You lose a life if you get sucked in.
This isn't the only threat, however. Asteroids will smash down on the field, devastating the fighters...

"Where did THAT come from!!!"

Don't get hit by the asteroids, it hurts. A LOT!!
You're going to have to rely on strategy on this stage, rather than brute strength.----


Aug. 24 Fri. 2007
Captain Olimar: Special Moves
<Standard Special Move: Pikmin Toss>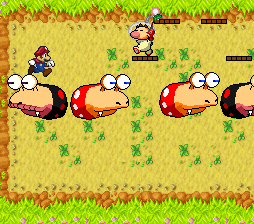 He holds the Pikmin in his hand...

And then he tosses it

This attack is much rather weak, so Olimar can toss many at a time.
Red Pikmin and White Pikmin do 1 damage, Blue Pikmin do 2 damage, and Yellow Pikmin do 3 damage.

<Up Special Move: Onion Save>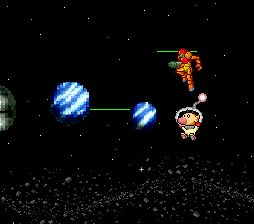 Oh-no. He got kicked!!

But don't worry, it's the Onion to the rescue!

Using the Onion, he will fly back up to safety. The larger the hole, the larger the Onion.
So, if he is tossed into a large pit, he has a better chance at hitting his opponents.----

Aug. 23 Thu. 2007
Kirby

The pink puffball of Dream Land re-enters the series for a third time.
He is capable of multi-jumping, and packs quite the punch. But he is easy to push around.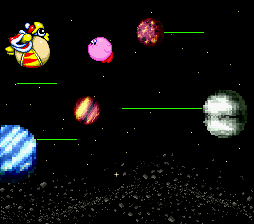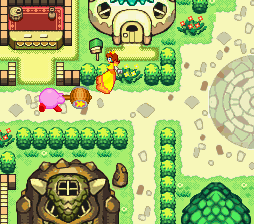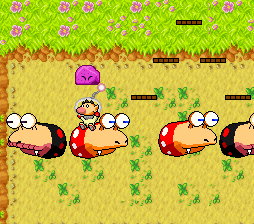 ----

Aug. 23 Thu. 2007
Pikachu

With those red cheeks, and electric attacks, Pikachu, the most well known of Pokémon, enters the fray yet again.
What he lacks in weight and power, he makes up for in speed and small size. Look at that mouse run.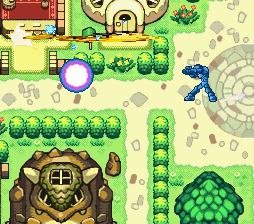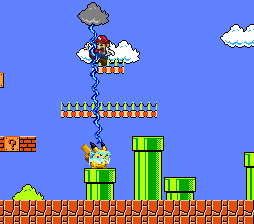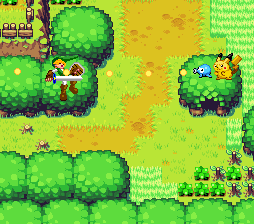 ----

Aug. 22 Wed. 2007
Star Fox: Corneria



Star Fox: Corneria


This music track played on the very first level of the original Star Fox game, Corneria.
This track is very fast-paced, and action-packed. Makes you feel like you are in an epic spacefight, doesn't it?
Funny, this track doesn't sound like it is the first level, now does it?
---


Aug. 21 Tue. 2007
Bomb Rock
The Bomb Rock was an important item in the Pikmin series. Yellow Pikmin could use it to blow up walls, and defeat enemies.
Here in Super Smash Bros. Revolution, the Bomb Rock will be an item. And a very powerful one, I must say...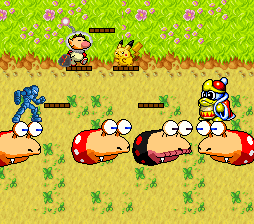 He's got the Rock

When you get the rock... Nothing happens?
The item is useless when it is in its red state, so just run around with it for a bit



"Get away from me!"

However, when it turns yellow, that's your chance to throw it.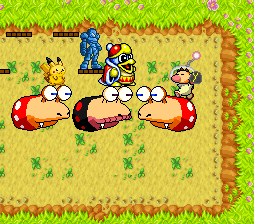 "What's this?"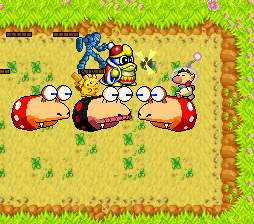 "Uh-Oh"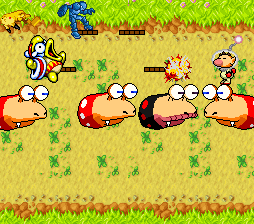 "AHHHHHHHH!!!!!"

It may be small, but it is deadly. This item is very useful, so don't waste it.
Uh, if you don't throw it in time, the joke will be on you, I'm afraid, so be careful.----

Aug. 20 Mon. 2007
Dash Steal
Ever seen an item you wanted, but someone else already has it?
Well, in Revolution, it is possible to steal another player's item, right out of their very hands.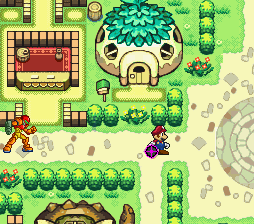 Take a look at that item. Very tempting

First, spot the item you want. Then...



Dash towards him.

Just dash into the player, just keep running, don't slow down, and eventually...



"HEY!!! Give me back my item"

You steal the item. You should quickly use it before your opponent gets a chance to steal it back.
There is one backfire to using this tactic on smaller fields, with ledges...



Oh boy, this doesn't look too good

Players are also able to counter attack, before their item is stolen, so get some practice in with this tactic.----


Aug. 17 Fri. 2007
Captain Olimar


Captain Olimar, star of the Pikmin games, will be entering into Super Smash Bros.
A lot of his moves will be lightweight attacks, but he will be able to use them rapidly.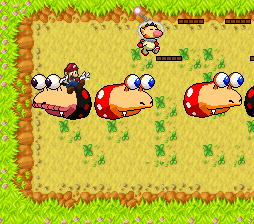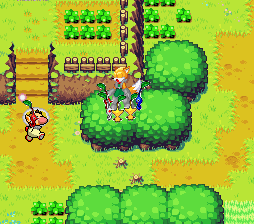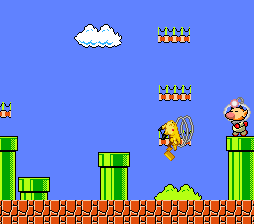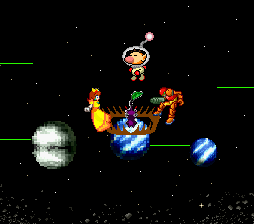 ----
Aug. 16 Thu. 2007
Console
Yes, the Console for the game has been decided. We will release this game on the Nintendo Wii. You will need both the Wii Remote and Wii Nunchuk for this game, however. Look forward to more info on the controls.

----

Aug. 16 Thu. 2007
Metal Ball
That's right. The Metal Ball from Mario Strikers Charged will be entering as an item here. This item is best used in Team Battles, as you will soon see.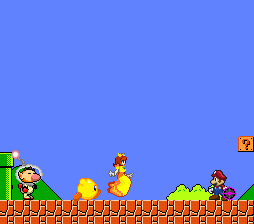 He's got the item

When you get the item...



Pass it your partner

To pass it, you have to press the Z Button.
Passing it charges the ball up, making it more powerful.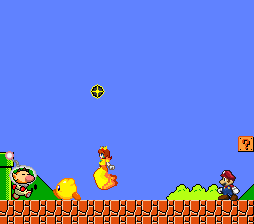 Do a Lob Pass!!

If an opposing teammate is in front of you, do a lob pass by holding the Control Stick upwards while pressing the Z Button.
This will knock it into the air, but it will still fly towards your partner.
Then when its fully charged...



Kick it!! SMASH!!!!

Press the A Button to kick it at the opposing players. The devastating blow of a fully charged White Ball will blast away even the healthiest of opponents.
Of course, you can kick it at the foe, even if it isn't fully charged, but it is better when it is charged.
There is one downside to passing it...



Uh-Oh, they intercepted the ball!!

The opponent can always intercept the ball, and use it against you.
In a single-player battle, however, a player cannot charge it up, but they can kick it at the opponent multiple times. Try this awesome item out in most tag battles.----

Aug. 15 Wed. 2007
Mario


You'd have to be an idiot to leave Mario out of a game like this.
He retains his role as a Balanced character, good for beginners to use.

Mario is still a rather small character, but he enters with a new Hammer move to replace his Cape.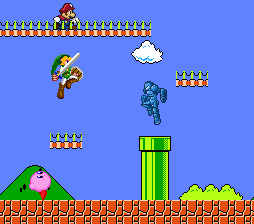 ----

Aug. 15 Wed. 2007
Link


Link returns as the normal heavy character he is. What do you expect with all that weaponry on him?

Link has many strong attacks, but will find it hard keeping up with the others. But, when he corners you, you'd better watch out.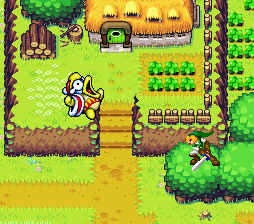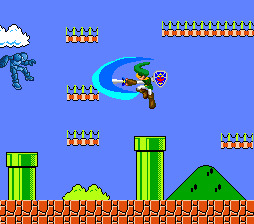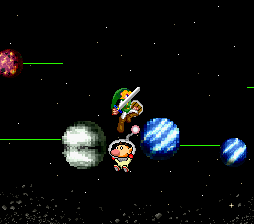 ----

Aug. 14 Tue. 2007
The Basics
Welcome to Smash Bros.

Super Smash Bros. is a game where many Nintendo characters duke it out on a variety of stages.
Players must inflict damage on a player in order to win

When you get hit, you take damage

The higher the damage percentage, the farther the player flies, which will allow for an easier KO.

If a player has higher damage, they will fly farther

If you strike them hard, they will fly all over the place. If they fly too far off screen, they will lose a life.

You lose a life when your blasted off screen

The differant Game Modes of this game allow the player to use these tricks in differant situations.----
Aug. 14 Tue. 2007
Mushroom Kingdom

The Mushroom Kingdom returns from Super Smash Bros. Melee. However, although it may look the same, the effect is far differant.

The fight may seem normal at first

But it scrolls by

You don't wannt be left behind, believe me. Just keep going, and don't forget to attack others along the way. At about the halfway point, it starts to speed up. However, when you reach the end, it doesn't stop there.

Where are we?

Fall down the hole, and you wind up in the Underground. For about 30 Seconds it stands still, but it starts scrolling again soon. If you don't get out in time...

You lose a life

The whole process starts over again once you exit the Underground.----

Aug. 14 Tue. 2007
Super Mario Bros.



Super Mario Bros.


This music track would be familiar to most Mario fans. It is the music of World 1-1 of Super Mario Bros.
This is one of the most famous Mario series music tracks, and has gone down in Video Game history.
In Super Smash Bros. Revolution, it will be played on the Mushroom Kingdom stage, except in the Underground area.
---
Ad blocker interference detected!
Wikia is a free-to-use site that makes money from advertising. We have a modified experience for viewers using ad blockers

Wikia is not accessible if you've made further modifications. Remove the custom ad blocker rule(s) and the page will load as expected.