Cancelled. But some elements from this game will be moved to Super Smash Bros. Prime.
The main article is Super Smash Bros. Revolution.
Credit to: Spriters-Resource, for the Sprites. Smashbros.com, for giving me the idea. The people on MarioWiki, for teaching me how to do the formatting. Uniju, for teaching me how to do these Sprite Images, as well as make a few of the emblems.

Dec. 27 Thu. 2007
Tether Recovery
The Tether Recovery is a skill seen in previous Smash games, in which the player uses a chain-like item to grab onto the stage from afar.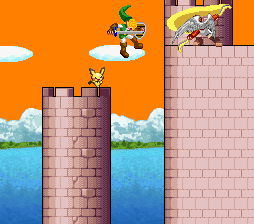 He's been shot far!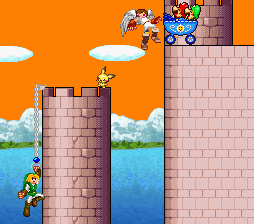 That was a close one!

Using this, players can reel themselves back to the stage if times are desperate.
The tether grabs on automatically, so you don't have to do any of the work like in previous games.
Another feature is the Partner Recovery. Using this, you can save one of your partners from instant doom!


Don't worry, we'll save you!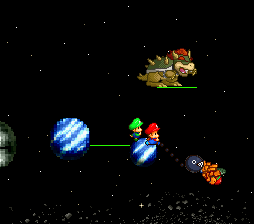 See?

Only some players can use the Tether Recovery, however.----

Dec. 26 Wed. 2007
Pichu


Aw, its the baby form of Pikachu, Pichu! He's a popular Pokémon, after all.
He now has more weight, and his power has been maximized, but he's slightly slower than before. Still, how can you hurt this cute little mouse?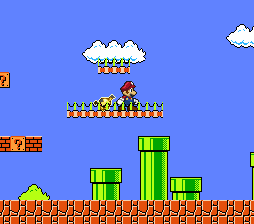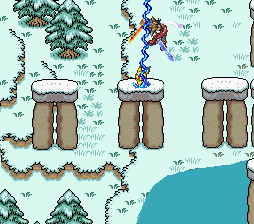 ----

Dec. 25 Tue. 2007
Metroid
The Metroid is a species in the series, well, Metroid.
It won't be appearing as an Assist Trophy, but rather a normal item!


WHOA! She has a Metroid in her hand!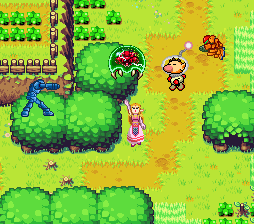 She tossed it!

Help, the Metroid is eating me!

The Metroid grabs onto the closest player, and drains their health, but it doesn't add to the users health.
Other players will be bounced back when trying to jump on it, and are blown further the more damage you've taken, so... try and find another way around.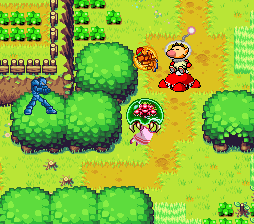 Now, why didn't I think of this?----


Dec. 24 Mon. 2007
Tales of Symphonia: Lloyd's Theme



Tales of Symphonia: Lloyd's Theme


This was Lloyd's theme from Tales of Symphonia. We decided to remix it, to make an incredibly noble track suited for a Smash stage representing the series!

Very peaceful, eh? But, very long. Well, that's what happens with music in Smash.

Don't be mistaken, this is NOT Lloyd's victory theme, but it will play on a Tales of stage.

----

Dec. 21 Fri. 2007
Bulborb Herd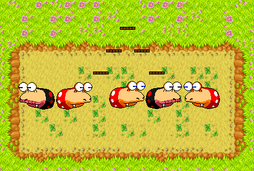 Wow! What are these Bulborb's doing underground!?
The typical underground style of Pikmin 2 is brought to Smash in the form of Bulborb Herd!



Aren't those Bulborb's disturbed by this at all!?

The Bulborb's aren't the only fighting space.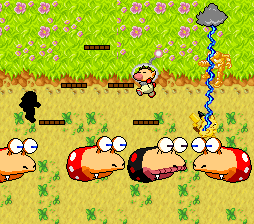 These platforms sure are convenient.

But, occasionally, the Bulborbs will wake up, and when this happens, HEAD FOR THE PLATFORMS AT ALL COSTS!!!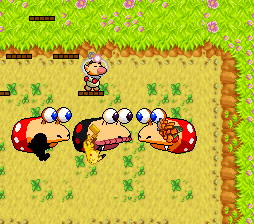 WHOA! IT MOVED!

OH-NO! Dwarf Bulborbs!

Aw, they're so cute when they're damaging your opponent, aren't they?
Um, the Bulbear will actually cause damage to those standing on it when it wakes up. The Bulborb's do nothing, but its still not wise to be standing on them at all!----


Dec. 20 Thu. 2007
Team Chaotix
Team Chaotix are a rather obscure group in the Sonic series, but they've made SOME impact.
What's so unique about this group, is that its a three-run attack, with the group splitting up to hit everyone!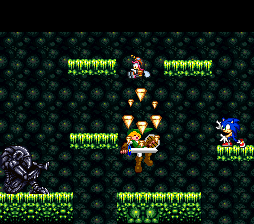 Danger hides when the hyper bee flies...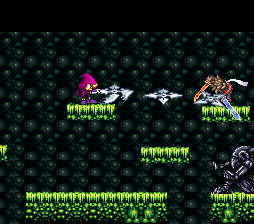 ...and the ninja stars fly too...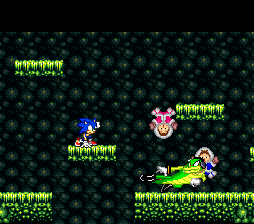 ...The muscle is Vector, the karma collector, and is sworn to fight for you.

Whoa, they sure seem to be good at fighting, eh?
Charmy is the weakest, but fires the most projectiles.

Espio is the fastest, and does mild damage, but throws his Shurikens somewhat slowly.
---

Dec. 19 Wed. 2007
Metal Gear Solid 2: Metal Gear RAY Battle



Metal Gear Solid 2: Metal Gear RAY Battle


Wow, the Metal Gear RAY battle music from Metal Gear Solid 2! One of Konami's star games makes its debut in Smash Bros. Revolution, starting with a music track!

Very ominous and spooky, I'd have to say. Well, at least it fits the style of Smash, right? Right?

It also fits the style of a Metal Gear stage. Look forward to more of this series.

----


Dec. 18 Tue. 2007
Lloyd Irving


Is this who I think it is? L-Lloyd Irving from Tales of Symphonia!? I'm astonished that he managed to appear!
With strong sword moves, and mild speed, Lloyd will definitely give Link a run for his own money.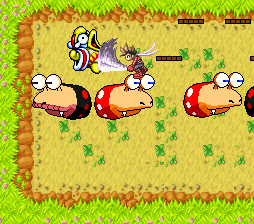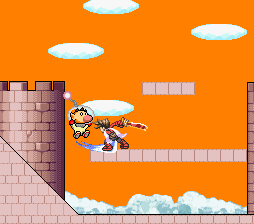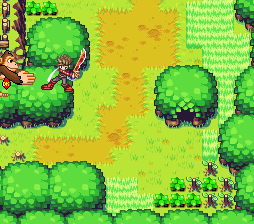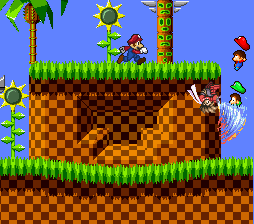 ----

Dec. 17 Mon. 2007
Haunter
Haunter is the evolved form of Gastly, a gas ghost.
However, Haunter likes to play tricks a lot, and has the ability to possess people.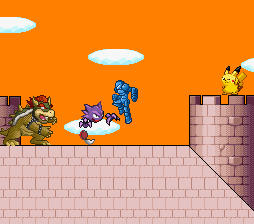 GO! HAUNTER!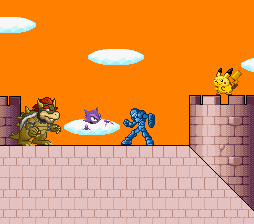 Whoa, h-he's disappearing!?

Whoa, what happened to him?

Haunter targets a random player, and possesses them, stunning them in one spot for 10 seconds.
Even when whacked around by opposing players, the possessed player will not snap out of his/her daze!



Ugh, what happened?

----
Dec. 14 Fri. 2007
Skyworld: Boss

<Boss: Pit>

Mario finds his way to Skyworld, and has to battle a super-powered Pit!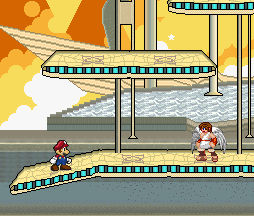 He may look normal, but trust me, he is not!
Take that! He ain't so tough.

OW! Wow, he is tough!

The battle is a Stamina battle, with Pit having 200 health, and Mario having 150!
Can you beat him!?


He seems to have so many tricks up his sleeve!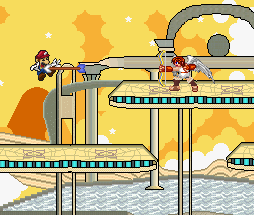 WATCH OUT!

The battle may SEEM long and hopeless, but strategy will defeat him easily!


Let's see how YOU like it!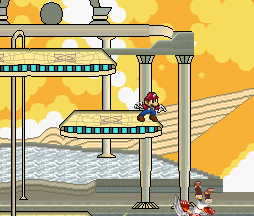 And down he goes!

But where does he go from here, I wonder...----

Dec. 13 Thu. 2007
Princess Daisy: Final Smash

<Flower Storm>

Daisy specializes in flower-based moves, right?
Well, we tried to find a way to match that trait, and what do we get?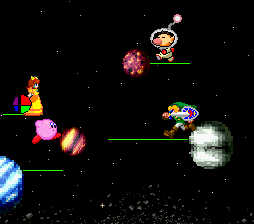 First off, the Smash Ball has to be collected...
WHOA! She's glowing! Hey, what's that noise?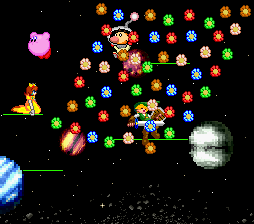 STOOOOOOOOOOOOOOORM!

Daisy summons a huge storm of flowers onto the stage for 10 seconds, which appear in a huge mass, devastating anyone caught in the attack!
Careful, however, if you don't use this attack in the right spot...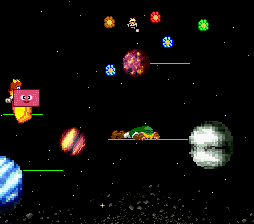 You get hit, and the attack stops

So, use strategy and cunning to best your foes!----

Dec. 12 Wed. 2007
Altea Castle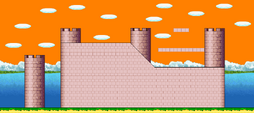 Altea Castle, which acts as Marth's castle in the original game, Fire Emblem.
I can't tell, is there any difference between Marth's Castle and the other Fire Emblem Lord's Castles?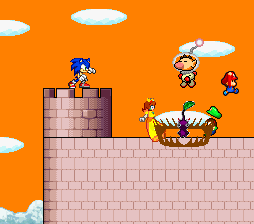 It appears Altea Castle has been changed drastically in appearance!

Altea Castle has been massively changed, so it can match the style of Smash.
It's a very large stage, so you'll find a lot of fighting space!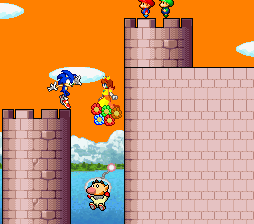 WHOA! Be careful, and watch your step!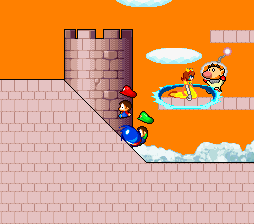 Wow, this IS a lot of space, isn't it?

The incredibly large size can protect you from, well, almost everything!
But, be careful, the ramp speeds you up quite a bit...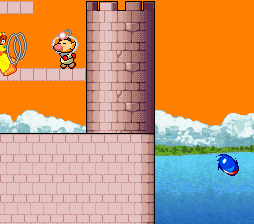 ZOOOOOOOM!!!! Wait, what the!?

Using an already speedy move like the Spin Dash on this ramp can cause major control problems, so be careful!----

Dec. 11 Tue. 2007
Starfy
Starfy is a star creature from the Densetsu no Starfy games.
Is it Starfy or Stafy? Well, the series is Japan-only, so both translations are acceptable.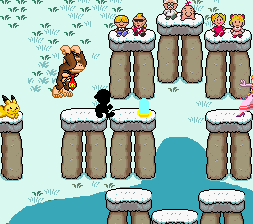 FIRE THE ASSIST TROPHY!!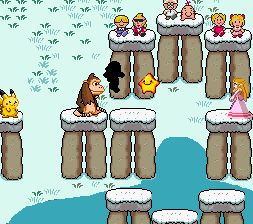 Out comes Starfy!

ZOOM!! Starfy swifts pass the stage!

Starfy uses incredible speed, and his pointy head, to deal some serious damage to any poor player hit.
Oh, but, he doesn't stop after one hit...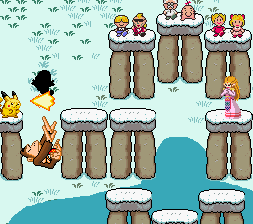 WOW! He just won't stop!

He keeps going until he reaches the edge of the stage, or bounces off a wall.
Keep your cool if you want to avoid this thing!----


Dec. 10 Mon. 2007
Fire Emblem: Main Theme



Fire Emblem: Main Theme


The Main theme to the ever popular franchise, Fire Emblem! Since its debut in the U.S., I've always felt it was one of the more noble Nintendo series.

This particular track is very noble, just like medieval times! Certainly fits the feel of Fire Emblem's serious nature.

Well, I certainly respect this track! Its gone done into almost every Fire Emblem game, so, you can see how historical it is to Nintendo!

----


Dec. 7 Fri. 2007
Sonic the Hedgehog


The very icon of speed itself, the blue hedgehog makes his way in the fray!
With lightning speed, and good combo attacks, how can he lose?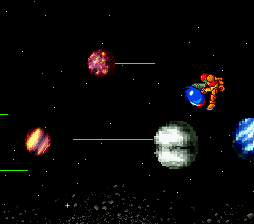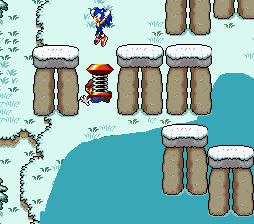 ----

Dec. 7 Fri. 2007
Green Hill Zone


This was the very first stage located in the game, Sonic the Hedgehog.
It is very historical in the Sonic series, and has been remembered through the ages!



Beware of Eggman!

When Eggman appears, the only thing you can do, IS RUN!!
Attacking him will only damage you, so don't even bother!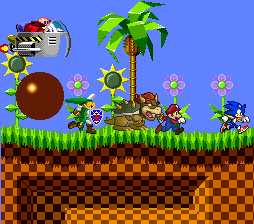 WAH!! CANNONBALL!!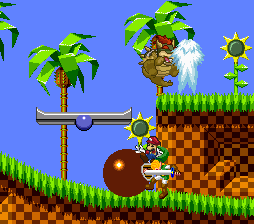 OW! That's equal to a KO!

The hill there should be a good getaway, and the trees are a nice hideout as well.
Um, but, don't stand on that platform for too long...



WAH! I'm falling!----


Dec. 7 Fri. 2007
Sonic the Hedgehog: Special Moves
Sonic excels at speedy combo attacks! A few of his moves simply linger on for a while, however, but this is just as deadly!

<Down Special Move: Sonic Cyclone>


This it the attack when it begins...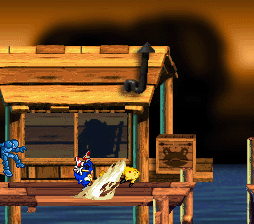 This is the attack if it keeps going!

The power and distance increases the longer it is used. However, using it for too long will give Sonic a big blast of a surprise!

<Standard Special Move: Spin Dash>

The classic move used in so many of the 2D Sonic the Hedgehog platformers enters as one of Sonic's most useful move!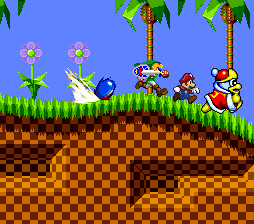 You can even charge it up!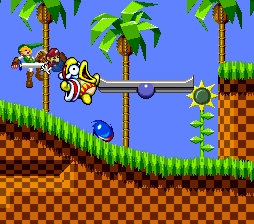 OUTTA MY WAY!!

You can also jump whilst spinning in the ball, so use this to your advantage!
The speed, however, can be your greatest foe when dealing with those small stages...

<Side Special Move: Spin Kick>



HI-YA!

Sonic spins forward with a power-filled kick, hitting anyone around him!
However, he needs some time to get good footing after the spin is over...----
Nov. 26 Mon. 2007
Mario's Story: World 5

<Underworld>

With the crown collected, and Shadow Mario defeated, Mario is left with one thing to do. Find Luigi!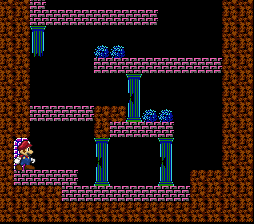 Where am I now!?

Well, may as well not stall

However, a major difference here, is that you don't defeat normal enemies.
You fight...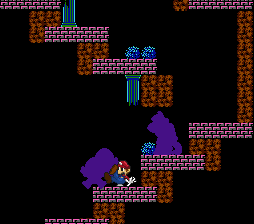 SHADOW CLONES!!

But, don't worry, they are a bit weaker than normal fighters, but you still have to keep your game on!

<Mini-Boss: Pit Clone>

Eventually, you have to battle two Pit clones.
Unlike the other clones, these two are just as strong as the real thing! Maybe stronger!

>
Here we go!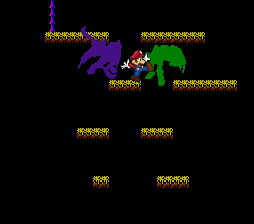 LOOK BEHIND YOU!!

Upon their defeat, the trek continues.



Just keep going! Just keep going!

I think there's a hidden, glowing door somewhere at the end.
Could that be true?



It is! But, where did it take me?----

Dec. 5 Wed. 2007
Donkey Kong: Final Smash

<Rambi>

The very first Animal Buddy Donkey Kong ever met, Rambi the Rhinoceros.
This is definitely one of the oddest Final Smashes in the game, but, it has to be odd to match Donkey Kong.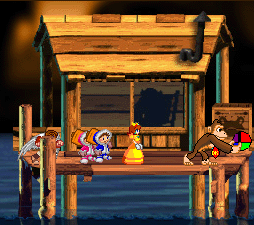 Collect the Smash Ball!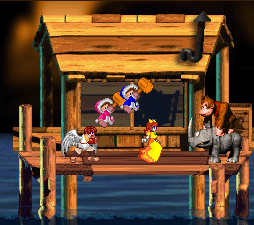 Is this... pre-rendered Donkey Kong!?

Donkey Kong transforms into his Donkey Kong Country appearance, and jumps on Rambi, who appears from nowhere!



H-he's invincible!

Just keep on charging, pressing the attack button will allow him to attack!
He attacks by thrusting upwards with his sharp tusk.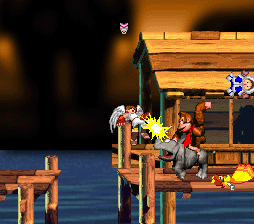 OoOoOoOoO, that must've hurt

As invincible as he is, control is poor, so turning is no easy task...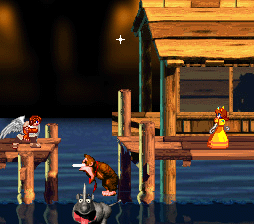 Uh-oh!

However, you can always jump, but it is a very poor jump.----


Dec. 4 Tue. 2007
Mega Man: Boss Battle



Mega Man: Boss Battle


This is the Boss Battle theme from Mega Man III. Certainly an active track, but, of course it would be active when dealing with a boss battle in Mega Man!

Our major aim for this track was to make it somewhat rough, but, would it match the feel of a Mega Man stage?

Regardless, you should enjoy.

----


Dec. 3 Mon. 2007
Ice Climbers

The duo from Ice Climber return from Melee, with stronger, heavier hammers.
The leader in blue, Popo, is controlled, as the one in pink, Nana, follows. You'll need good tactics to avoid both Ice Climbers!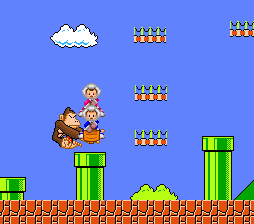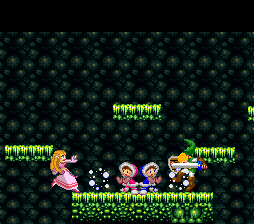 ----
Ad blocker interference detected!
Wikia is a free-to-use site that makes money from advertising. We have a modified experience for viewers using ad blockers

Wikia is not accessible if you've made further modifications. Remove the custom ad blocker rule(s) and the page will load as expected.