Ad blocker interference detected!
Wikia is a free-to-use site that makes money from advertising. We have a modified experience for viewers using ad blockers

Wikia is not accessible if you've made further modifications. Remove the custom ad blocker rule(s) and the page will load as expected.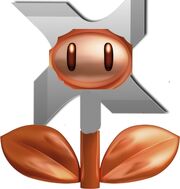 Shuriken Flowers are a type of Power-Up that
Mario
uses. When Mario collects one, he turns into Shuriken Mario. He can then throw shurikens at enemies like
Shuriken Bros
. The shurikens can hit up to 3 enemies at a time (similar to the Bloomerang plant from Plants vs Zombies 2) and when you spin while throwing shurikens, then they will go in all directions. They first appeared in
Super Mario 3-D Galaxy
.
Gallery